Cinderella dream became a reality! Yessica & Steven's rustic wedding in New Kuta Golf, Bali was so dreamy. Love the beautiful decorations in blue, the beautiful beach view and oh! Yessica's shimmering princess wedding dress, totally the best "something blue". We're so honored to be a part of Yessica & Steven's important day! Congratulations to this lovely couple!
Part of the photos were taken by The Seven Agency.
Wedding Dress Style: #LD3454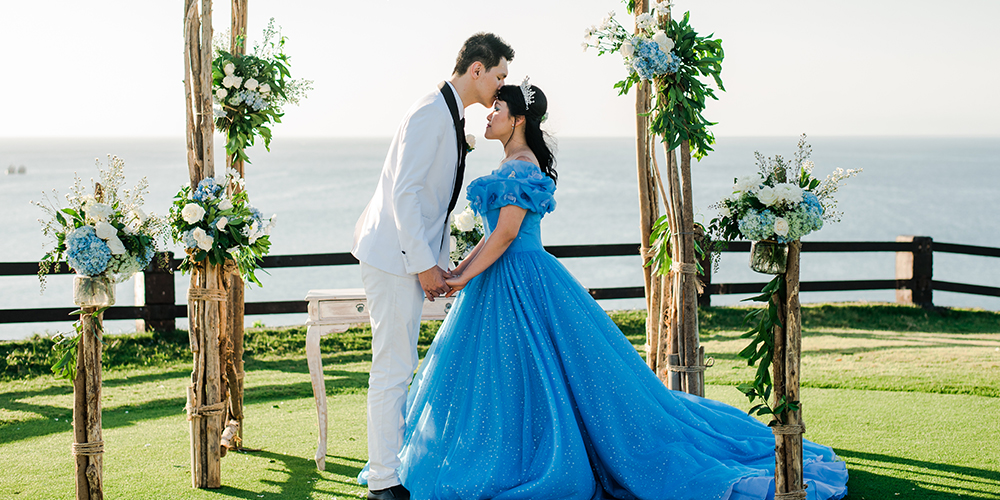 Q: Any advice or tips for future Mrs.?
Enjoy the wedding preparation, make it as perfect as you wish it to be, but also take it easy 🙂 Most importantly, browse and research your dream wedding dress, flower, tiara, venue, songs etc (all that matters to you) to get the best ones that are within your budget.

Q: Tell us your love story! Where & How did he propose?
We met by chance through a mutual friend. Then we started as friends first, though Steven started pursuing me. Unfortunately, I started going out with another guy at that time (he wasn't quick enough! and he wasn't my type at first). After I broke up with my ex, I went traveling then after I came back, we grew closer and became a couple 🙂 The whole process took him like nearly 2 years.
He proposed at our apartment by preparing & lighting all candles and rose petals from the entrance door all the way to our bedroom. On our bed, there were words 'will you marry me?' in rose petals. Then the projector screen was turned on, displaying a slideshow of our photos & videos with words and sentences that described his feelings for me. Then there he went down on his knee with a ring 😉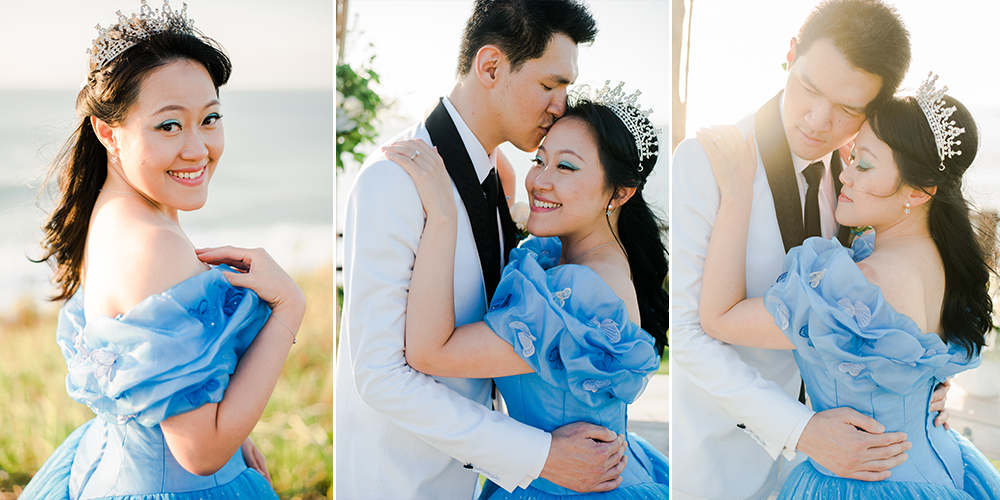 Q: What was the inspiration behind your wedding theme?
My beautiful Cinderella gown from Cocomelody and nature 🙂 I had always wanted to get married in an outdoor venue surrounded by nature (e.g. green trees, green grass and ocean).
Q: How would you define the message "Dare to Love"?
You are brave enough to open your heart and be vulnerable, not for that one person, but for yourself and your own special feelings, because you know that if you don't take this chance, you'll look back and regret it. Better take a chance and give your best shot. Even if it doesn't work out and hurt you, you'll learn and grow from it. Because, hey what doesn't kill you make you stronger! And I believe you always get better and better things every time something doesn't work out for you. Life is too short for you to sit in a corner, thinking of what may happen, instead of letting the universe help you achieve what you want 🙂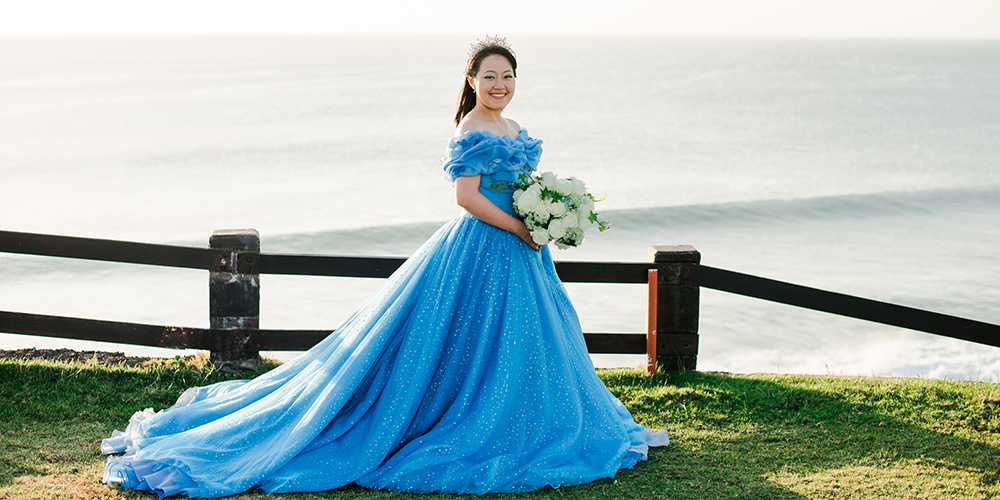 Q: Did you enjoy the wedding planning process? Why or why not?
I did. I like organizing things 🙂 It stressed me out sometimes as not everything would go according to my plan, but I enjoyed the process overall, as I got to pick and decide what I wanted to do and how my wedding would be like. The obvious thing that I didn't like was to spend a lot of money on the wedding 🙁 a wedding is indeed expensive.
Q: What was your hubby's reaction when he first saw you on your big day?
Nothing. He saw the wedding dresses beforehand, and could already picture me on those dresses. But he looked happy that we were finally on our big day.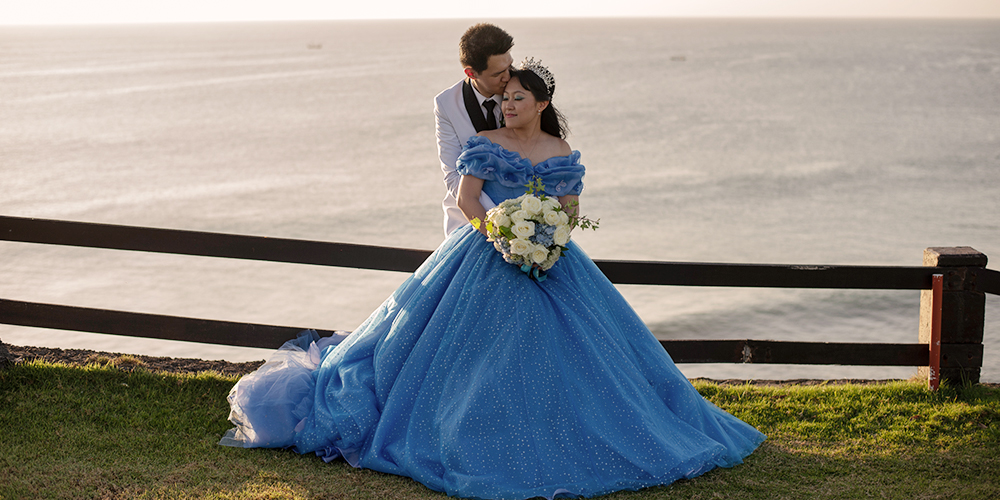 Q: What did you love most about your #Cocomelody dress?
My wedding dress is blue 🙂 and it's truly like a princess dress with beautiful butterfly details on my 'off shoulder' sleeve. It's also really affordable. I literally felt like a Cinderella for one night.
Q: What do you think about Cocomelody and the customer service?
Better than awesome! Will definitely recommend Cocomelody to anyone out there who are still looking for a perfect and affordable wedding dress 🙂