When it comes to wedding décor trends, potted plants are unmistakably one of the biggest this year. More and more brides are turning their backs on flowers in favor of lush plants on their big day and rightly so. Potted plants are an elegant and inexpensive addition to the floral accents at the ceremony and reception. Plus they can add a jolt of creativity to any seemingly uninspired wedding décor and also double as living keepsakes. Win, win, win…..!
Looking for inspiration? Here are six cool ways to use potted plants in your wedding décor.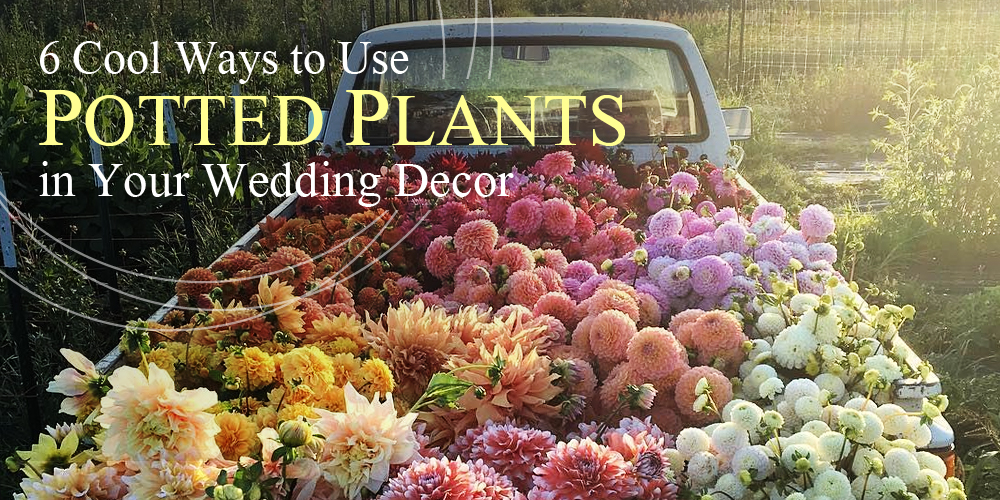 1. Potted plants as wedding centerpieces
If you have spent a good part of your wedding budget on your beautiful wedding dress and are now looking to strike a balance between beauty and affordability when choosing the wedding centerpieces, potted plants are perfect for you. You can plan for your wedding centerpieces on a budget without scrimping on grandeur and elegance by ditching expensive flowers and using beautiful potted plants instead.
Potted plants as wedding centerpieces are not only affordable but also look pretty darn good. You can display them in shallow white bowls with smooth river rocks for a simple yet chic decoration. And if you want to add some color to the tables, you can place a few orange or hot pink flowers in clear cylinders next to the plants.
2. Potted plants as wedding favors
One of the best ways to embrace potted plants on your big day is to give them out as wedding favors. There are many creative options to send your attendees away with some flora: you can decorate these plants with delightful sayings, or fancy stakes sunk into the planter soil. You can also provide a variety of plant types for guests to pick between and take away what they want. Or, alternatively, you can give out plants in cute jars or other distinct containers that reflect your uniqueness.
3. Potted plants as dance floor border
Potted plants look wonderful when used as a border around the dance floor. When lining them around the floor, though, keep in mind that there are enough open paths to get onto the dance floor. After all, you don't want any of your wedding guests to trip over the décor. You can incorporate soft or bright blossoms to pop out of the planter or add details such as ribbons or bows to the plants themselves.
4. Potted plants as aisle arrangements
Potted plants are a charming and unique way to grace both outdoor and indoor ceremony aisles, making your grand entrance all the more beautiful and memorable. Not only do potted plants arrangements look magnificent, they also keep things in order and dress up a lawn full of otherwise metal and plastic chairs. There are many ways to incorporate potted plants into your ceremony aisle décor: you can choose to only display them at the entrance, line them up around the chairs or tie them around the edges of the chairs.
5. Potted plants as photo props
Some of the most cherished takeaways from any wedding are the photographs. You will want to flip through your album long after the big day has gone by. If you want to ensure that you have plenty to look back on, it's important to create opportunities for taking beautiful, unforgettable photographs. Using potted plants as props for your wedding photos will certainly give you one-of-a-kind photographs. You can also stage a photo of you and your intended pouring water from a fancy watering can over a larger potted plant for a mnemonic and wonderful keepsake photo.
6. Potted plants as table numbers
Of course, standard table numbers will get your guests to their seats, but that's nothing to write home about. You can express your individuality and take your table décor from mundane to remarkable by using potted plants to display the table numbers.
Potted plants are making their way up in popularity and have just what it takes to take center stage for a stunning alternative to flowers. If you're thinking about considering potted plants as an option for your wedding decor, there are some really beautiful plants out there that would really add that something special and unique to your wedding day.