Being a bridesmaid is an unforgettable and meaningful experience. Bridesmaids walk down the aisle alongside the bride, looking smashing and standing firm behind most wedding arrangements. These girls are the ones who finish just behind the winner.
Bridesmaids also wear whatever the bride decides to pull together a chic and unified look, bringing us to the important point: Shopping Tips for 2022 Bridesmaid Dress .
Deciding on the bridesmaid dress style is no easy feat. You will have to consider the budget, wedding style, venue, time of the day, color, comfort, and your besties' body shapes and other preferences.
The idea is to find dresses they can actually wear again. For this, Cocomelody can help you get started. Follow these tips curated by our fashion experts, and shopping for the D-Day will be fun.
DIFFERENT FABRICS FOR DIFFERENT SEASONS
At Cocomelody, our 2022 bridesmaid dress collection has several gorgeous fits and fabrics for you or your besties to choose from.
Spring/Summer Bridesmaid Dress
If you are looking for a spring/summer bridesmaid dress, we have A-line and whimsical sheath/ column chiffon bridesmaid dresses which are ideal for spring/summer weddings. You can choose from #CB0465, #CB0463, #CB0474, #CB0472, #CB0466, #CB0453, #CB0451, #CB0480, and #CB0479 or look to prints like #CB0481 and #CB0482 if it is a fun and colorful spring/ summer wedding.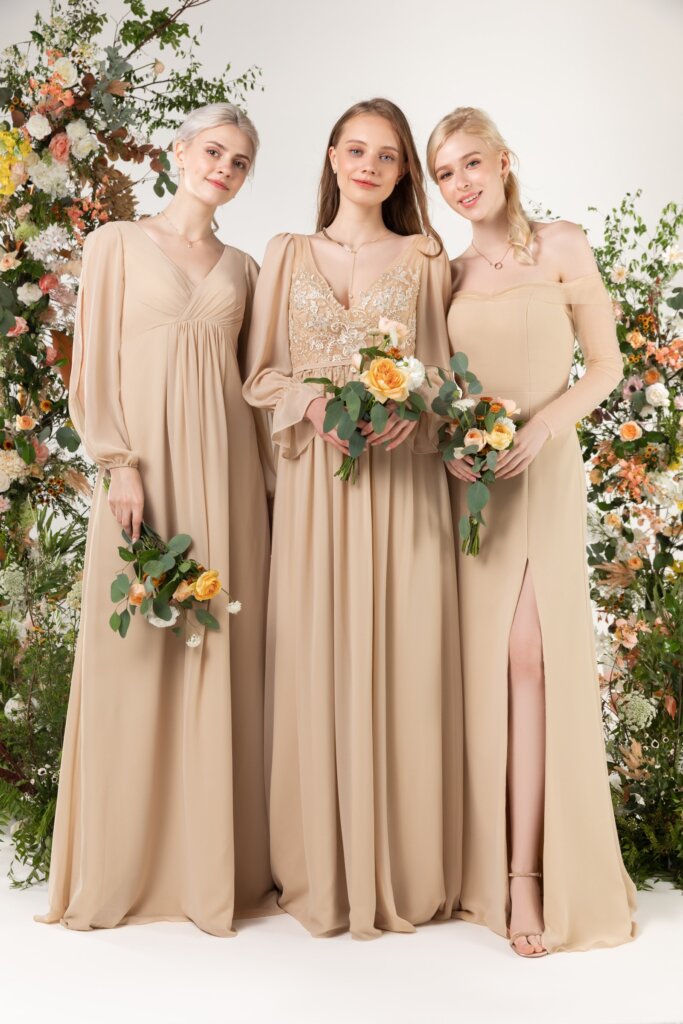 Styles(from left to right): #CB0479 & #CB0478 & #CB0480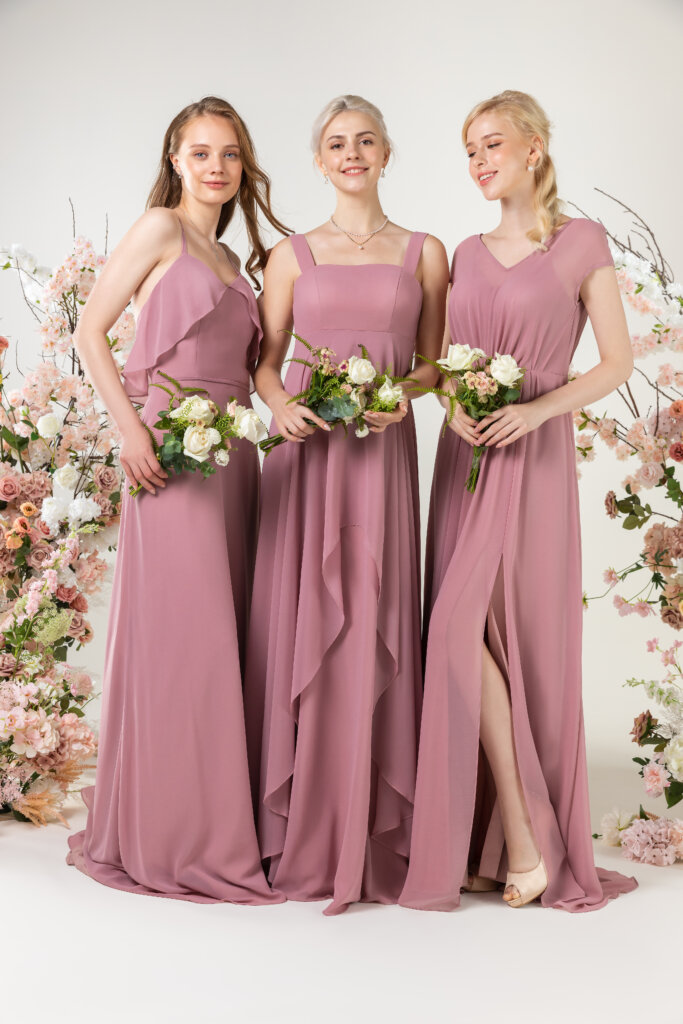 Styles(from left to right): #CB0472 & #CB0474 & #CB0473
Fall Bridesmaid Dress
For those cooler fall or winter wedding dates, velvet dresses can be your go-to choice. We have many in silhouettes, including sheath/ column, trumpet-mermaid, silky sheath/ column. Velvet will not only keep you warm, but its oh-so-soft, stretchy and dreamy touch feels fantastic. Take a look at dresses #CB0525, #CB0531, #CB0529, #CB0537, #CB0535, #CB0532, and #CB0534.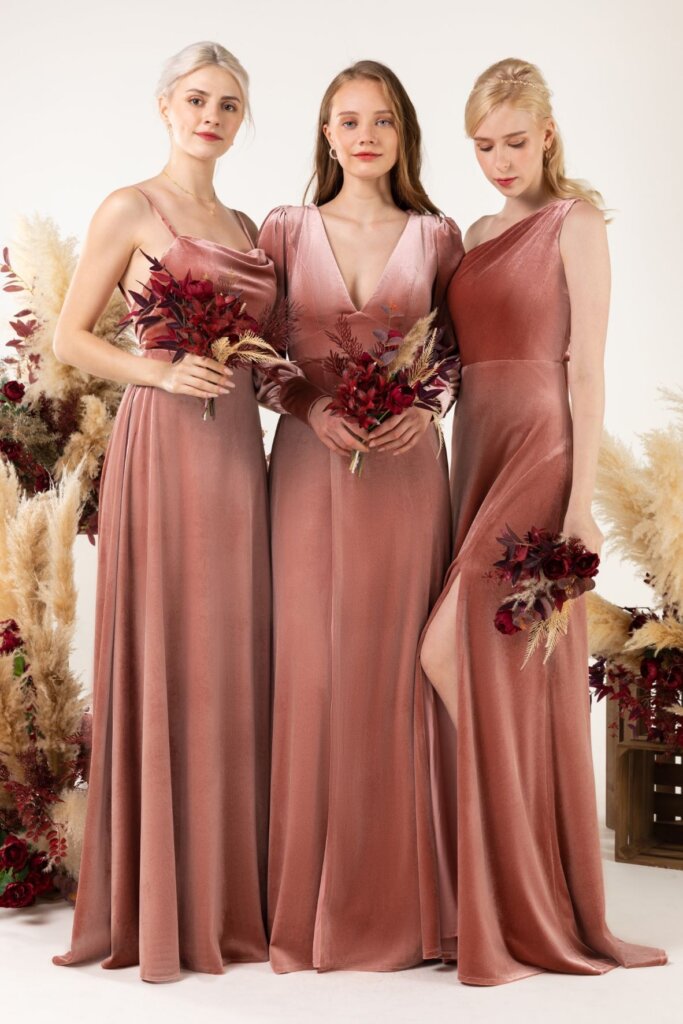 Styles(from left to right):#CB0536 & #CB0535 & #CB0537
Winter Bridesmaid Dress
The collection doesn't just stop there – dress #CB0529 is a convertible velvet bridesmaid dress featuring a strapless neckline paired with a simple skirt and finished with a left-leg slit. It comes with two different pieces of fabric on the waist – one at the front and the other at the back – that you can use to style the top creatively. The design possibilities for this winter bridesmaid dress are virtually endless.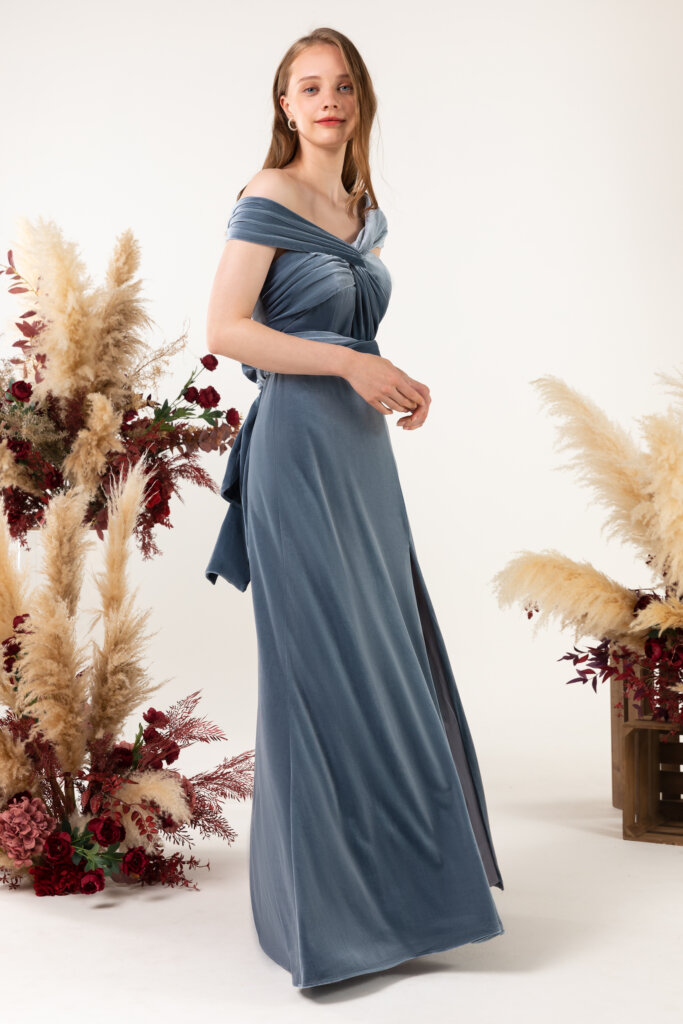 Styles: #CB0529
MIX & MATCH BRIDESMAID DRESSES TO MAKE YOUR SQUAD STAND OUT
Want to mix and match bridesmaid dresses yet stay coordinated? We take out the guesswork and present some show-stopping styles that will have your girl squad feeling proud and confident.
At Cocomelody, you and your besties can find your favorite dresses which will fit well and look stunning. Our mix & match dress section stocks various styles to help you pull off a chic and cohesive look.
However, when selecting bridesmaid dresses, factor in every individual's distinct body type so the crew can help create the perfect recipe for a day to remember.
For instance, dress #CB0480 in Champagne is a trumpet/ mermaid chiffon outfit featuring an off-the-shoulder cut, straight across the neckline, with long chiffon sleeves, closing with a pearl wrist button. It has princess seams from the bodice to the skirt and comes with an open left leg slit.
Dress #CB0479 is a sweet A-line chiffon dress featuring a crisscross pleated V-neck, with long slit bishop sleeves, a low plunging open back with tie string, and a gathered empire waistline moving down to a long skirt.
Dress #CB0482 and #CB0481 are also mismatched bridesmaid dresses. These can be considered for the same wedding yet offer a different feel and style. For more mix-matched bridesmaid dresses, visit the Cocomelody store or check out our collection at www.cocomelody.com.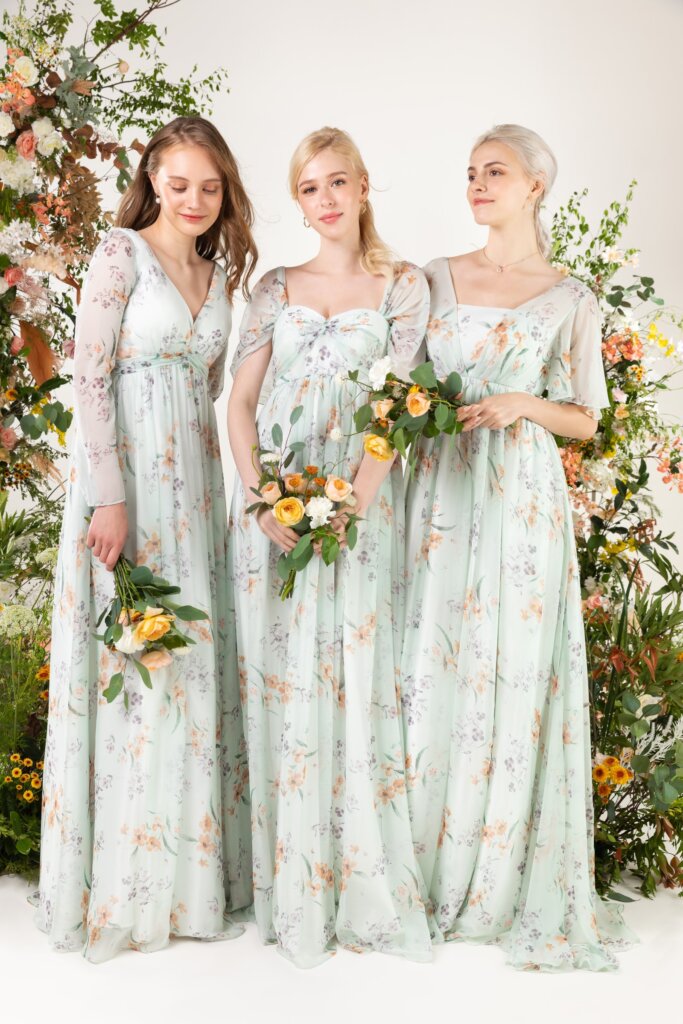 Styles(from left to right): #CB0481 & #CB0483 & #CB0482
BUMP-FRIENDLY, MATERNITY BRIDESMAID DRESSES
What to do if your bridesmaid is pregnant? Count her in and dress her in our bump-friendly bridesmaid gowns. Dress #CB0482 – Hadlee in Dusty Sage floral print, #CB0481 – Anya in Dusty Sage floral print, and #CB0479 – Makenzie in Champagne have outstanding maternity versions.
However, styling and measurements can be tricky with maternity bridesmaid attires. So it is best to see a professional dress store for help and order the apparel keeping your expectant maid in mind.
STUNNING SEQUIN BRIDESMAID DRESSES
If you and the girls are all glitz, glam, and sequins, give Sequin dresses a go. You will never be wrong with it. Thus, we have a trendy collection for your besties to choose from.
Check Out This One – #CB0406 Reyna in Wine
This glittery trumpet/ mermaid dress features an asymmetrical, one-shoulder spaghetti strap neckline and a skirt with an open front left slit. The fabric has a bit of a stretch, so you can twerk the night away (wink wink).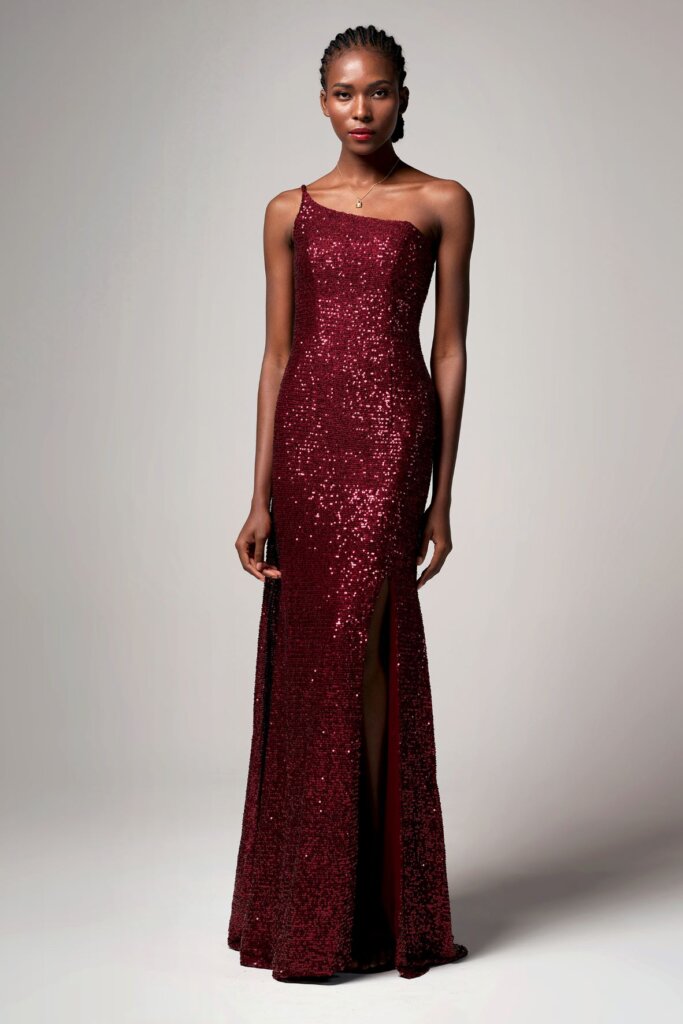 Styles:#CB0406
Another Sparkly Dress – #CS0265 Priscilla in Rose Gold for the Inner Goddess
This fine-looking sheath/ column dress features a semi-sweetheart neckline with off-shoulder short sleeves, a lace-up corset back, and a skirt with a left leg front slit.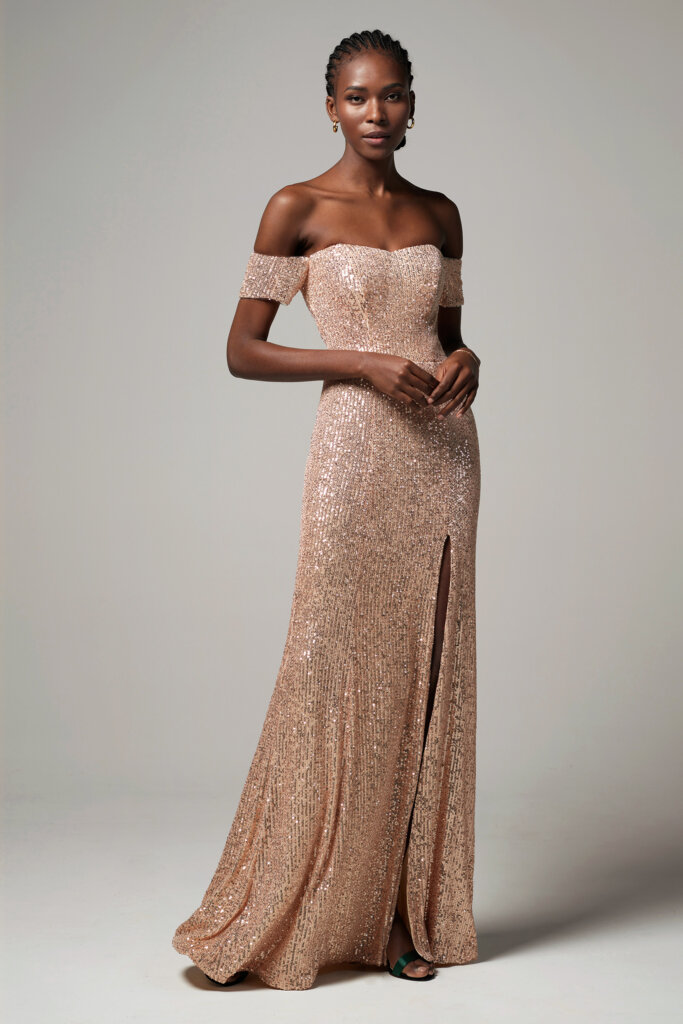 Styles:#CS0265
ALL SET TO SLAY THE GAME? ORDER YOUR BRIDESMAID DRESSES WITH COCOMELODY TODAY. 
At Cocomelody, we have a comprehensive range of colors, styles, sizes, and fabrics for your best women to pick. Although the website look book shows only one color for each style, you can choose from as many colors and collections as you want. We can also custom-size the dresses for the best fit.
The Cocomelody team is passionate about giving you the finest fashion advice, and our mission is to empower true beauty with all our resources and capabilities. We believe everyone deserves the opportunity to feel and look beautiful at all their important moments in life. So, we help you with just that and offer an enjoyable shopping experience.
For more details, check out our July Live Stream recorded video here.