Hey you!
You know what?
True beauty comes in all shapes and sizes. Style has no standard measurement.
Ultimately, it is about being loved and appreciated beyond a number on a scale. At Cocomelody, we believe that women are like snowflakes – no two seem alike.
Still, if you believe being plus size can deter you from showing your best – think again. In the wedding industry, nothing is impossible. It also applies to wedding outfits for curvy brides.
Custom fitting is one way to get that stunning showstopper. Shopping for plus-size dresses is another ultimate option, we do investigation on different body type and design dresses according different body type. You will get useful advice from our professionals and find your dress at Cocomelody. – and don't worry, we also offer custom-sizing service with reasonable prices. Your wedding dresses will flatter your figure well.
If you are looking for the best, here are some bridal styles all you curvylicious to-be brides will love flaunting on your big day.
A-Line Silhouette
Chic lace, feather-light chiffon, and shimmer or beading are some go-to features in a curve-ready A-line silhouette. It looks fabulous on a beach or palace-style wedding.
Need something classic and sophisticated? Choose a slim A-line skirt with beaded appliqués throughout the bodice complemented by lace and satin fabric for an effortless look.
Looking to create boho-romantic vibes? Try cold shoulder sleeves with some floral lace in soft illusion and sheer organza.
Something unconventional? Cocomelody features a stunning collection of Black A-line Bridal Dresses for curvy brides. Be your queen and shop the best and the latest with us.
At Cocomelody, we stock a room full of A-Line Silhouettes, with gorgeous details for curvy brides to stun their special someone on their big day. You can join our Sept. 21 Live Stream in which our curvy model showcases the following dresses #CW2179, #CW2174, #CW2169, #CW2186, you can see how these dresses look like on her. You can further speak to our professional bridal consultants to assist you in every way with choosing the best, from a vast selection of dresses to custom alterations and a lot more.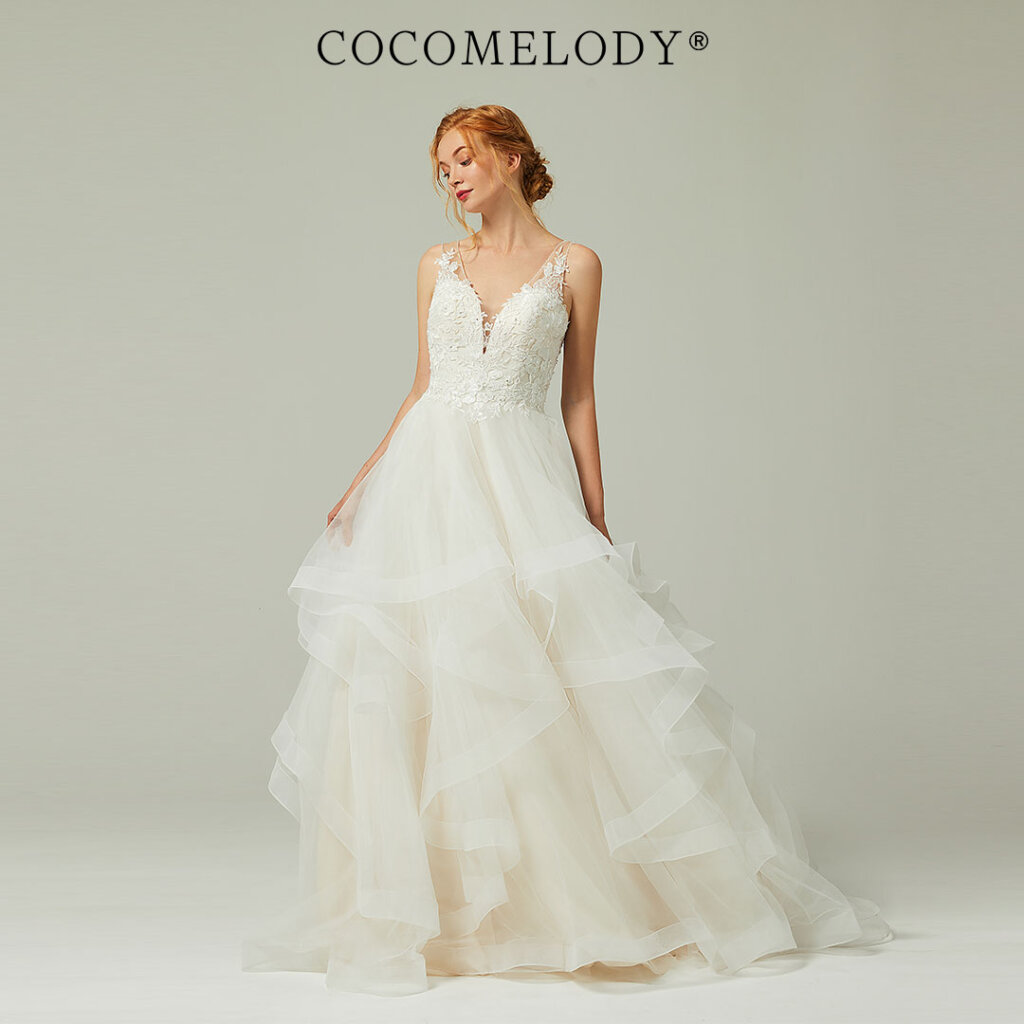 Style: #CW2179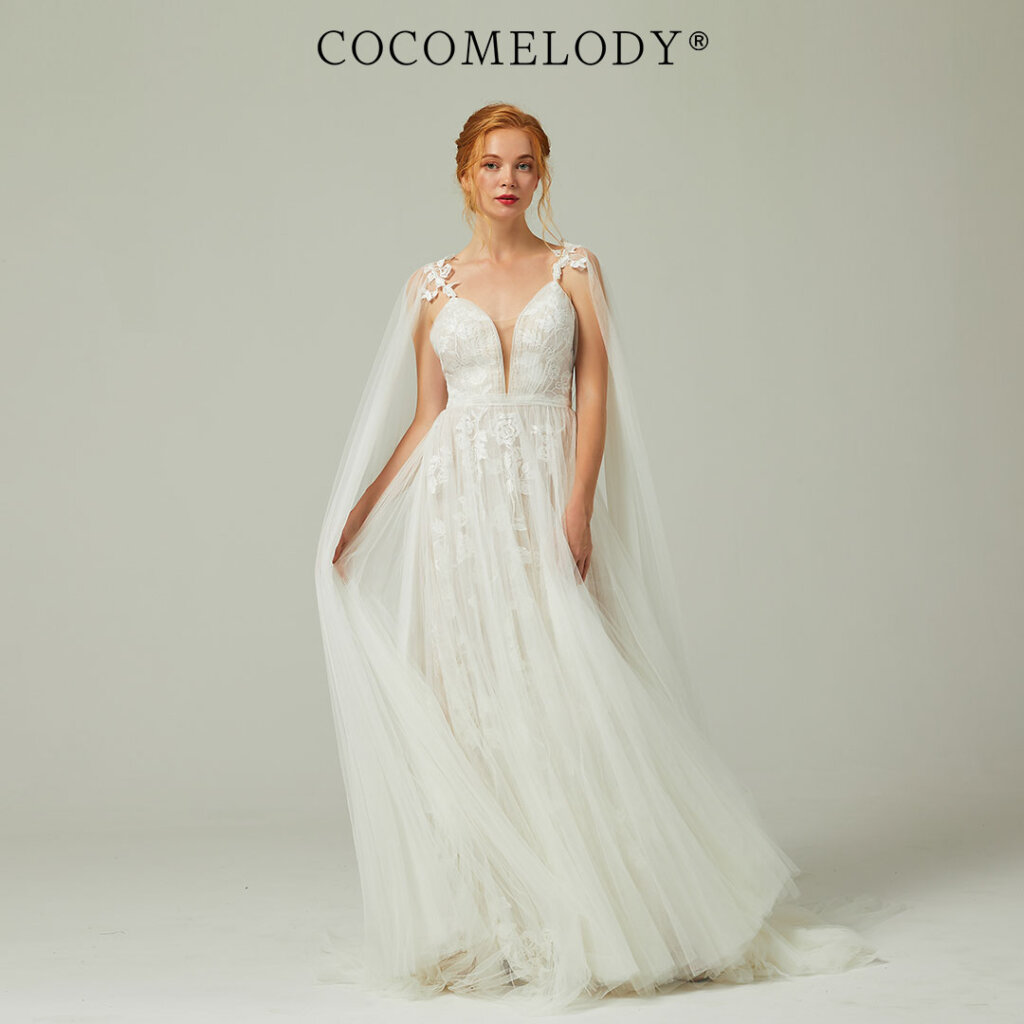 Style: #CW2174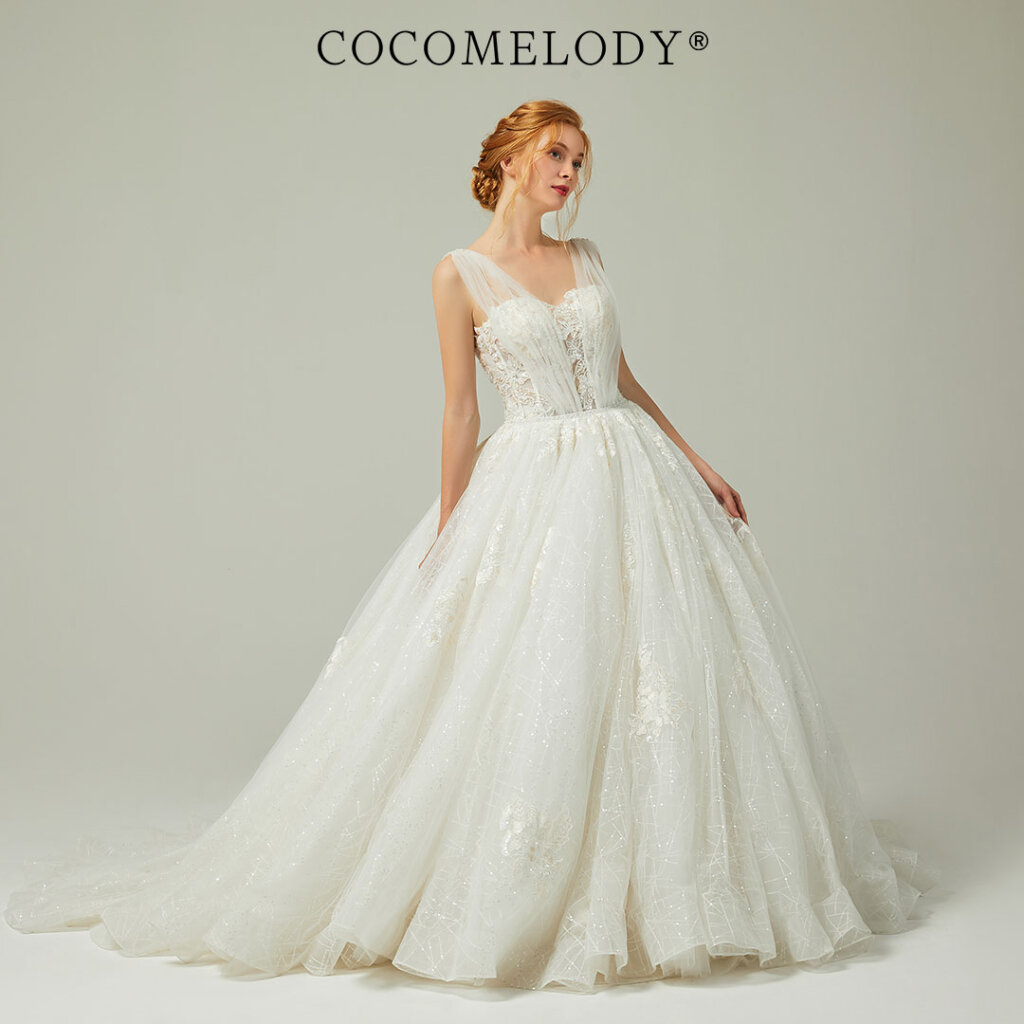 Style: #CW2169
Ball Gowns
For that extravagant opulence, breathtaking ball gowns for curvy brides catch all the eye. It is a timeless shape that looks great on most body types.
Ball gowns feel right out of a fairytale and have you floating down the aisle in style. Try a ball gown featuring a V-neckline with shoulder straps, and you are ready to rock your special day.
Something with stunning lace motifs and an illusion plunging sweetheart neckline is sophistication and sexy rolled into a single style.
Take a look at our ball gown wedding dresses in different colors, styles, and budgets. You can also visit our store locator page to find a suitable wedding dress near you.
Mermaid Style
Dreaming of a wedding dress that complements your figure and makes you feel like a princess?
Choose a mermaid silhouette with a sweetheart neckline and strapless, off-shoulder sleeves – a perfect blend of effortless and glamorous. A fit-and-flare dress with a corset-style closure will further highlight the right spots. That's not all – if you are a lace lover, try intricately embellished appliqués and lace for a regal look.
Cocomelody dresses #CW2306, #CW2128, #CW2187 are a must try for plus-size brides, you can also see details on our Sept. 21st Live Stream, we will introduce several selected styles for curvy brides.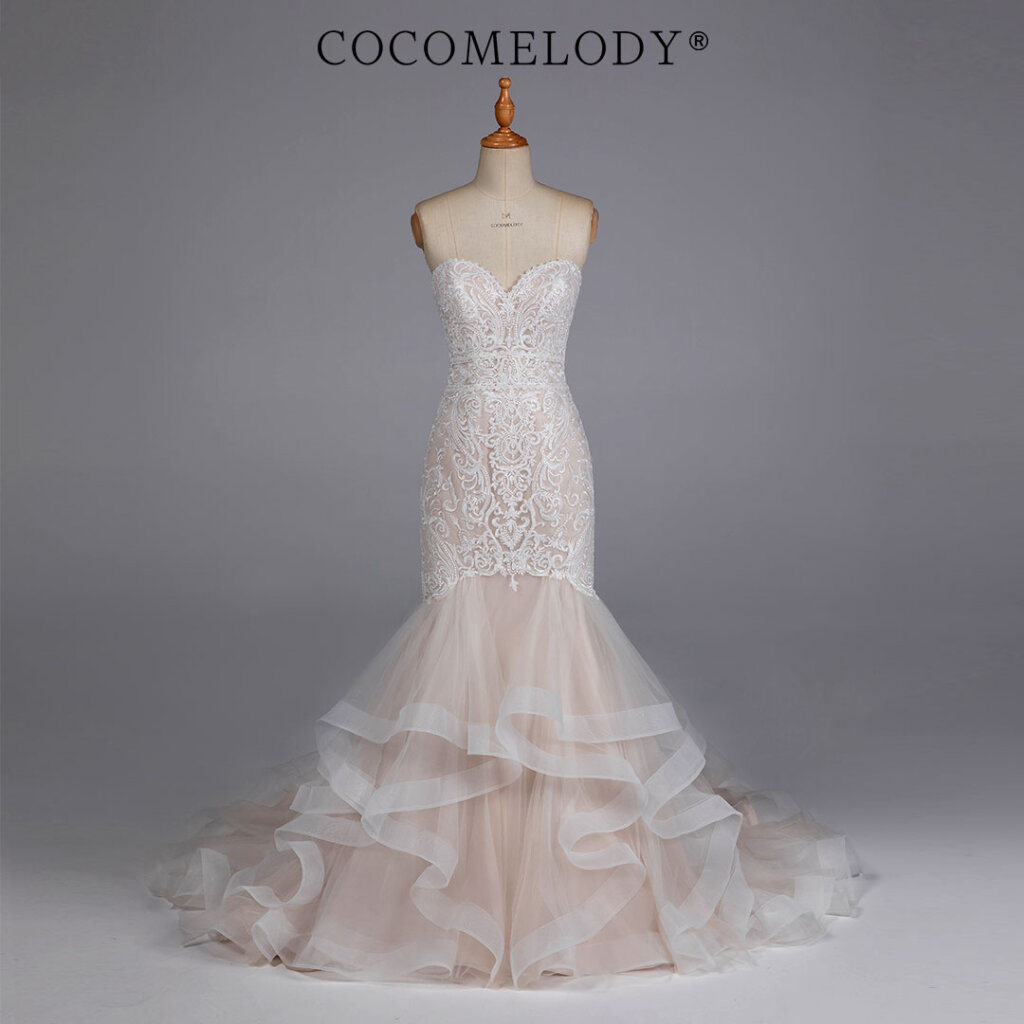 Style:#CW2306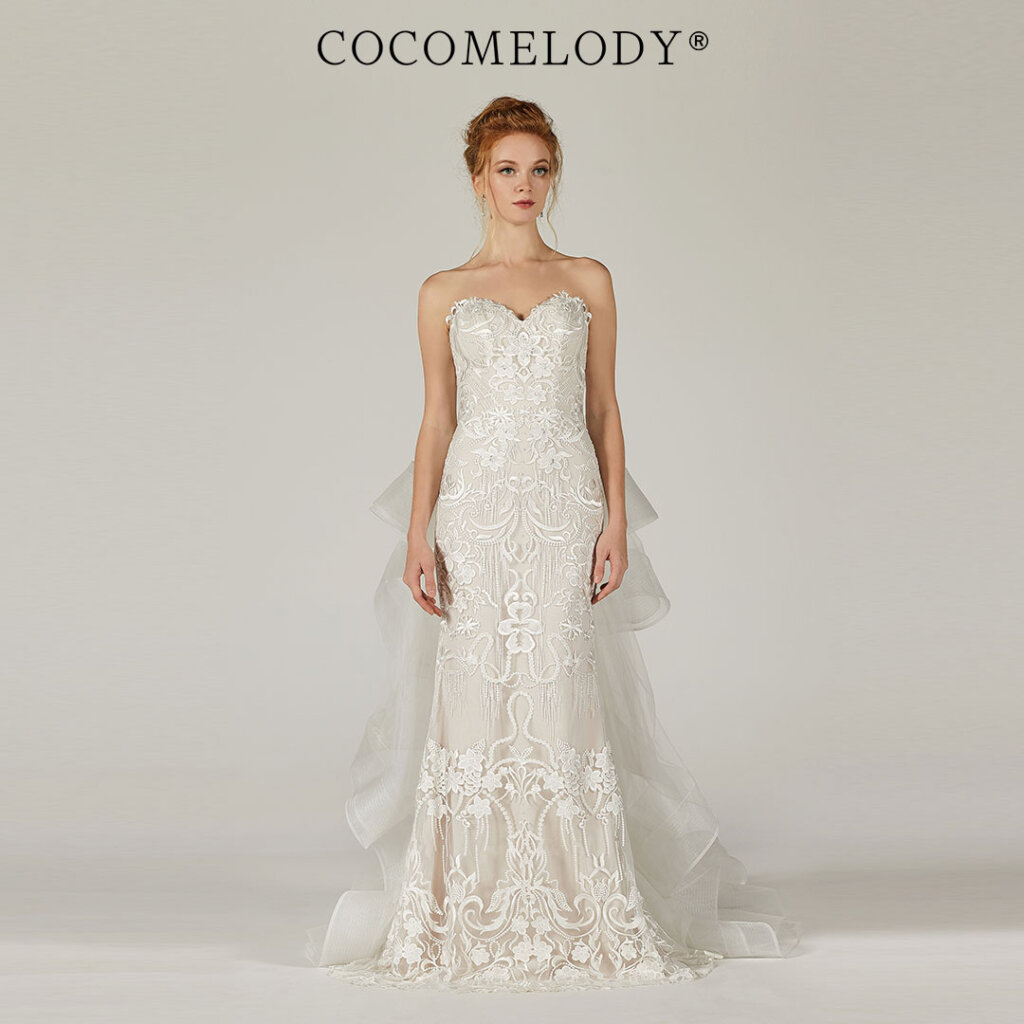 Style: #CW2128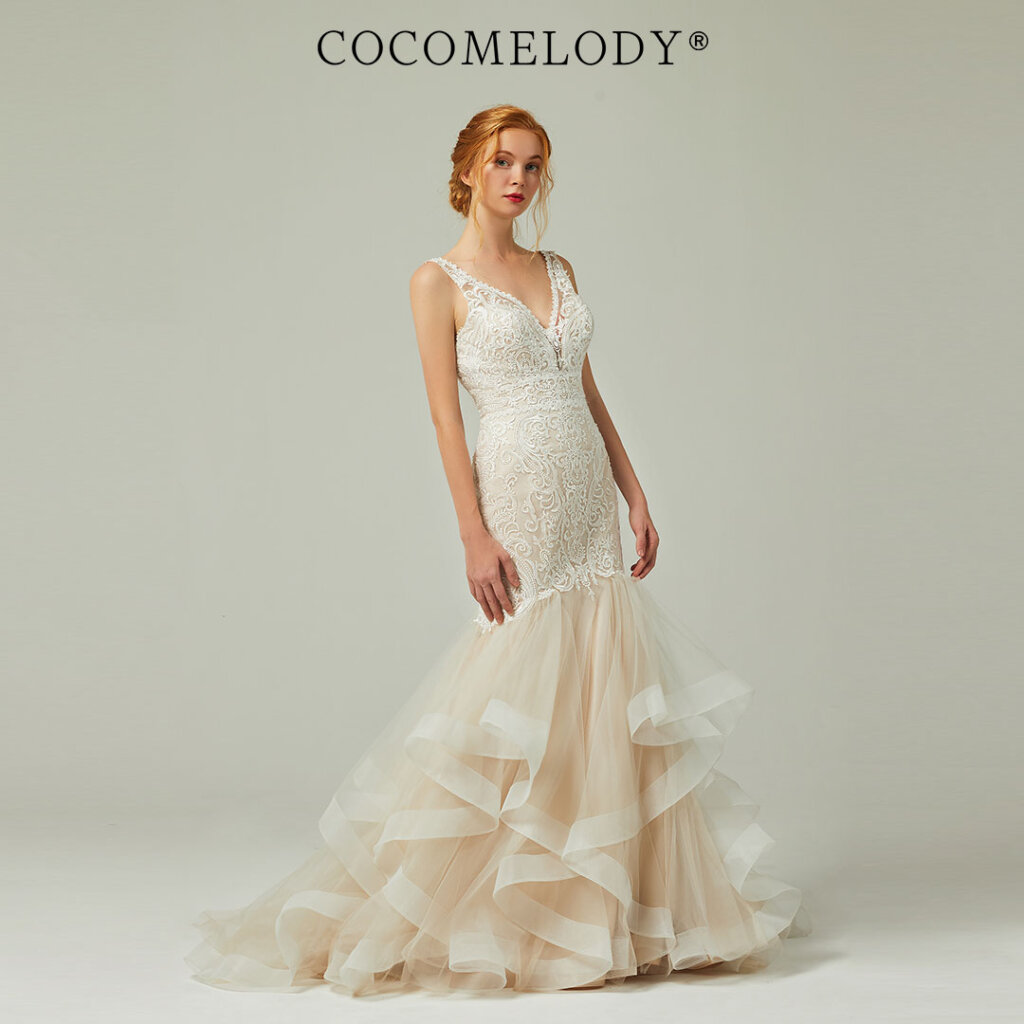 Style: #CW2187
Experiment with Sleeves
Not all brides choose to go with sleeves on their wedding dresses. But if you are looking for better coverage on your arms, sleeves are a great option. These offer a feminine look and, of course, provide sheer cover. Finalize the fit of the dress and request the bridal boutique to customize it with sleeves of your choicest length, style, and fabric.
Long sleeves usually do well in winters, whereas shorter, designer sleeves look chic and timeless at any time of the year. See our wedding dresses #LD4432 and #CW2186 to experience how long and short sleeves look on wedding dresses.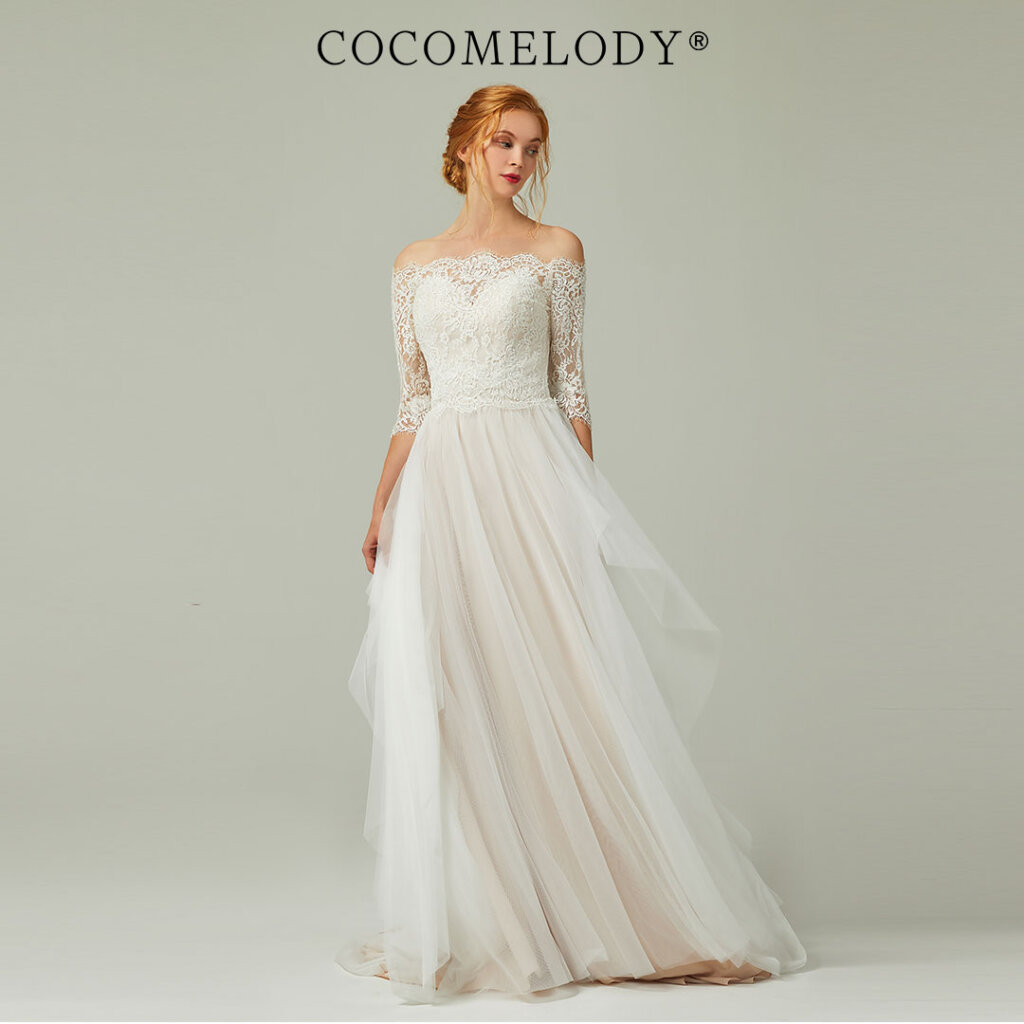 Style: #CW2186
Accessorize Well                                                                                      
Bridal fashionistas love elegant wedding dresses with some sophisticated accessories to complete the look. Play around with different lengths of jewelry. Match it with your hairstyle and headwear. Use the "less is more" mantra always. Don't forget your face shape to determine the best look.
Looking to customize a piece? Don't procrastinate, and make sure you have it designed timely. Lastly, choose bridal accessories that give a feeling of elongation to rock your day.
With Cocomelody, show off your features without compromising on comfort or wearability. We have been offering wedding dresses for curvy brides for decades. Visit our LA store to check out our diverse selection – you will be amazed at just how many options we have to fit your curves.