Whether you are getting married halfway around the world or in the neighboring coastal town, figuring out how to get your wedding dress from your home to your wedding destination can be a little tricky. As if you needed something else to be worried about, right?
Don't panic. Check out these dos and don'ts of traveling with your wedding gown to make sure it gets from point A to point B safely.
The Dos And Don'ts If You Travel With Your Wedding Dress

| | |
| --- | --- |
| Do | Don't |
| Store your gown in a manner that makes you most comfortable | Pack your dress in your checked luggage |
| Invest in a travel bag for your wedding dress | Forget a handheld steamer |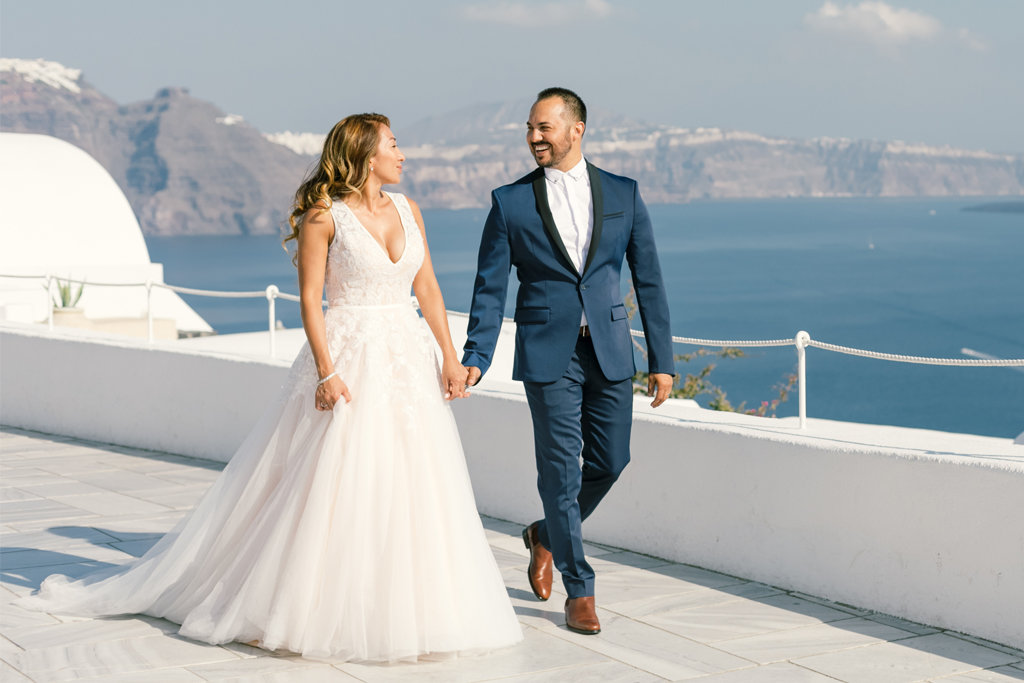 Style: #LD3932, Image Credit: Olga Creative Photography
Don't: pack your dress in your checked luggage.
The unspoken rule of flying with your wedding gown is that you should never, under any circumstances, check your gown on an airplane. Anyone who flies a lot has a horror story about lost or delayed luggage. Your expensive wedding dress could easily be damaged, lost, or, stolen and may never make it to the end of the line. Imagine what a nightmare it would be to arrive at your dream destination to tie the knot and realize that your wedding gown got lost somewhere en route. Not to mention that when you take your gown out of the bag, you do not know what condition it will be in. While the odds of something happening to the dress may be small, it simply is not worth the risk of not having the dress on your wedding day, is it?
Do: store your gown in a manner that makes you most comfortable
This one is obvious: once you board the plane, you will want to find a safe place to store your wedding gown. One thing you can do is to lay your dress flat on top of the luggage in the overhead compartment. Another, and a better choice, is to ask the flight attendants to hang your gown in a first-class coat closet or their own closet to keep it safe and sound. If there is room, most attendants would be happy to do that. This will help keep your wedding gown free from wrinkles.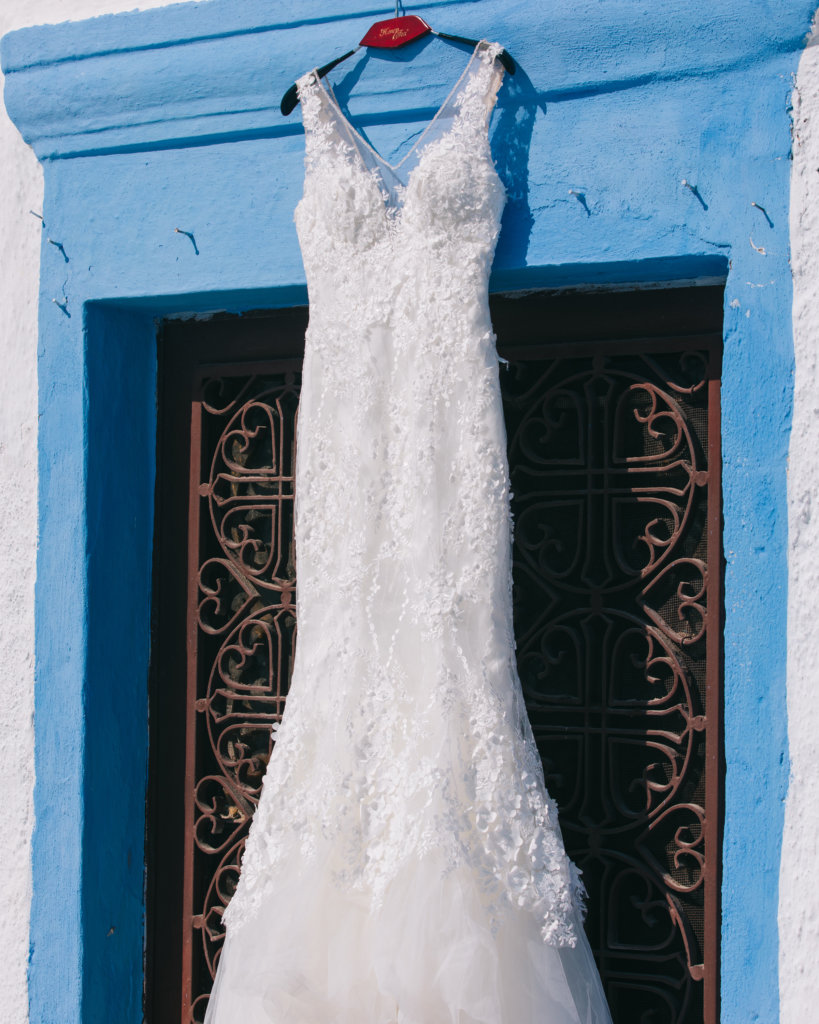 Style: #LD5058, Image Credit: Miltos Karaiskakis Photography
Do: invest in a travel bag for your wedding dress
If all the closets are full or off limits, you can still fold your wedding dress and gently put it in a travel bag. Of course, there will be some wrinkles, but it beats having no dress at all. With that in mind, get yourself a high-quality, waterproof wedding dress bag made for traveling. Not only will it keep your gorgeous dress safe from any accidental spills, but it also has a shoulder strap for easy travel! You can find good quality travel bags online or at any bridal salon. A large bag should have plenty of room to fit your a line wedding dress and veil. Now your gown will never leave your sight!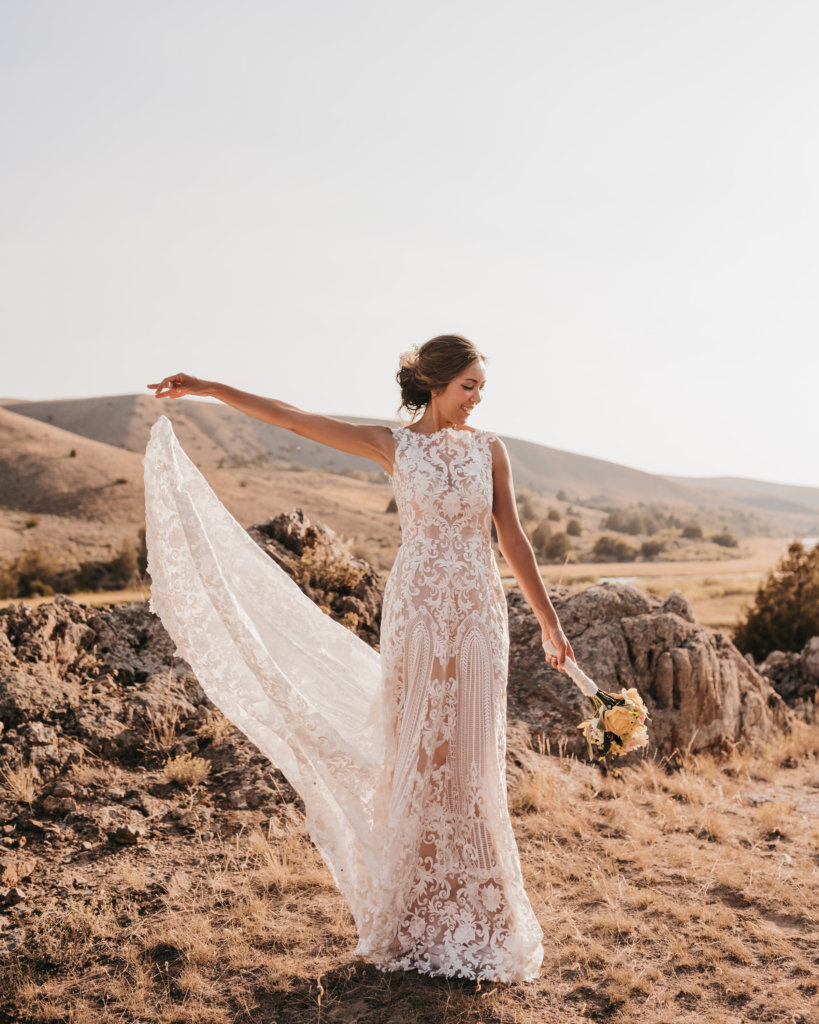 Style: #LD4317, Image Credit: Abby Fowles Photography
Don't: Forget a handheld steamer
As soon as you arrive at your hotel or resort, you will want to make sure that your wedding dress is still in perfect condition, but if you need to get rid of a few creases then you can easily do so by making use of a handheld steamer – this will gently smooth out any wrinkles without the need to hang the gown in a bathroom and letting the shower run hot to create some steam. Handheld steamers are pretty inexpensive and easy to pack as well. It is better to be safe than sorry! Depending on where you are staying, you might even be able to track down a bridal store nearby that will professionally press your lovely dress for you.
Don't: let the stress get the best of you
Keep in mind that there are brides traveling with their mermaid wedding dress every day. For that reason, airports, airlines and flight attendants are most likely already used to your situation, and will be able to help you. We say, play the bride card, and everyone will treat your wedding dress with great care.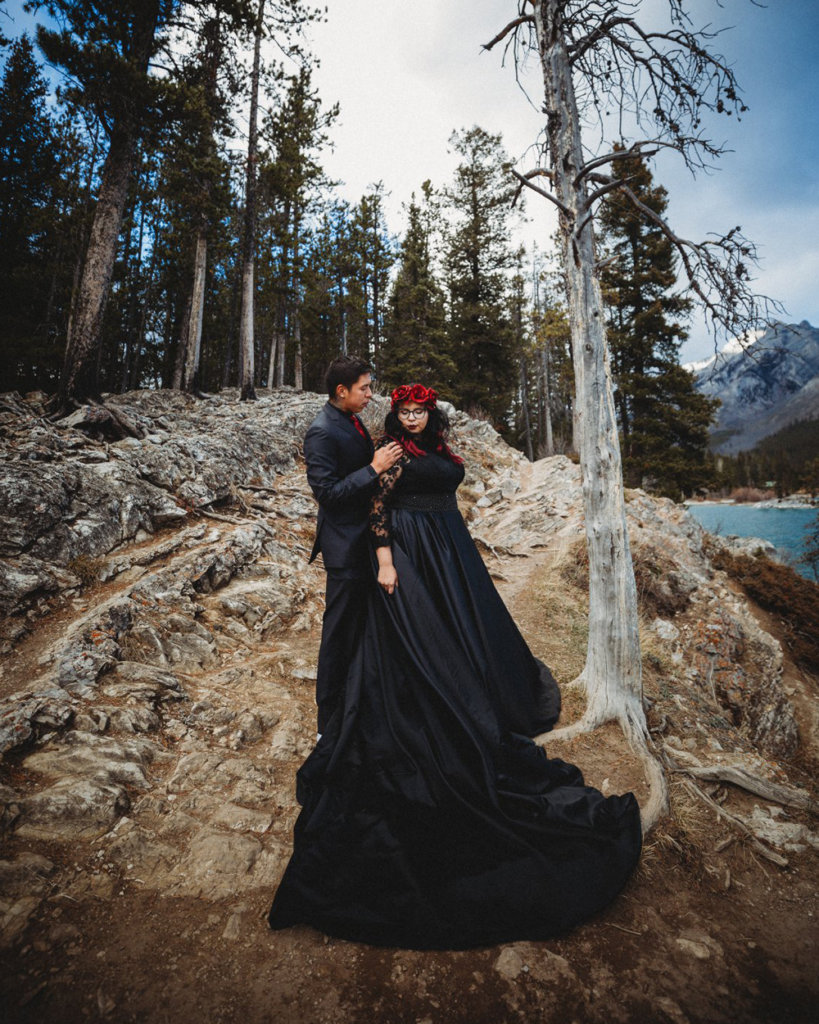 Style: #LD5445, Image Credit: Loree Photography
Your destination wedding will be a once in a lifetime event. Conquer the last to-do item on your list by figuring out how to travel in complete comfort and safety with your wedding gown right next to you and you will arrive ready to say your vows as a beautiful bride!