If you're a curvy bride, shopping for your wedding gown should be no different than any other woman shopping for her wedding gown. You still want to be drop-dead gorgeous and feel like a gazillion bucks. You still want your dress to flatter your figure and be as comfortable as possible. So, with that in mind, we have put together this shopping guide to help you find the plus size wedding dress that you'll absolutely love.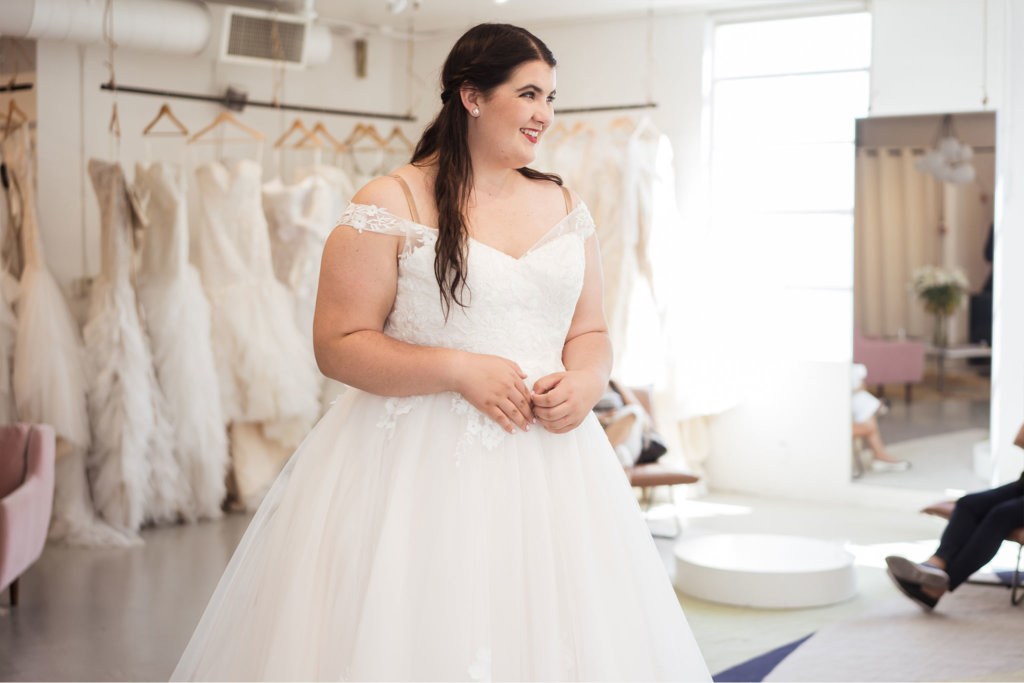 Style: #LD5714
1. Styles
Try an A-line
An A-line wedding dress style is fitted through the bodice with a slightly flared skirt. This is a popular style because it flatters most figures and can help hide full hips and/or large thighs.
Be careful with Ball Gowns
A ball gown style is similar to the A-line but with a very full skirt. This style is also good for hiding hips and thighs, but if you carry your weight in your chest and arms, a full skirt will create an overwhelming sense of roundness.
Avoid Sheaths and Mermaid/Trumpet styles
A mermaid/trumpet style is fitted until just at or below the knee. These will emphasize a larger rear, hips, and thighs. A sheath is fitted from top to bottom, like an all over tube top idea. This style shows everything with extreme detail.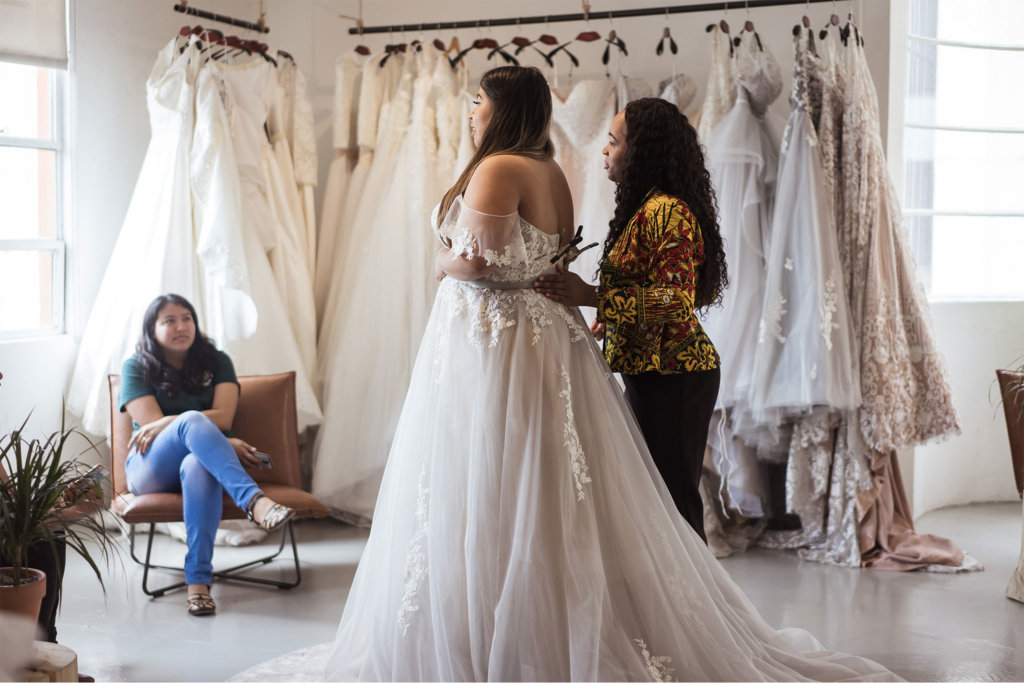 Style: #LD5861
2. Waistlines
Try a dropped or natural waistline
A natural waistline is at your natural waist, obviously. With a full skirt, this waistline can make a waist look smaller. A dropped waistline falls just a few inches below the waist. This is awesome for making the waist appear smaller and for lengthening the torso.
Be careful with Basque and Empire waistlines
A Basque waistline looks like a V or U shape in the front. This is good for making the waist appear slim and hiding full hips but can emphasize a protruding tummy as well. Empire waistlines are higher, usually just below the bust line. This is great for drawing attention away from thicker waists and lengthening but will overemphasize a large bust.
Avoid Princess Waists
These are gowns without a defined waistline and they draw attention towards your middle.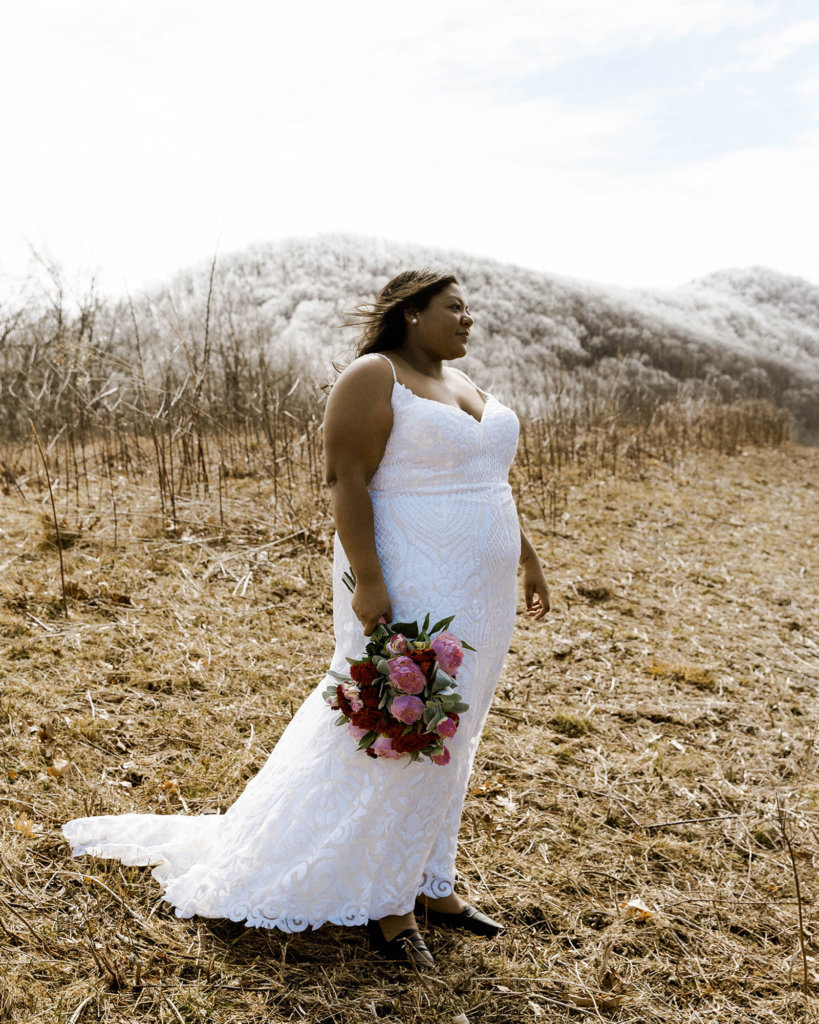 Style: #LD5780, Image Credit: Illustrious Light Photography
3. Necklines
Strapless wedding gowns and spaghetti straps are not the best choices for a curvy bride. Thicker straps and/or sleeves will help create a look of balance. A square bust line is a good choice if you want to show off your bust line without revealing too much. A traditional scooped, or U shaped neckline will work for just about anyone. A sweetheart neckline, which forms a sort of heart shape over the bust, is also good for emphasizing a great bust line. If you carry most of your weight in your upper half, you may want to avoid V-Necks and halters, as they draw attention upward. A halter style, in particular, is great for de-emphasizing broad shoulders and showing off your back. Off-the-shoulder straps, on the other hand, will emphasize broad shoulders but can be a good choice if you want to show off your upper body.
4. Finding a gown in your size
The most important thing is to shop early! Before you go, stop in and have a seamstress take your measurements. Wedding dress sizes run differently than regular clothes, so getting accurate measurements will give you a better idea of what size you really need. Then get to the store! Don't just look at dresses in stock. Ask the store owner to show you gowns that can be ordered in your size. This will widen your selection.
Make sure you give yourself enough time to shop around, don't forget to check out the online bridal salons for a great selection. It can take 2 months or so to receive a dress if you order one, and keep in mind that you will need to leave a few weeks to schedule fitting and alterations as needed. So again SHOP EARLY!
When your dress is in and you take it to get altered, wear the undergarments you plan on wearing on your wedding day to help give the seamstress an accurate idea of what you need done.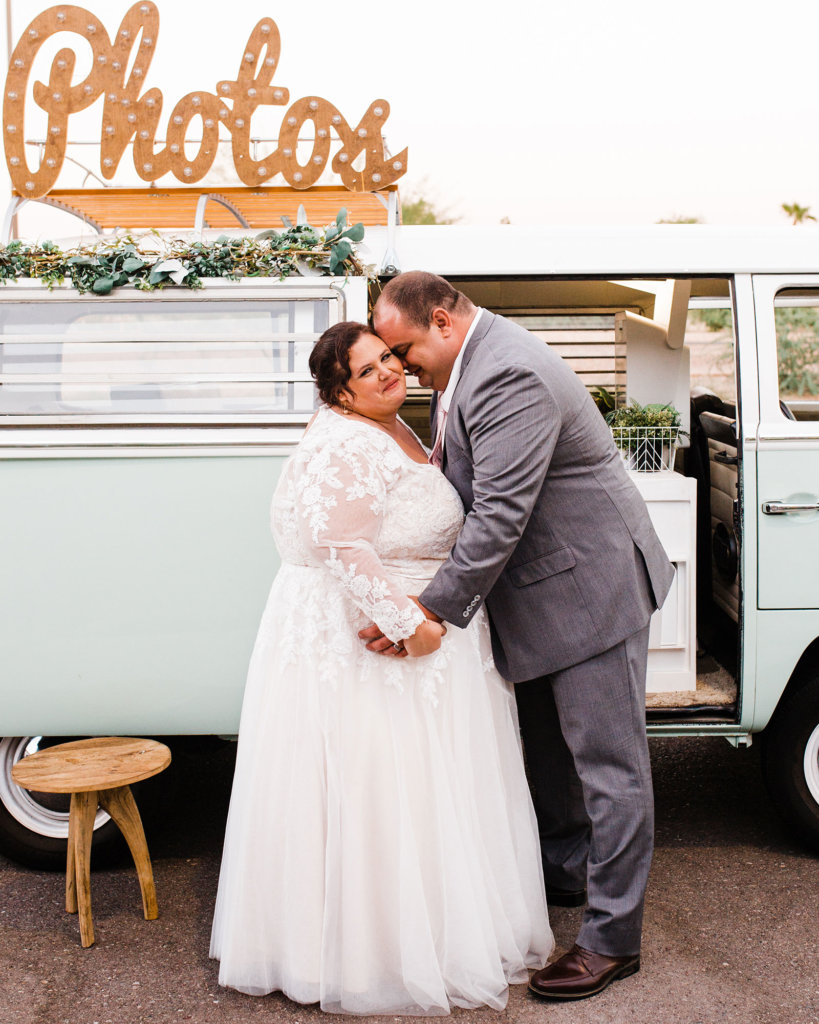 Style: #LD4432
5. Accessorize with Care!
Avoid overdoing it with accessories. Simple, complimentary headpieces and jewelry that don't distract from you or the dress are best. And get your hair done before and take a few pictures with the gown on. What looks great when you are wearing jeans and a t-shirt might disappear behind a huge gown and veil.
6. Wrapping this up
Always consider that all the guidelines you encounter in choosing a bridal gown, especially if you are a plus-size woman, are just guidelines that are meant to help you select your perfect wedding dress. These are not rules that are set in stone. So, if you fall desperately in love with a bridal gown, ignore all rules and do not leave the store without buying it. If you do not buy it, someone else will, and you will regret not being decisive enough to make the purchase when you should have done so.