Coming down in favor of one wedding dress can be a tough task and we are sure every woman who has been down this road would agree. What we mean is, with so many different wedding dress styles to choose from, how can a bride-to-be possibly figure out what is best for her? The decision becomes even more puzzling when small details are considered, among the most important of which is the length of the sleeves. So, sleeves or no sleeves? Which one should you go for?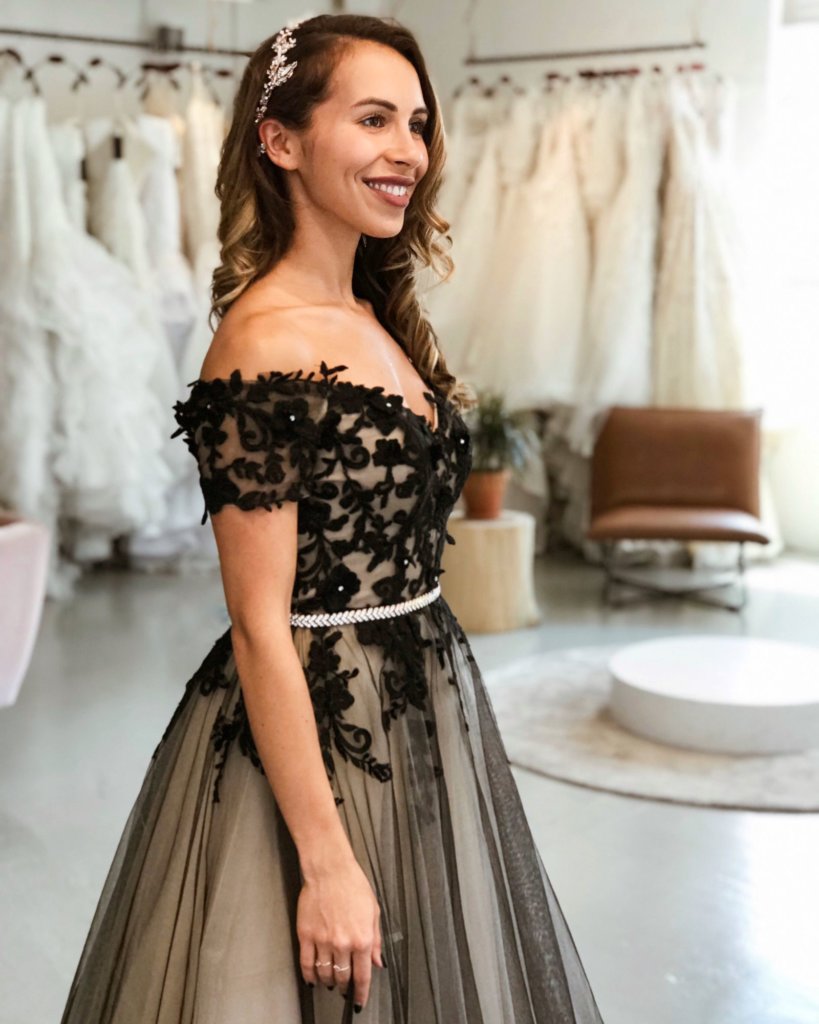 Style: #LD5830
What do the trends dictate?
In an age where brides are breaking away with all kinds of wedding traditions to make their big day more unique, a sleeveless wedding dress is undoubtedly a hit. As a matter of fact, sleeveless gowns are among the hottest wedding trends of this year. Sleeveless wedding dress, especially off the shoulder wedding dresses without sleeves, are sexy, they are romantic and if you can pull one off, there is no other wedding dress that can look as glamorous as one without sleeves.
Does this mean that wedding dresses with sleeves are boring?
Absolutely not! Wedding dresses with sleeve have that "classic history" vibe to them that makes them ten times more attractive. What do we mean by this? Well, wedding dresses have been around for as long as weddings have been. We all know for a fact that brides back in the day only had one dress option: a long sleeve wedding dress. So, it is safe to assume that since the medieval era, the long sleeve wedding dress effectively gave off the implication of feminine modesty. And modest does not mean boring.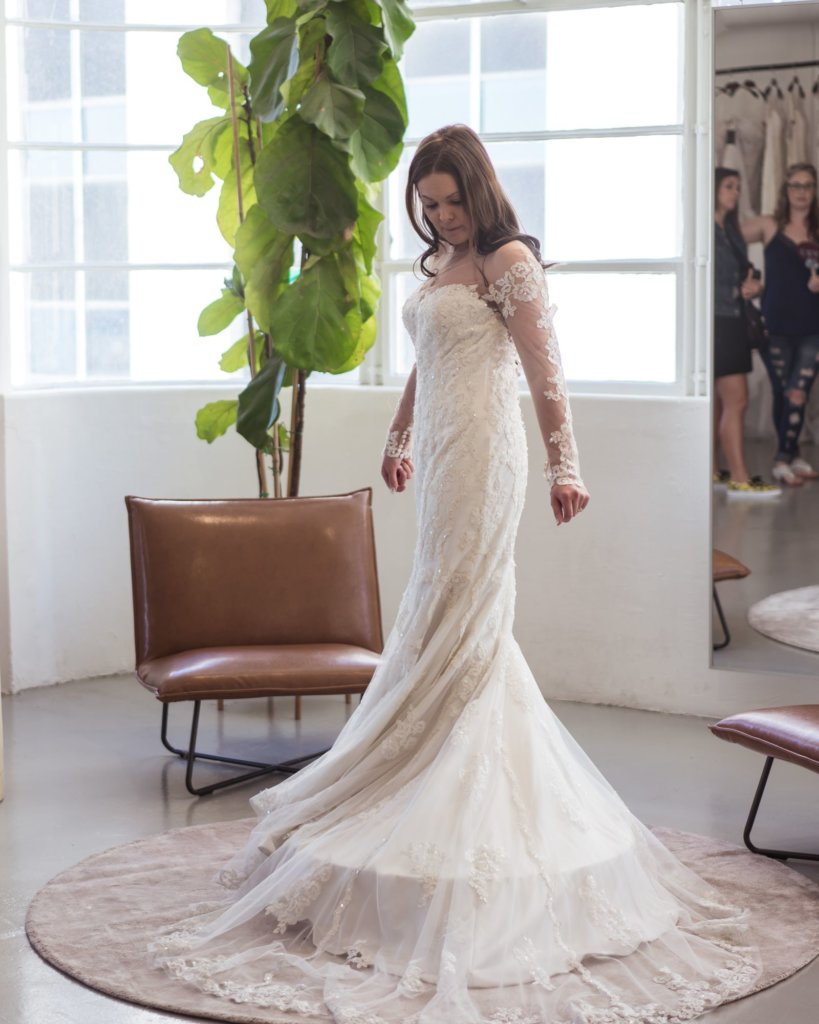 Style: #LD4620
1. Everything depends on your affair
If you are throwing a formal wedding, do not even give thought to wearing a sleeveless wedding gown. See, wedding gowns with sleeves exude elegance and that is why you will find it hard to see a royal bride wearing anything other than a long sleeve wedding dress – Princess Catherine and Princess Meghan both wore long sleeve wedding dresses, which were absolutely stunning, by the way! On the other hand, if you are hosting an informal wedding, you can rock anything. Want to go with a full sleeves boho gown? Go ahead. Want to go sleeveless and look daringly modern in your A-line wedding dress? Well, that is fine too.
2. Consider your body shape
Before going dress shopping, you must know which silhouette will bring out your best. A long sleeve wedding dress has one basic purpose which is to draw attention to your upper parts. This is great if you have hips that are either too full or too small and you want to draw all the eyes to your chest and arms instead. Having long sleeves is also a great solution to square shoulders and big arms. Be that as it may, you would be better off wearing a sleeveless gown if you are small in stature. If you are petite, you will look out of proportion with a long sleeve wedding dress. You should also consider having a sleeveless gown if you have beautiful, well-toned arms.
3. The comfort is important
Sleeveless wedding gowns are infamous for being uncomfortable as they tend to fall down a lot. Yes, your sleeveless gown might slip down as you walk down the aisle or in the middle of your first dance. To avoid exposing your "girls", you would have to constantly pull up your dress and that can get super uncomfortable. So, if you cannot pull off a sleeveless dress, save yourself the embarrassment and wear a gown with sleeves instead.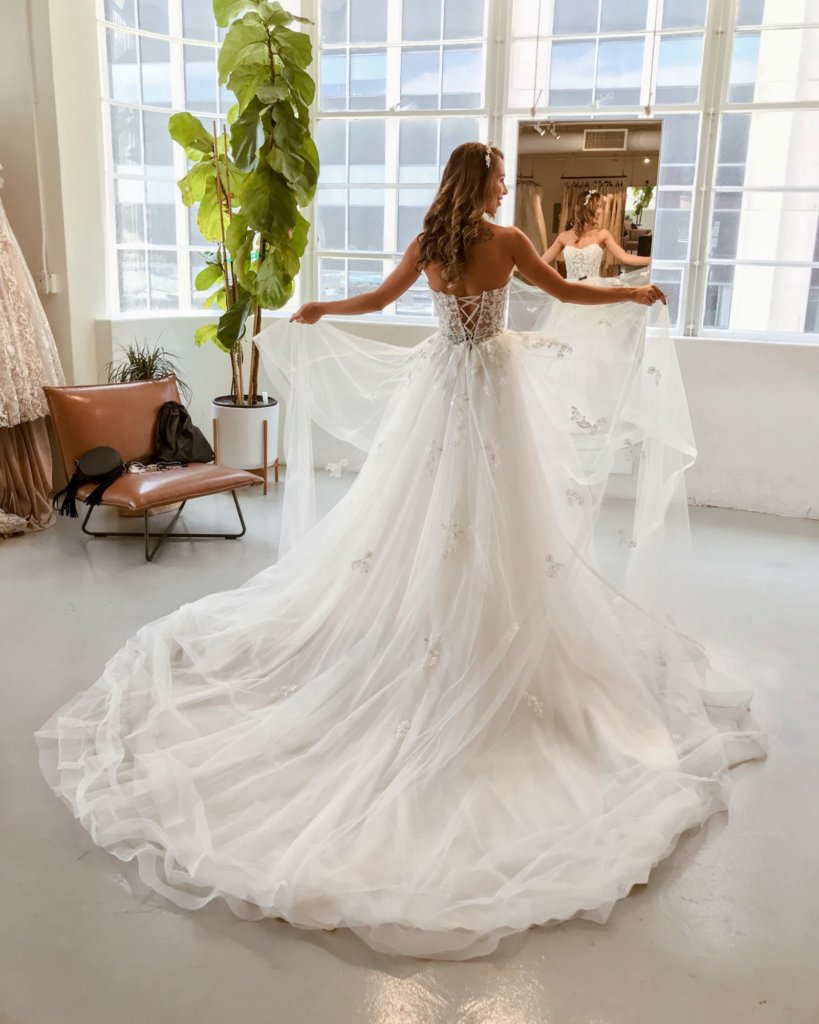 Style: #LD5814
What's the takeaway?
When you have made allowances for these tips, you will more than likely figure out which sleeve length works best for you. That being said, you do not really need to base your decision on these tips. You can read up on all the tips and make an "informed" decision, but if you are not happy wearing your dress on the big day, was it even worth it? This is why, at the end of the day, buy the dress you actually want to wear on the biggest day of your life.