Are you the type of couple that wants to break away from the tradition and do things a bit differently on your big day? If yes, then we have good news for you, rule breakers! Many old-school wedding traditions are now viewed as optional. Sure, there are traditions that we absolutely adore but many of them are undeniably antiquated, irrelevant and often very sexist, and should be thrown out of the window. To truly make your wedding meaningful, memorable and unique, here are ten traditional wedding rules you can (and should) break.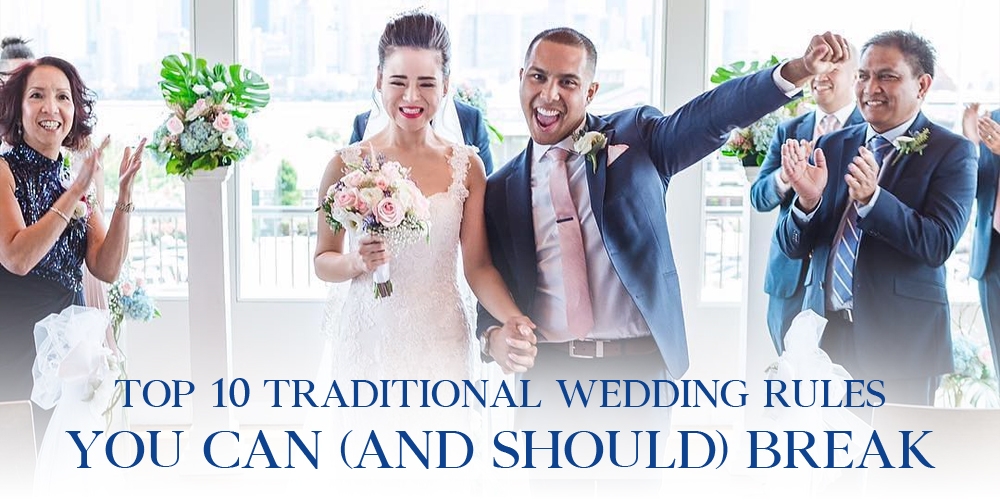 1. You can't see each other before the wedding
It was a general idea that the couple wasn't supposed to lay eyes on each other until the last minute or years of bad luck will follow suit. (Crazy, isn't it?) While this tradition definitely adds some excitement and anticipation by creating a little mystery, it's not necessary. You can steer clear of this tradition and stay in the same room the night before, have breakfast together or duck off for a romantic drink ahead of the ceremony and really relish the moment before you say 'I do'.
2. Bride's father walks her down the aisle
If your dad passed away, you aren't close to him, or the sexist tradition rubs you the wrong way, don't hang back from making the aisle trip solo or skip the walk altogether! If you still want to celebrate the custom without the whole aspect of being "given away", you can choose to be escorted down the aisle in your dream wedding dress with both your parents. Or, alternatively, you can make an entrance hand in hand with your partner.
3. The bride stands on the left side of the altar
The number one question couples ask during their wedding rehearsals is "which side do we stand on?" And to tell you the truth, if you don't know, then it can't be that important. Traditionally, the bride stood on the left so that the groom can hold her hand with his left hand keeping his right hand (his sword hand) free in case he needs to fight for the bride mid-ceremony. So, unless you're having a medieval cosplay ceremony, it actually doesn't matter what side you stand on.
4. The bride must wear white
This might come as a bit of a shock but you don't have to be dressed exclusively in a white wedding gown on your big day. Wish to be clad in a pastel lace wedding dress or a dark red a-line wedding dress, or perhaps a black wedding dress with sleeves? Whatever you want, you can go for it! On the face of it, it may sound intimidating but non-white wedding gowns look very beautiful and unique – and are easier to pull off than you might expect.
5. Groomsmen have to be men and bridesmaids have to be women
Is your best mate a guy (bride) or would you like to have your sister as your best-man (groom)? Then do it! As the role of the bridal party has changed, so have the standards. Bridesmen and Groomswomen, and Man of Honour and Best Woman are totally a thing now.
6. Matching bridesmaids dresses
There is nothing wrong with matching bridesmaid dresses, but your attendants will genuinely appreciate being given a chance to choose a dress that fits their personality and body type better. Not to mention, mix and match bridesmaid dresses can add a distinctive character to your wedding ceremony.
7. The garter and bouquet toss
Do you want to embarrass all the single, unmarried guests at your wedding ceremony? NO? We thought so. Well, in that case, you may want to toss the tradition of a garter and bouquet toss out the window (pun definitely intended.) That being said, the sentiment behind the toss ritual is benign and it can be a fun activity if your guests are okay with it.
8. Bride's parents pay for the wedding
With more couples tying the knot later in life when they are financially settled, the rules regarding who shells out for the wedding have undergone a change. So if you want, you can pay for your wedding on your own, or delegate out what you're comfortable having your family for.
9. Moms can't throw the bridal shower
This is yet another one of those ridiculous traditions that, for whatever reason, have stuck around for some time. While back in the day it was considered rude for a mom to throw the bridal shower, this no longer applies. So, if your mom is a party planning pro, go ahead and let her host the bridal shower!
10. You must have a wedding cake
There are some gorgeous, mouth-watering wedding cakes out there. However, just like everything else, there are so many other dessert options if cake just isn't your thing. And here's the thing – cake gets wasted. If you still want to engage in the traditional cake cutting, just buy a small cake. It will save you money and nobody is ever going to know the difference!
Your wedding is all about what is personal and special to you. So feel free to dump those traditions that do not feel right to you, as long as you will not be upsetting anyone in the process.