The sweetest, most loved up pair we ever did see!  Marlina & Joshua had their chic country wedding in rose gold at Quail Ridge Park in Wentzville, MO. Their big was filled with a lot of fun and we love the creative photo shoots they did with their bridesmaids and best man!
All photos were taken Three Arrows Photography by Sara.
Wedding Dress Style: #CWLT14036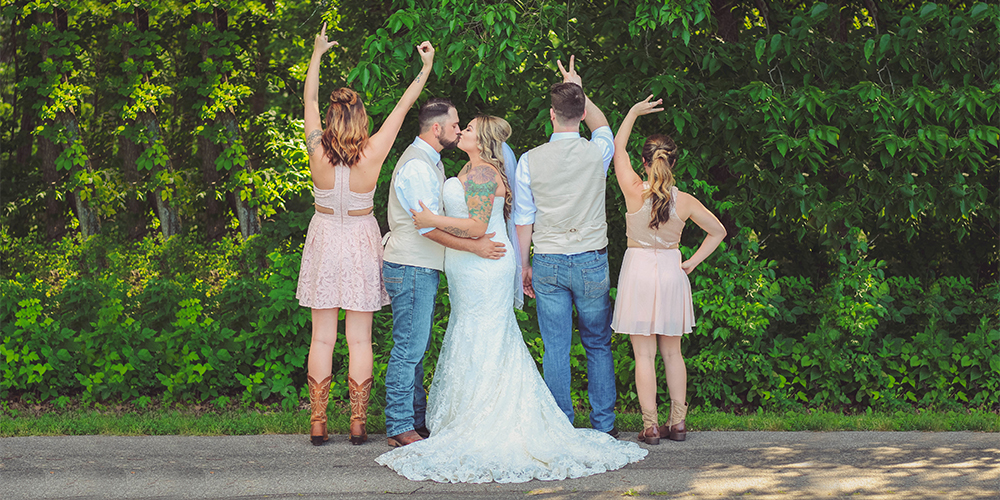 Q: Any advice or tips for future Mrs.?
The best advice I can give is has a group of people at your wedding and a part of your that you couldn't live without. I am a complete control freak and with the people that I had surrounding me, they got me to calm down and let go. I didn't worry about a thing because I knew everything was handled.
Q: Tell us your love story! Where & How did he propose?
He proposed New Year's Eve at the country bar where we met in the middle of the dance floor just after midnight when he finally got the DJ to play our song "it's your love" by Tim McGraw. It was a complete fumblerooski. When he tried to get down on one knee I had a long necklace on and he had on a rosary I bought him that got intertwined and tangled. He couldn't get down so I grabbed both necklaces and put them around my neck. He got down on one knee and without hearing a word I just bent down and kissed him.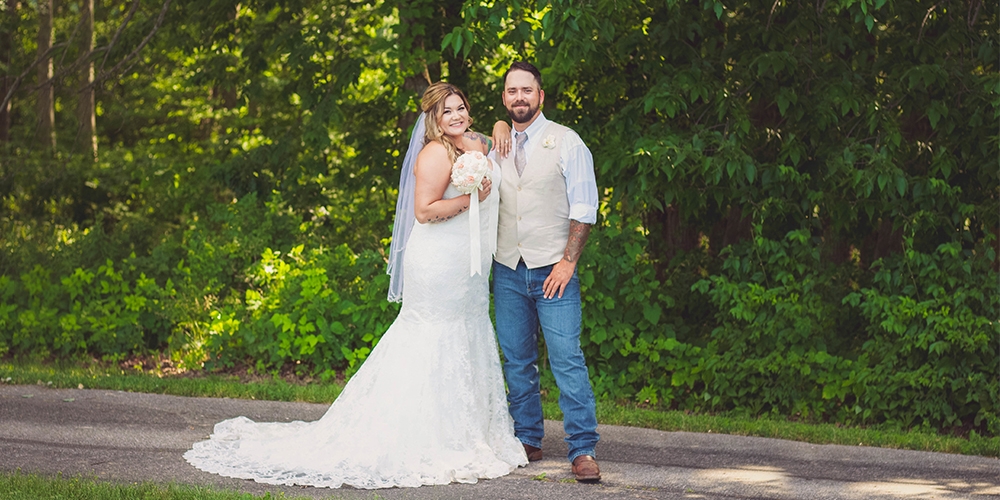 Q: How would you define the message " Dare to Love"?
Stop second guessing everything, don't let how you have been hurt in the past hurt your future, take a leap of faith because you never know what could be.
Q: What was the inspiration behind your wedding theme?
I love rose gold. And it was kind of a combination of the both of us. He's a country boy from Texas and he always likes to call me a city girl since I'm from California.
Q: Did you enjoy the wedding planning process? Why or why not?
I think my wedding process was a lot simpler than the others. I didn't have a lot going into it. I wanted as close to a backyard bbq as possible and still wear a gorgeous dress. I didn't have saved the dates, invites, DJ, cake or flower person… so I didn't have a million numbers and appts and down payments and payouts to worry about. Honestly, it was as if I was just planning a big party.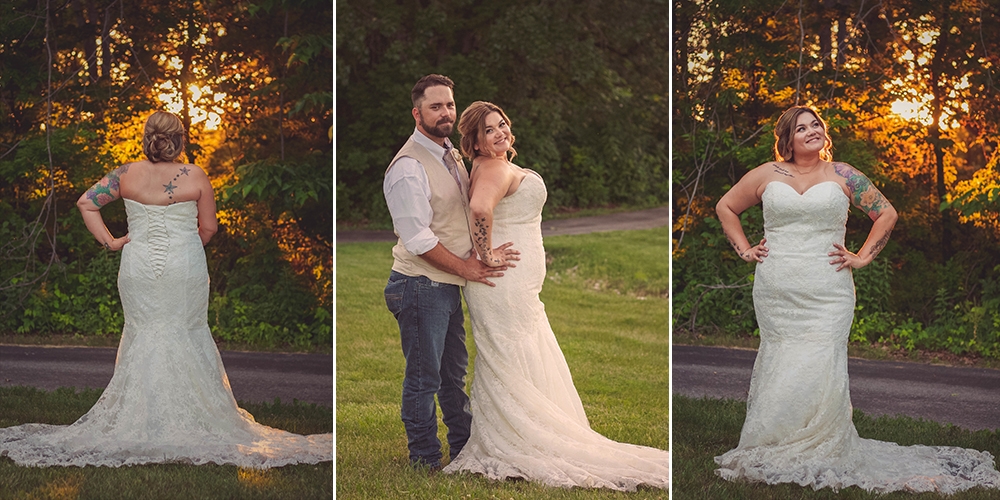 Q: What was your hubby's reaction when he first saw you on your big day?
He said he'd cry…but he didn't cry Lol, But he loved my wedding dress and the cleavage it gave me. he couldn't stop looking at me lol.
Q: What did you love most about your #Cocomelody dress?
All the lace. The Cocomelody dress is brilliant! I was so astounded by the quality and amount of lace I honestly didn't think it was going to be that long. But I loved it.
Q: What do you think about Cocomelody and the customer service?
It was amazing. The response was very quick. And Any questions I had were answered nothing was skipped so I didn't feel the need to go back and forth.