Sinéad & Victoria had a wonderful rainbow-themed wedding at the Gay Pride Parade in Auckland. They are the first couple to be married during Auckland Pride Parade, and in the Southern Hemisphere…the same place they met… now saying their I-DO's in front of the masses… thanks for sharing your amazing day with us, Sinéad & Victoria! We're so honored to be a part of it!
All photos were taken by Stories by Bianca.
Wedding Dress Style: #CWAT16004
Wedding Veil Style: #CV0015005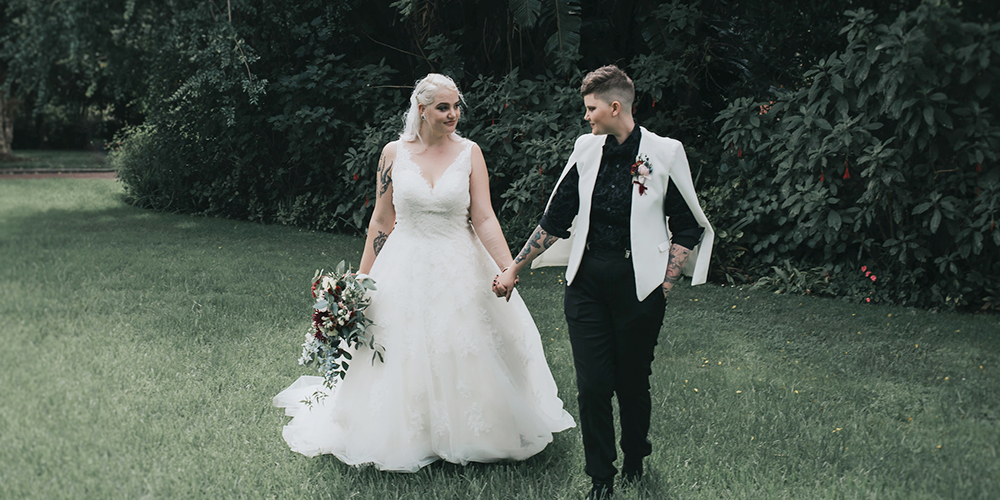 Q: Any advice or tips for future Mrs.? 
Try not to sweat the small stuff and forgive each other often.
Q: What about your love story? 
Sinéad and I first locked eyes at Auckland's gay pride parade in 2015. We matched on Tinder seven months later and fell in love, then returned to Auckland's Gay Pride Parade in 2018 to get married.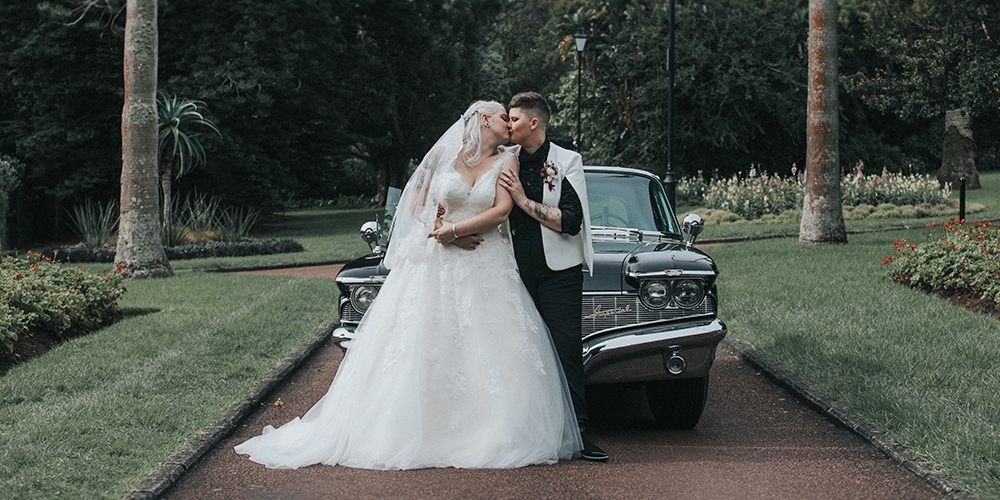 Q: What was the inspiration behind your wedding theme? 
Well, we got married at the Gay Pride Parade – so rainbow themed was appropriate. The rainbow is significant for gay couples as it represents the diversity within the LGBTQIA community.
Q: Did you enjoy the wedding planning process? Why or why not? 
My wife planned most of the wedding as I get anxiety easily. I was very calm on our wedding day and my bridesmaids were surprised! Little do they know that the reason I was so calm is that I had already imagined everything possible that could go wrong – so I was expecting the worst! Nothing went wrong thankfully and we had a magical day.
Q: What was your partner's reaction when she first saw you on your big day? 
When I saw my wife on our big day I couldn't believe how hot she looked! And she had a tear in her eye when she first saw me.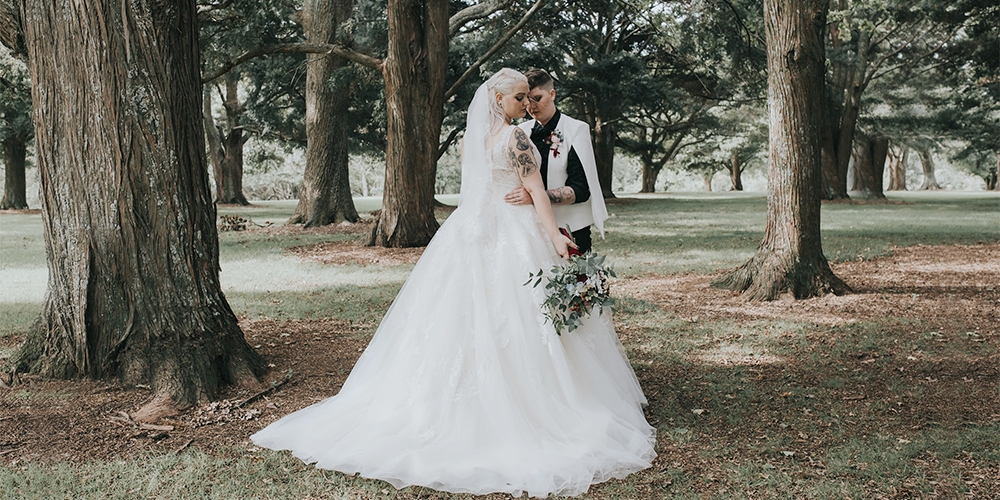 Q: What was the best/most memorable part of the day? 
The most memorable part of my day was definitely walking to our float in the parade with me in my gorgeous gown and Sinéad in her suit – people were trying to take selfies with us while we walked and people were screaming and waving and sticking cameras in our faces – definitely a memorable experience! 
Q: What did you love most about your #Cocomelody dress? 
The wedding dress was amazing – it was gorgeous and beautiful and classic and everything I hoped it would be and more. The fabric seemed very high quality and the dress was even better looking in real life than in the pictures. I really cannot recommend Cocomelody enough!
Q: What do you think about Cocomelody and the customer service?
Cocomelody had fantastic customer service – loved the attendants on the page who message you asking if you need help if you have been lingering on a page for a while. The dress was a perfect fit and I loved that you had the option of getting it custom-made – I didn't go for this option due to time constraints but it was nice to know the option was there. The sizing guide was very easy to follow and we just took my measurements and ordered the size that the measurement table said – and it fit perfectly. Just an overall amazing, wonderful, easy experience and I have been recommending Cocomelody since I received my dress.