Choosing a wedding dress that complements your skin tone is as important as choosing the right shape. Skip the white and try these gorgeous color options instead!
1. Romantic Ivory/Champagne Tulle Gown #LD3932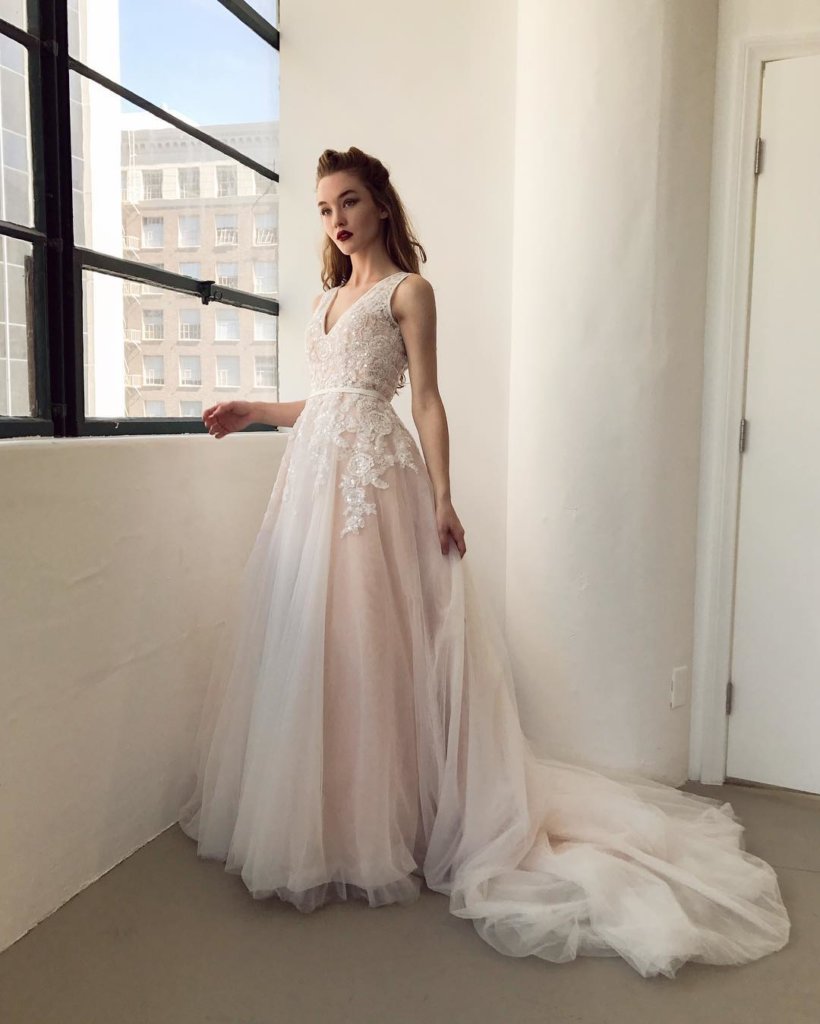 Style: #LD3932
Both champagne and ivory are modern wedding colors that make a classic combination. One of our best selling dresses #LD3932 features a flowy champagne satin lining and a delicate ivory tulle outer layer. The dress has a two-tier train, the inner satin and the outer tulle layer that fulfills all your fairytale fantasies. The back is equally flattering with a keyhole accent making a stylish statement while showing just the right amount of skin.
2. Ivory/Champagne Sheath Lace Dress #CWXT14061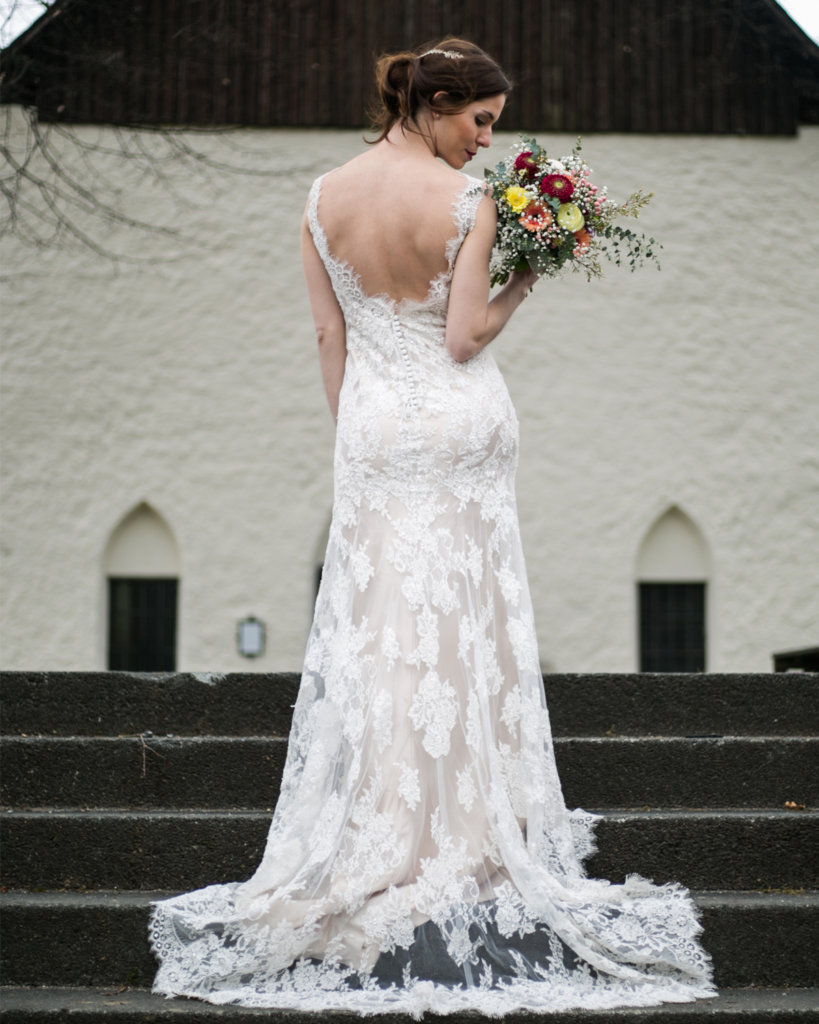 Style: #CWXT14061, Image Credit: Objacktiv
This sheath-column silhouette wedding dress is cinched at the natural waist and you're going to love how the proportions are balanced out. The fabric itself is light and soft and the dress has a fitted bodice embellished with lace appliques throughout. With a V-neckline and an open back with button closure, style #CWXT14061 is perfect for the beach and outdoor weddings.
3. Giulia Dress #LD5830 in Black/Champagne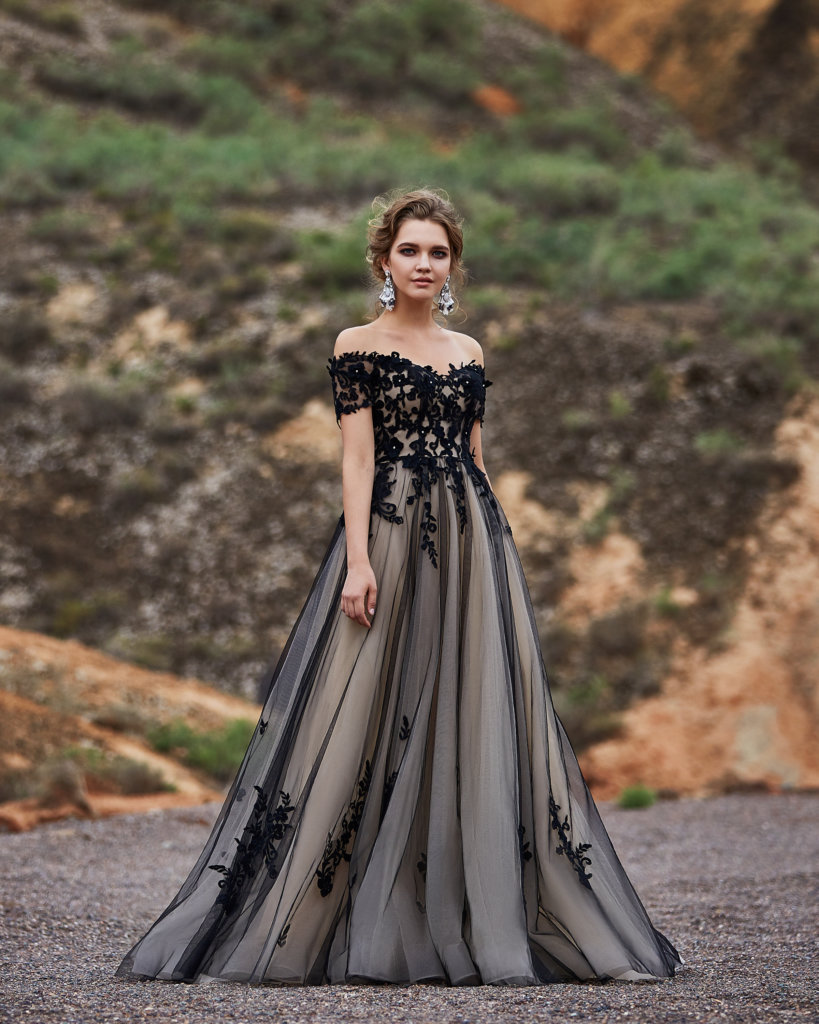 Style: #LD5830
This ravishing black tulle dress is perfect for brides who want to stand out on their wedding without putting everything out there. With a silky satin lining that feels luxurious against your skin, this dress has a black tulle outer lining with a chapel train, pleated waistband and a zipper back. With lace designs framing it's off the shoulder neckline and the bottom of the gown for a touch of femininity, you know you're in for a fall once you set your eyes on Giulia Dress LD5830 from our 2019 Bridal Collection!
4. Ivory/Silver Cloud Ball Gown #LD5054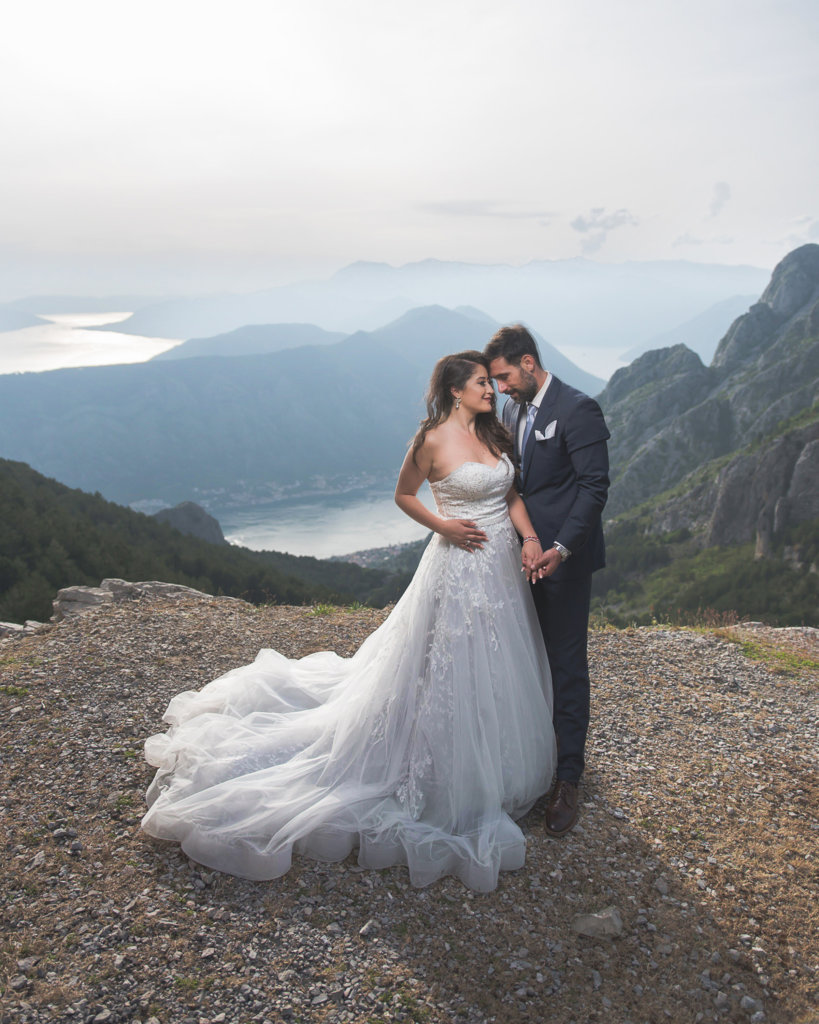 Style: #LD5054, Image Credit: Bosko Puric Photography
Another gorgeous option is this ivory/silver cloud ball gown #LD5054 that has a lighter feel to it and can match and blend with most color schemes. The gown itself has a lace bodice that hugs close to the body and a dramatic full ball gown skirt. The sweetheart neckline is highlighted with a bling outline and a thin sparkly belt draws the eyes to the waist. The highlight of the dress, however, is its eye-catching back with 3D floral detail and a lace closure that is sure to be quite a statement maker at your wedding.
5. Champagne Princess Style #LD4622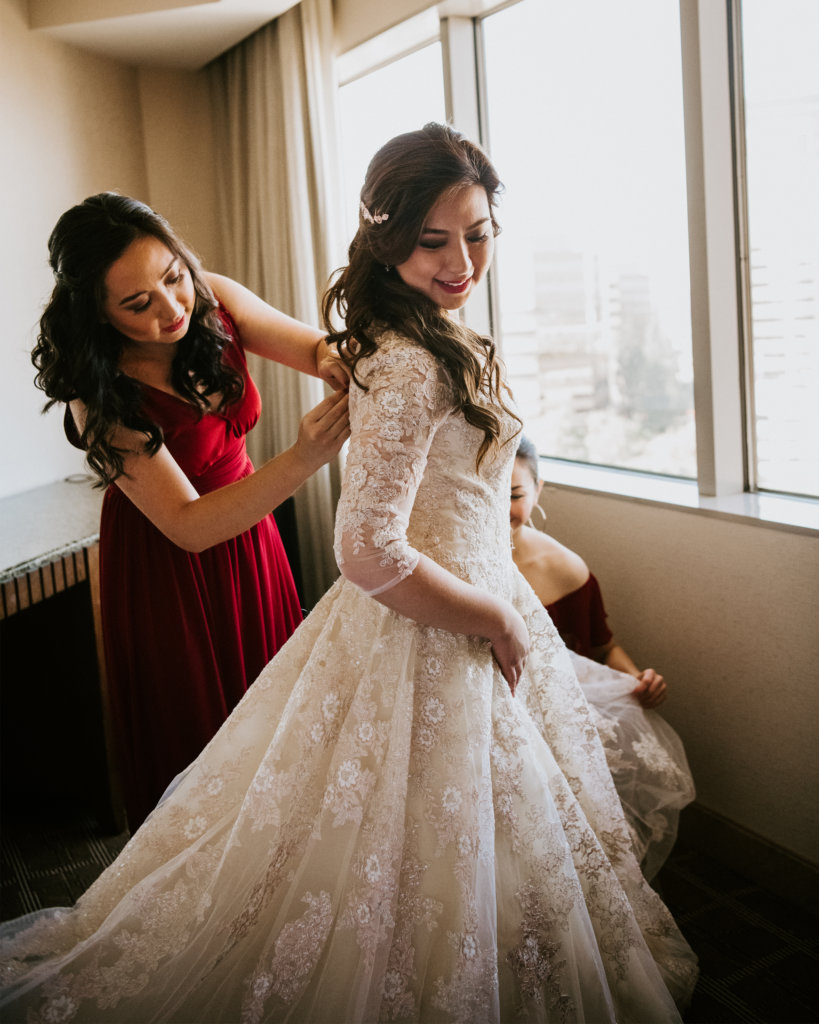 Style: #LD4622, Image Credit: Pretty Branch Photo
A princess style is the most versatile of all wedding gowns. Light and flowy, this gown has a princess silhouette and full-length sleeves with lace detailing all over. The champagne color makes this simple, minimalist dress all the more elegant and a clear, crystal headband can be just the right accessory to bring the whole bridal ensemble together. This dress is perfect for brides looking for a traditional dress with a touch of modern elegance.
6. Ivory/Veiled Rose Mermaid Style #LD3906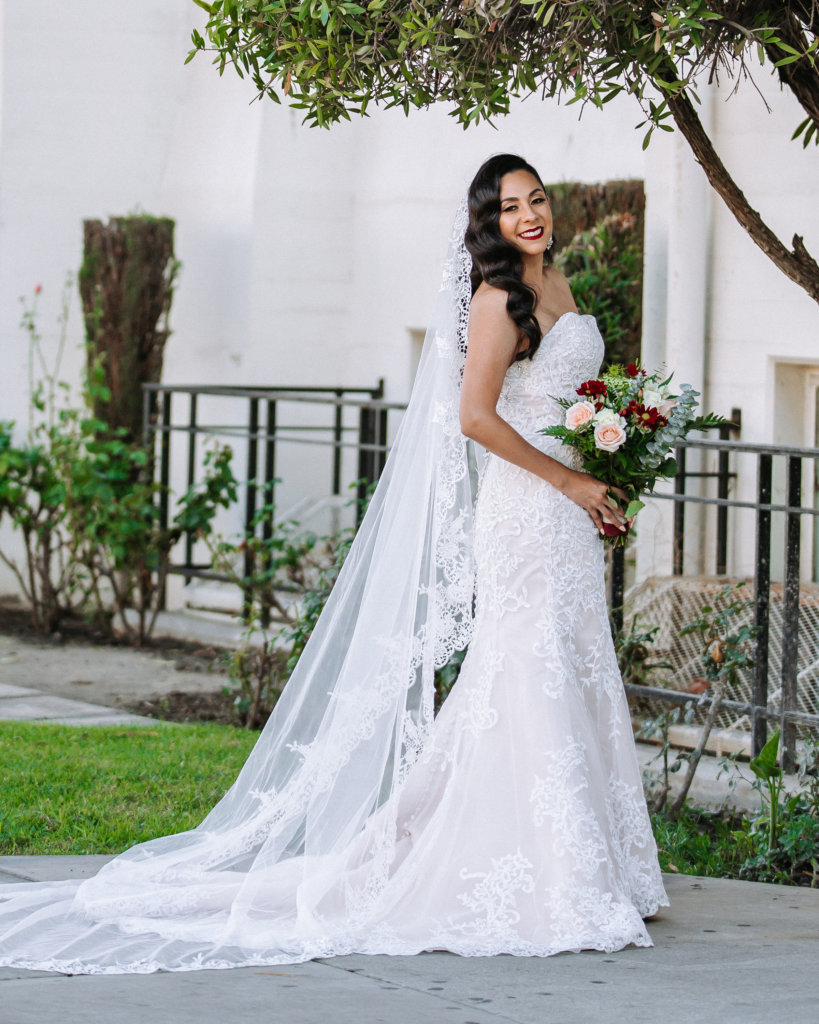 Style: #LD3906, Image Credit: White Studio Project
This stunning mermaid wedding dress #LD3906 has a sweetheart neckline and is embellished with exquisite lace appliques throughout its body. The back is adorned with shimmer beadwork that oozes sophistication and class. The ivory/veiled rose color and the scalloped edges work together to give a graceful look that is perfect for a romantic wedding.
7. Ivory/Champagne A-line Dress #LD5190 With Chapel Train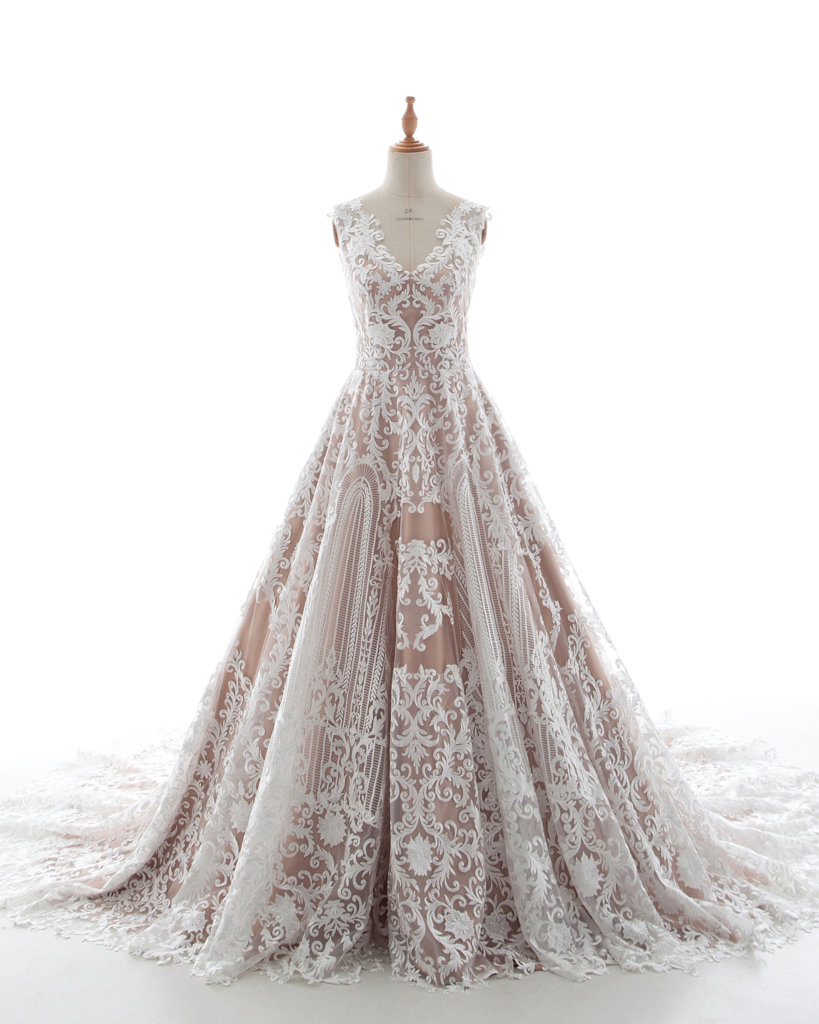 Style: #LD5190
Another classic combination of tulle and lace is this ivory/champagne wedding dress #LD5190, that has an A-line silhouette with a cathedral train. The gown features white lace appliques all over its body and has a button detailing on the back maintaining a delicate, whimsical tone. The illusion neckline gives a modern edge to the otherwise traditional lace dress and adds a bit of daintiness to the wedding dress.
8. Ivory/Crystal Pink A-line Gown #LD4178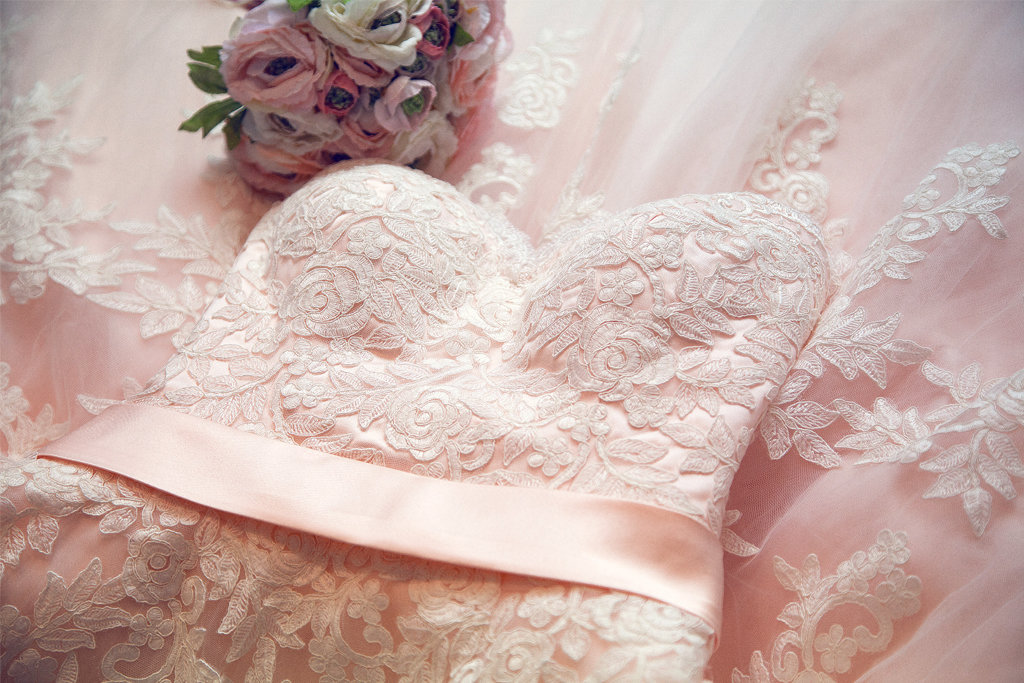 Style: #LD4178, Image Credit: Ciprian Photography
A great option is this ivory/crystal pink A-line dress #LD4178, with its gentle pink essence. With its dainty embellishments and beading, this gown is feminine and romantic. The thin pink sash blends in with the dress beautifully and the brooch catch our eye while adding a hint of glamour to the overall look.
9. Ivory/Champagne Tulle Dress #LD4534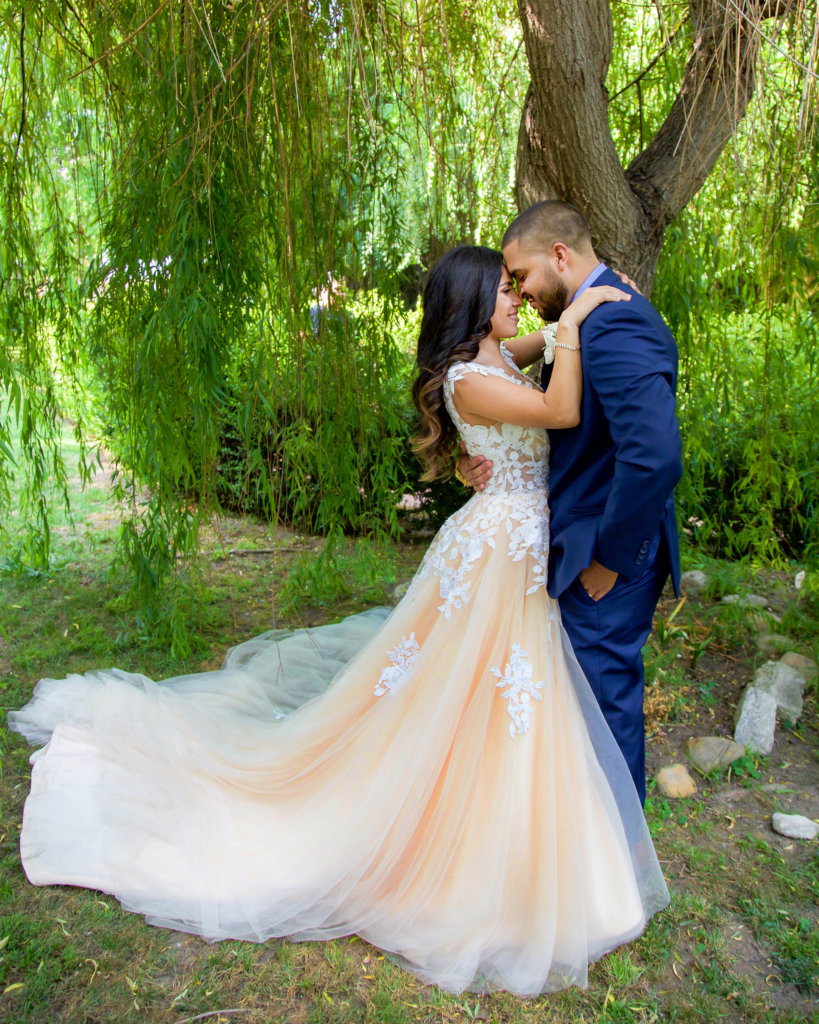 Style: #LD4534, Image Credit: Godoy's Photography
Dress style #LD4534 has an upper lace body and a tulle lower that is so old Hollywood glam. Buttons lining the back of your dress are sure to wow your crowd from the back. This simple but stunning detail accentuates the sheer back lace design. The tasteful V-neck with lace appliques on the sheer back keeps the look modest and fun. The cathedral length train only makes the look more magical.
10. Rainbow Wedding Gown #JWLT15067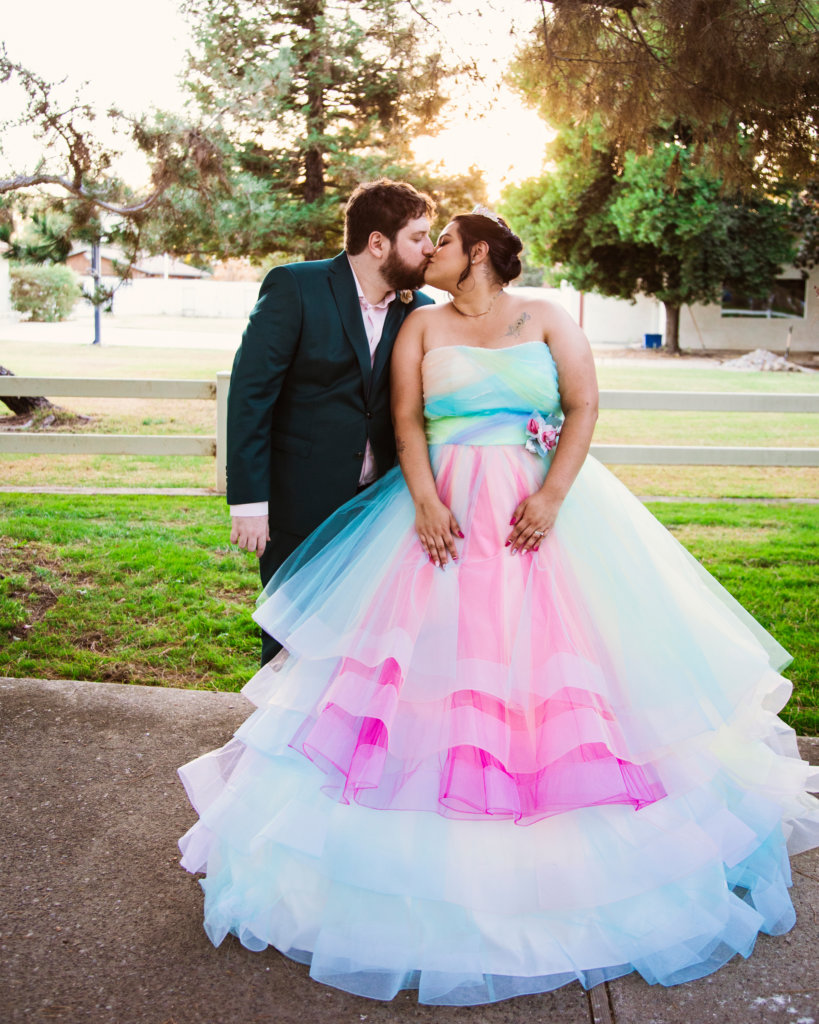 Style: #JWLT15067, Image Credit: Ninety Nine Photography
Rainbows is a symbol of promise and hope, making it a standout color choice for your wedding dress! This tulle wedding gown #JWLT15067 has a dropped waist and a lace-up corset fastening at the back which gives the illusion of a slimmer waistline. Embellished with pearl beading, a rustic floral detail at the waist and multiple pleating to give it a princess look, this particular gown is for the fun brides. With a dress like this one, representing the color spectrum, we suggest keeping it casual, crafty and playful.