Do you think that it's an absolute must for a bride to walk down the aisle in nothing other than a time-honored white ball gown? You may not agree, but many people believe that it's true. When you get right down to it, the only two reasons for this belief are old (read: dated) wedding traditions and the wedding industry. The wedding industry has a vested interest in continuing this misnomer, so unless you have made up your mind on wearing a traditional dress, put the thought out of your mind that you won't be wearing a non-traditional dress. Of course, chances are that you may encounter raised eyebrows when you tell your friends or relatives. Heck, you may even create a bit of a ruckus! But, if your personality is more of the 'non-traditional' type, and you would rather go that way, don't let others sway your decision!
Without question, you can save a bundle by shrugging off traditions or what the folks within the wedding industry have to say and going for a non-traditional wedding dress. But…and this is a big one… once you have picked a non-traditional dress for your big day, how do you make sure if it will even work well for you? It's certainly not easy but it's not too hard either. If you can stay calm and confident throughout the big day, you'll look marvelous in anything you wear. Anyway, here are some tips that will help you pull off your non-traditional wedding gown flawlessly.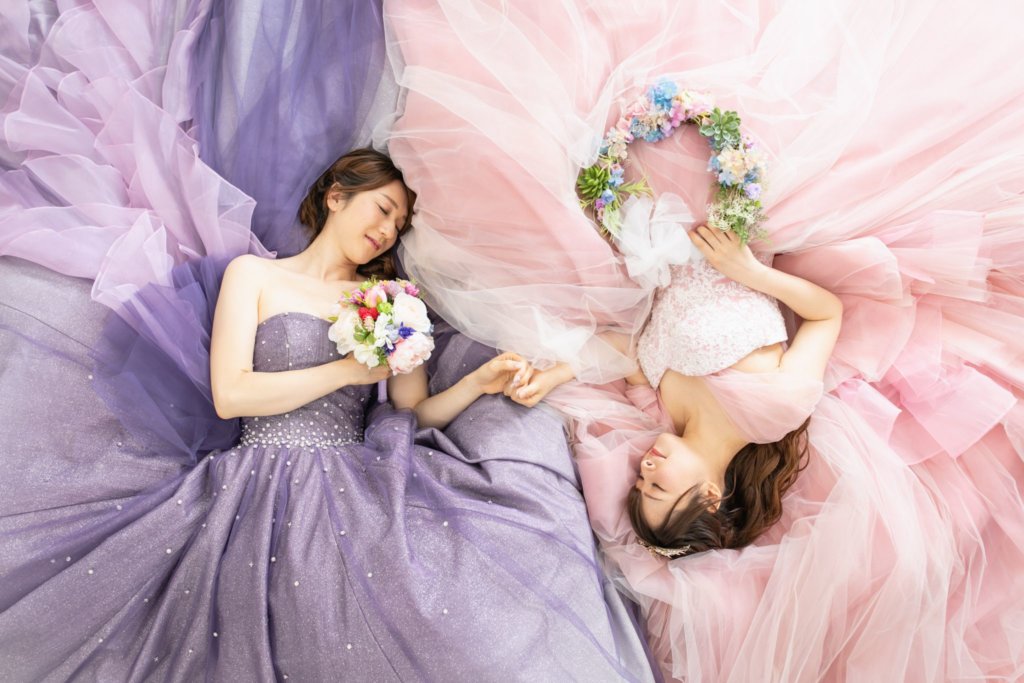 Styles (from left to right): #CW2142 & #CW2155
1. Think Colors
If you want your appearance to be memorable for all of the right reasons, you can choose to introduce color into your wedding gown through a number of different options. This is especially true if you're wearing a white non-traditional wedding gown – think a Boho gown or an A-line wedding dress with fringe detailing. Your options for this will include sashes and bows, colored hems, colored embroidery, beading, and color contrasting insert panels. Such delicate and feminine details will undoubtedly add some sort of visual interest to your non-traditional wedding gown.
2. Wear the Right Shoes
The right pair of shoes can add the perfect final touch to your dream bridal look. When choosing the shoes to harmonize with your wedding dress, you don't have to stick with the shades of white, cream and nude. You can play with colors and textures. While we're at it, why not ditch pumps and sandals in favor of something more unique and fun? We're talking bedazzled Converses, blue suede Nikes, floral loafers and black open-toe booties! That being said, you may want to opt for a pair that's comfortable to walk in and dance-friendly as well. After all, you won't be able to enjoy the day to its fullest if you're suffering through those break-in blisters during the reception.
No matter whether you're going for classic flats or classic Nikes, your wedding shoes need to be comfortable. Here's a guide on how you can pick up a pair of comfortable wedding shoes – Wedding shoes shopping guide.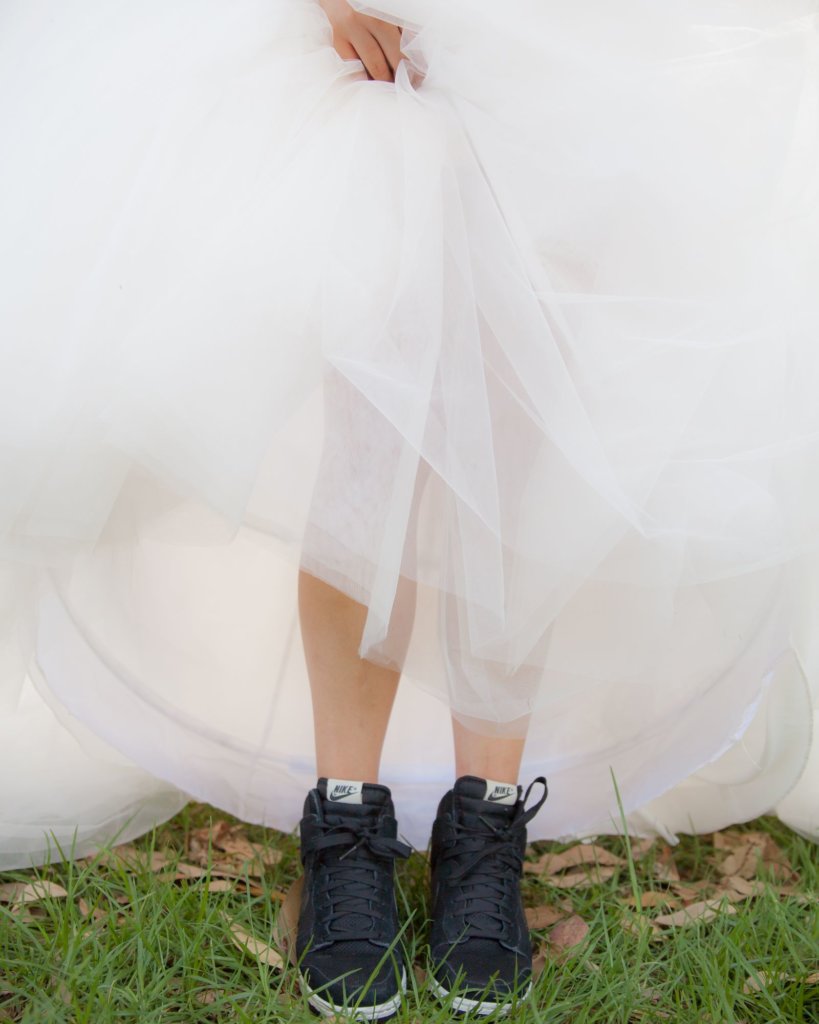 Style: #LD5066; Image Credit: Yang Kath from Bright Photography
3. Don't Overlook the Jewelry
To make your non-traditional bridal look even more dazzling, consider adding just the right amount of glitz to it. When it comes to choosing your wedding jewelry, though, you may want to go with something subtle and not too sparkly. Rather simple and chic pearl earrings or a contemporary pavé cuff can exquisitely offset the drama of your dress and keep the overall bridal look elegant and distinctive. And since you want your dress to be the center of attention, there should be nothing that would compete with it in that area anyway.
4. Add a Vintage Flair to Your Dress
Vintage details can take the fascination of your non-traditional wedding gown to a whole new level. Whether you want to go for classic, handmade lace and ivory buttons to sentimental, heirloom accents, there's something magical about how the way these details can transform your gown into a timeless work of art.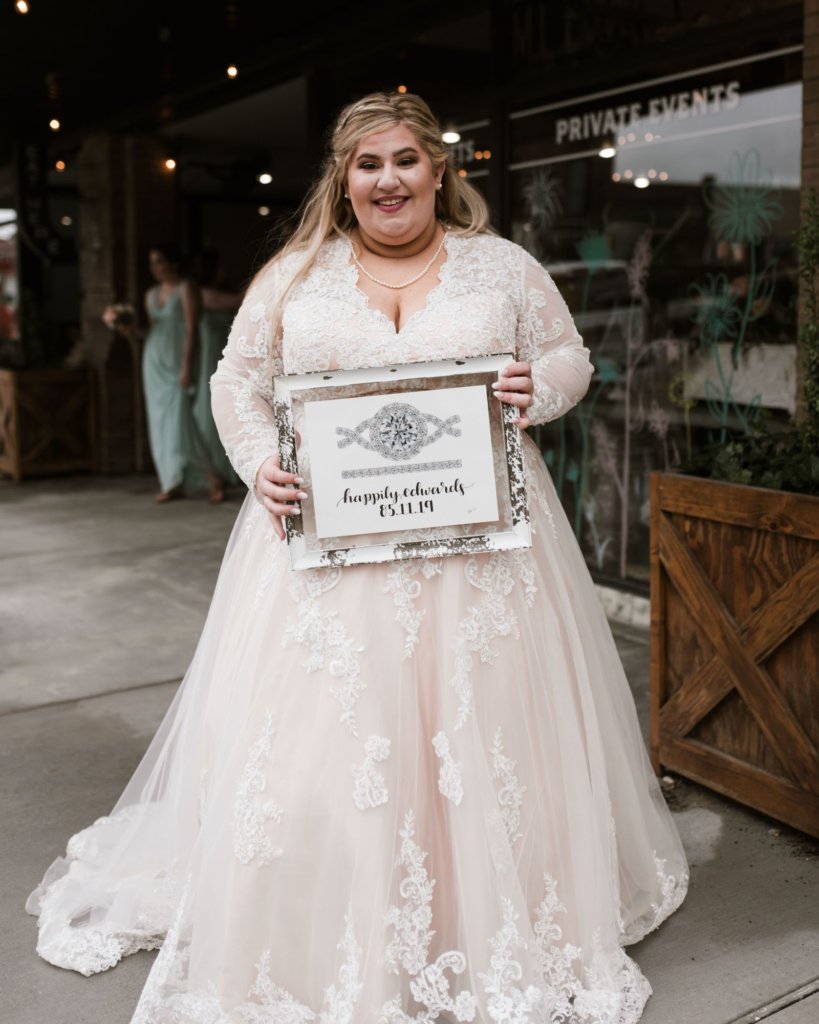 Style: #h7al0084; Image Credit: Jordan Mitchell Photography
Wedding planning is made up of a thousand moving parts, but it's not hard to put one's finger on which component is the first priority. Yes, it's the dress! So, regardless of whether you're rocking a traditional white gown or a non-traditional dress, it's important to make your wedding look reflect your personal style and taste.