Obsessed is an understatement. ? Congratulations to Lillian and Cole, who tied the knot with a rustic modern california wedding in Claremont McKenna College, Claremont, CA. The big day was beyond perfect and Lillian was so glowing in her dream #cocomelodydress. Words cannot describe how stunning they were, just check those pics below!
All photos were taken by Lara Jenkins photography.
Wedding Dress Style: #h5pn0219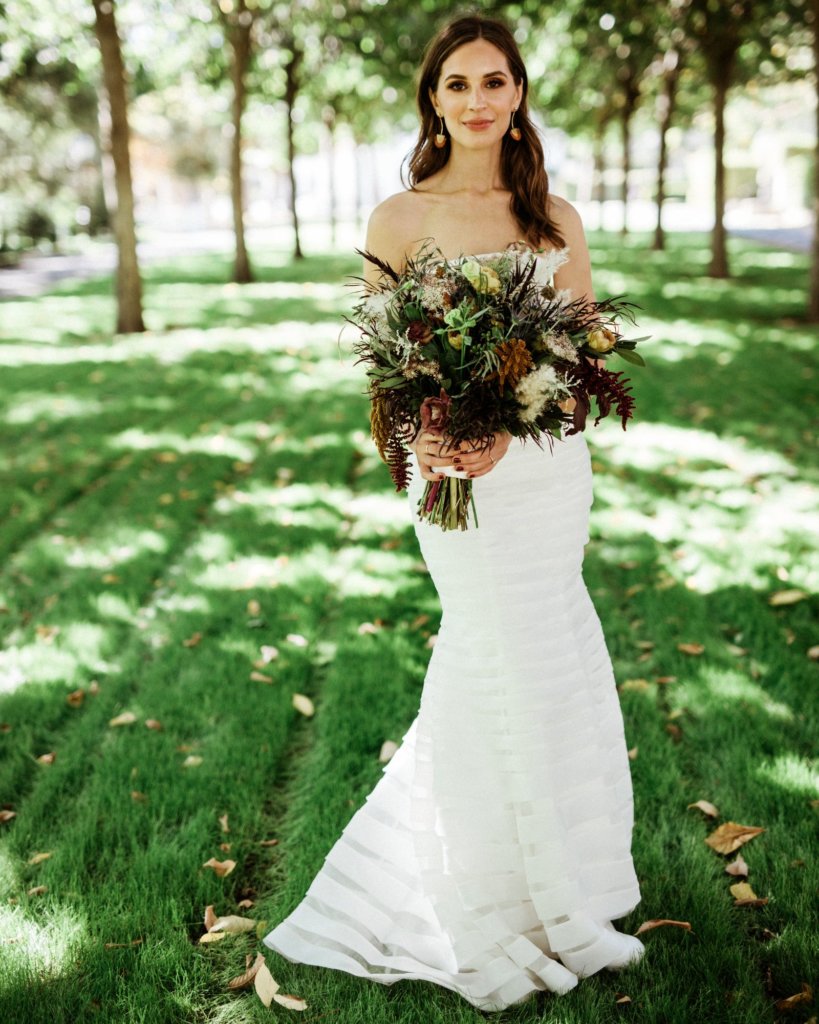 Q: Any advice or tips for future Mrs.?
You know who your guests are and what they like. Planning a wedding, at least the reception part, is really similar to planning a gigantic party. Know your guests and what they like, since you are doing this for them (at least to some degree) to have fun. Try to cater to that (to the best of your ability). Brunch is a really nice way to end the weekend and say goodbye to guests who have flown into town to be with you on your special day. Tell your day of coordinator that you trust her judgement and you don't want to know the things she has to fix/ take care of on the big day. Delegate delegate delegate. People want to help you. That being said, there will be things that only you can do, but there will definitely be things that other people can do and you should definitely delegate those tasks. Get the lash extensions. They are more expensive but totally worth it. Try some wedding dresses on by yourself, don't bring people to your appointment.
Q: How would you define the message "Dare to Love"?
To me, the message dare to love means dare to be vulnerable. Allow yourself to be open and vulnerable with one person and if it's the right person they will do the same.
Q: What was the inspiration behind your wedding theme?
The main inspiration was local, community / family connection and tradition. Cole's family has been living in Claremont for generations. His grandfather was the president of Claremont McKenna College and his grandparents, parents and both of his uncles were also married at the Claremont colleges. Cole's mom is also on city council and was such a great resource in the sense that she was able to recommend Claremont's wonderful community of vendors who also happen to be so talented. Walters restaurant catered our rehearsal dinner, our photographer, florist and the woman who made our cake are all Claremont locals and dear family friends.
Q: What was the best/most memorable part of the day?
I loved that Cole met me halfway down the aisle and that we walked up to the top of the aisle together. It was really important to me that our ceremony reflected that Cole and I both decided to take this next step together and that we chose each other.
Q: Tell us your love story! Where & How did he propose?
Cole and I met at Chico state freshman year. We actually met at a party first semester freshman year but we never connected after the party. Second semester we ended up being in the same English class which had 200 people in it. In that English class there were small group sessions of 10 people and Cole and I ended up being in the same small group. We actually didn't remember that we had already met and he got my number (again), and I'll never forget it, we were hanging out and he said "actually I think we've met before because I already have your number". We've been together for almost a decade now and I feel so lucky to have been able to grow up with my husband. We've both changed so much over the past decade but we've always been committed to and invested in each other.
Q: What did you love most about your #CocoMelody dress (es)?
The fit, it was very flattering and I felt like the modernness of the wedding dress really matched the venue.
Q: What do you think about CocoMelody and the customer service?
Loved the store front in DTLA. I was really happy with my experience there. I actually went to get my dress by myself and they were super sweet to me. Highly recommended CocoMelody!!