THIS is what wedding day bliss looks like! ✨ We're completely obsessed with Catherine and François-Xavier's rustic wedding in Saint-Marc-sur-Richelieu, Quebec (Canada), especially Catherine's gorgeous off-shoulder tulle gown with half sleeves. Words cannot describe how stunning they were, just check those pics below!
All photos were taken by Merryl B. Photographe.
Wedding Dress Style: #LD3436
Bridesmaid Dress Style: #COZF1500B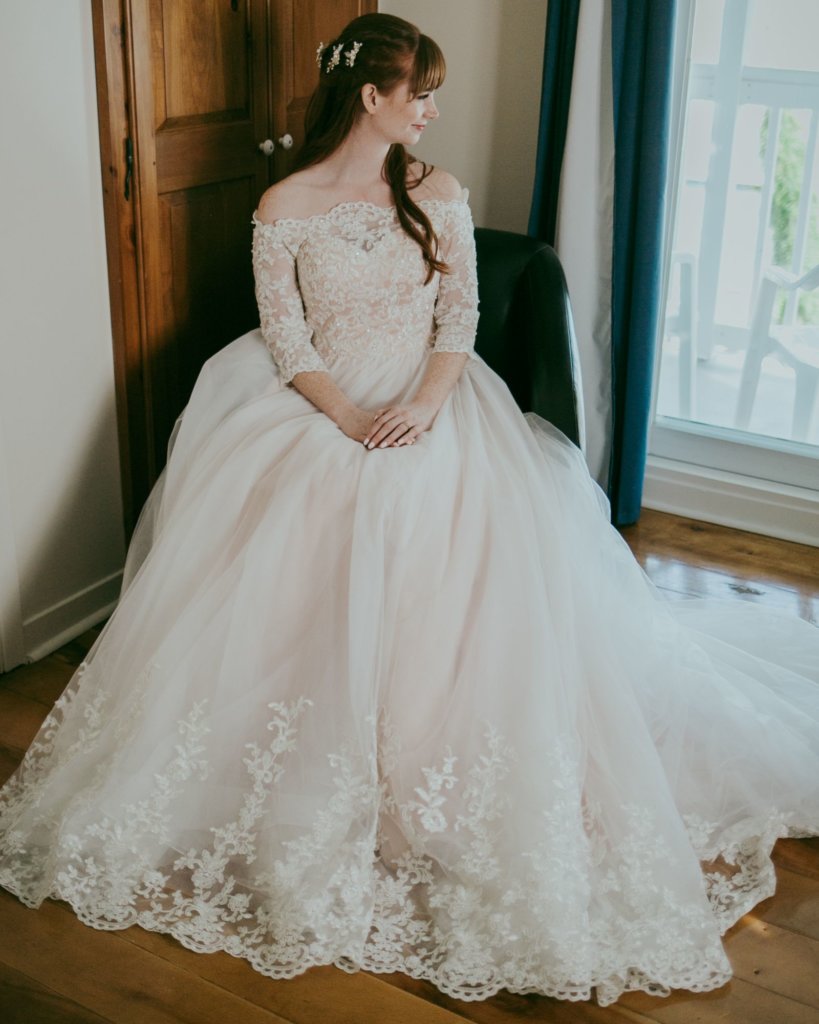 Q: Any advice or tips for future Mrs.?
Just have fun! There is always a possibility of something not going the way you planned. So what? No matter what happens, it will be the most beautiful day of your life. Also, if certain traditions make you uncomfortable or just aren't your style, create your own traditions!
Q: What was the inspiration behind your wedding theme?
We chose to get married in an antique sugar shack. We wanted something simple and authentic, like us. These last years, we went to this sugar shack during the maple syrup time. Each time, we find the place beautiful, the staff incredible and we had a good time! I think this place bring me luck, because every time I went there, I won a prize! We always known that this was THE PLACE for our wedding and that our wedding will be a rustic one.
Q: Tell us your love story! Where & How did he propose?
I was introduced to my husband from a mutual friend. It was love at the first sight for the two of us, but it was not possible for us to be together at this moment. The life reunited us one year later. To seduce me François-Xavier came at my home to give me an apple pie he had made. The night he proposed to me, he made an apple pie!
Q: How would you define the message "Dare to Love"?
Don't be afraid to love. When you truly love someone, you empower each other. It's fantastic.
Q: What was the best/most memorable part of the day?
The day of our wedding was cloudy. We thought it might rained. But when we exchanged our vows, the sun suddenly came out and a ray of light came across us. It was magical!
Q: What did you love most about your #CocoMelody dress (es)?
All the details and the quality of my wedding dress. I really felt like a princess. And I also like my bridesmaid dress so much!!
Q: What do you think about CocoMelody and the customer service?
Amazing. I really appreciate that CocoMelody has a huge selection of dresses in a tons of colors! And it's possible to customize the dresses! For example, I changed the lining color of my dress and changed the sleeves length. Also, you can choose a custom made dress. Me and my bridesmaids have very different bodies, but all our dresses fit us like a glove. No alteration needed! CocoMelody doubled check my measurements and even asked for more measurements! CocoMelody answered all my questions and helped me to pick the right petticoat.