Gone are the days when the bridesmaid's dresses had to be of the same color, style, and length. Mismatching outfits is perhaps more than just a passing trend! With mismatched dresses, you can play around with every color of the rainbow and every design element there is! This interesting trend is extremely versatile and you can decide how traditional or contemporary you want it to be.
It's easy to fall in love with the look of mismatched dresses but there are countless options and you may feel a little hesitant to jump onto this trend. We totally understand so here are 5 tips to pull off the mismatched trend effortlessly.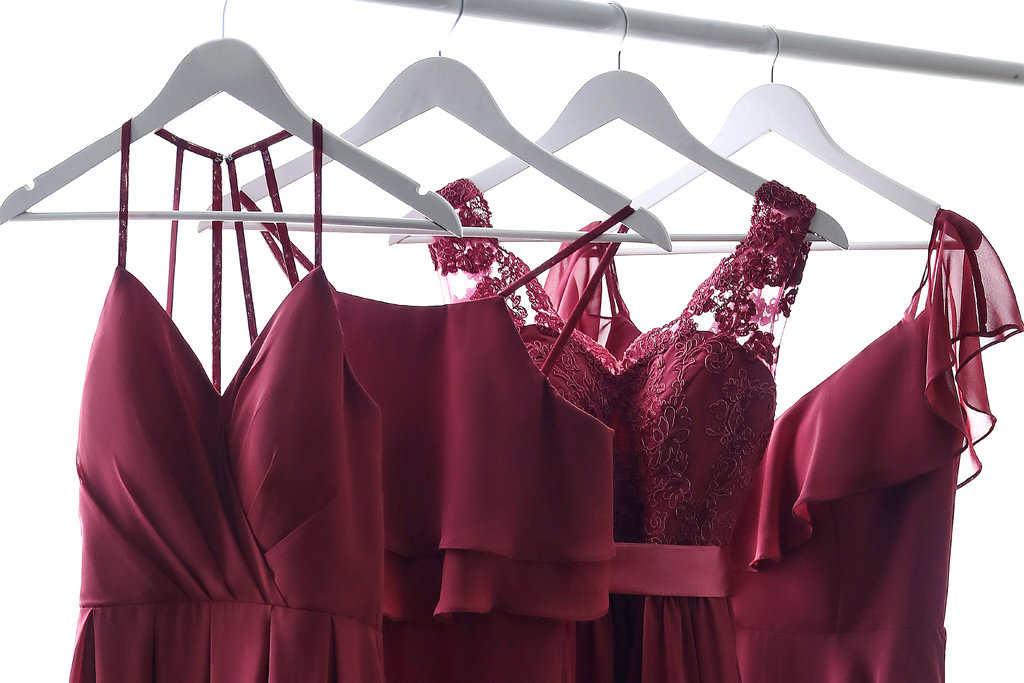 Styles ( from left to right ): #PR3572 & #PR3577 & #PR3263 & #PR3570
1. Same Style, Different Colors
Choose dresses in similar styles and ask your bridesmaid to pick a color they like. Or you can decide on a color for your bridesmaids and let them choose different tones within the same color family. You can give your bridesmaid some color swatches and ask them to find dresses in a similar hue; the idea here is to not have too many competing colors. If you're going for a rainbow vibe, limit the colors to at least three variations. This way you get complimenting colors in your bridal party that will wow your guests and look stunning in photos too!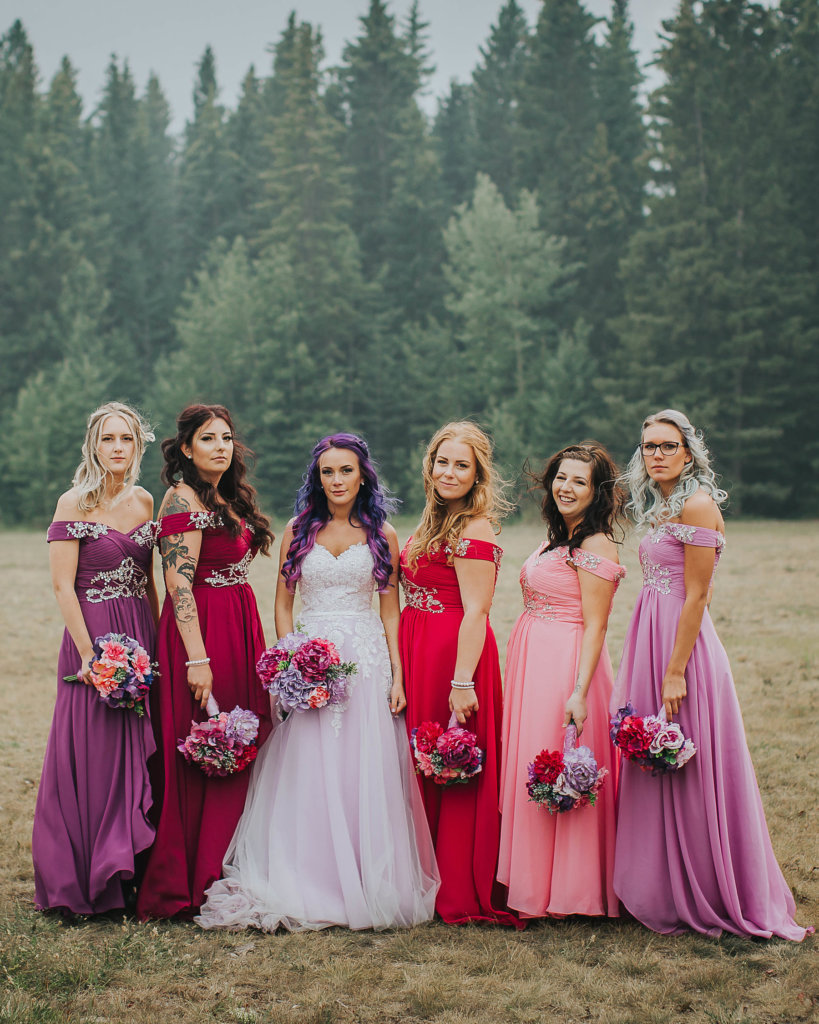 Styles ( from left to right ): #LD4567 & # COZF14058, Image Credit: Teresa Photography
2. Same Color, Different Styles
Another mismatched version is to choose dresses in a similar color or tone and let your bridesmaids dictate their own style. This way they can pick a silhouette that they're most comfortable in. However, stick to a similar design and length- your photographer will thank you later! Also, try different fabrics and pick one that is common to all dresses for a cohesive aesthetic.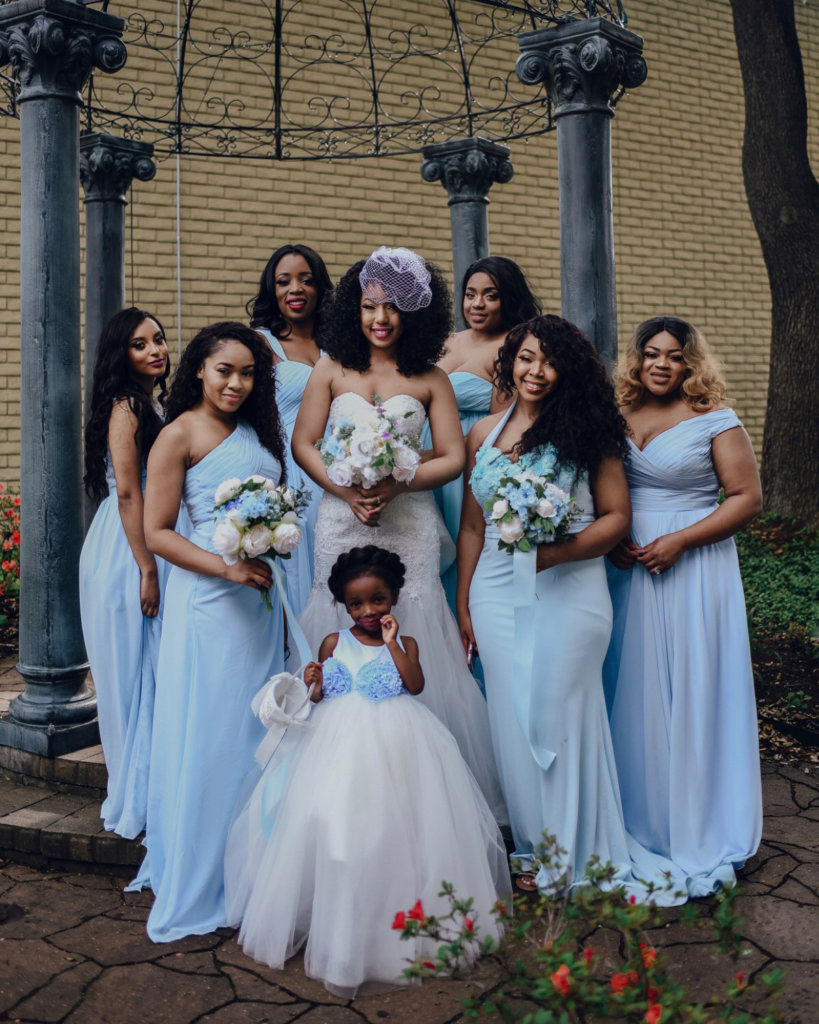 Styles from (left to right): #LD3958, #COZK16005, #COZF1401F, #PR3554, #COZF140A1 & #PR3595, Image Credit: Ashley Howland Photography.
3. Different Styles, Different Colors
One of the best ways to pull off this type of mismatched bridal party is to incorporate similar patterns in the dresses. The key to pulling off it off is to avoid using too many patterns at once. Try a mix of solids and prints, sequins and bling or a mix of colors within the same color family. It adds a lot of texture and flair and we are totally digging how cohesive yet diverse the bridal party looks.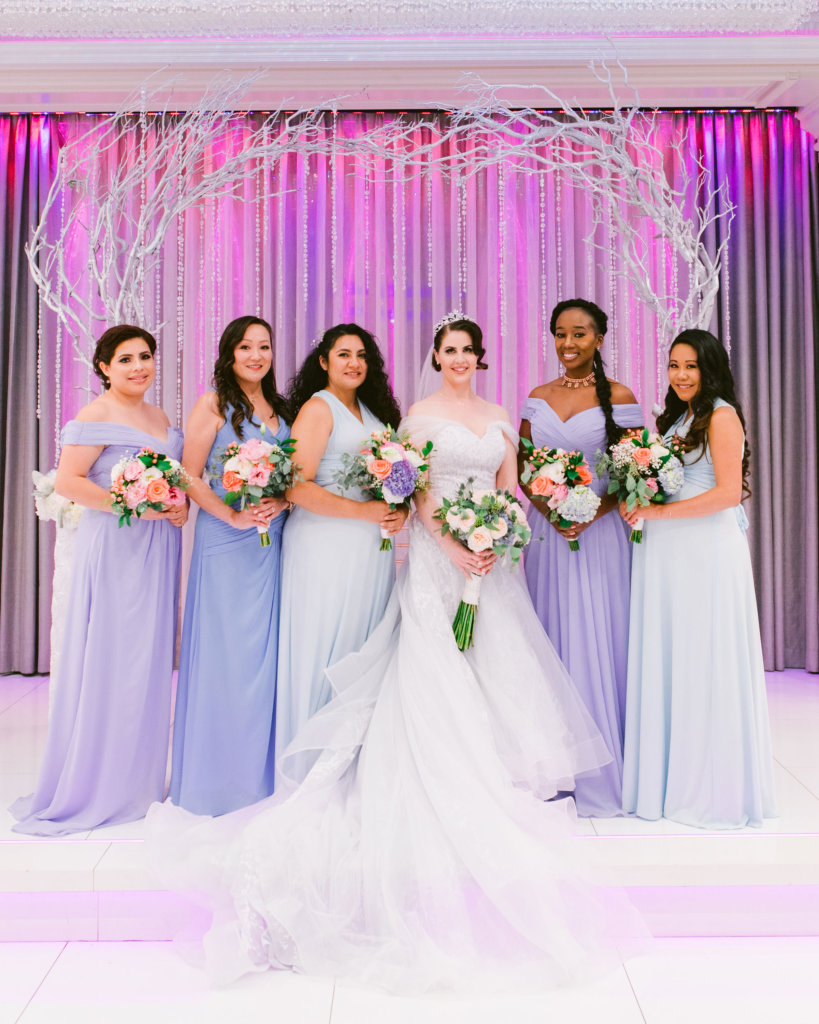 Styles (from left to right) : #PR3536 & #LD5054, Image Credit: Elizabeth Burgi Photography
4. Try A Neutral Palette
Neutrals allow for a mix of texture and prints. Pick neutral colors like champagne, white and pastels and play around with varying lengths, designs, and textures while the neutral theme links the look together. Throw in embellishments like beads and rhinestones are the perfect way to diversify a bridal party dressed in a single color while keeping the whole look glamorous and feminine. Establishing a few tones and specifying dress length can make it easy for a wide variety of prints and patterns to come together in harmony.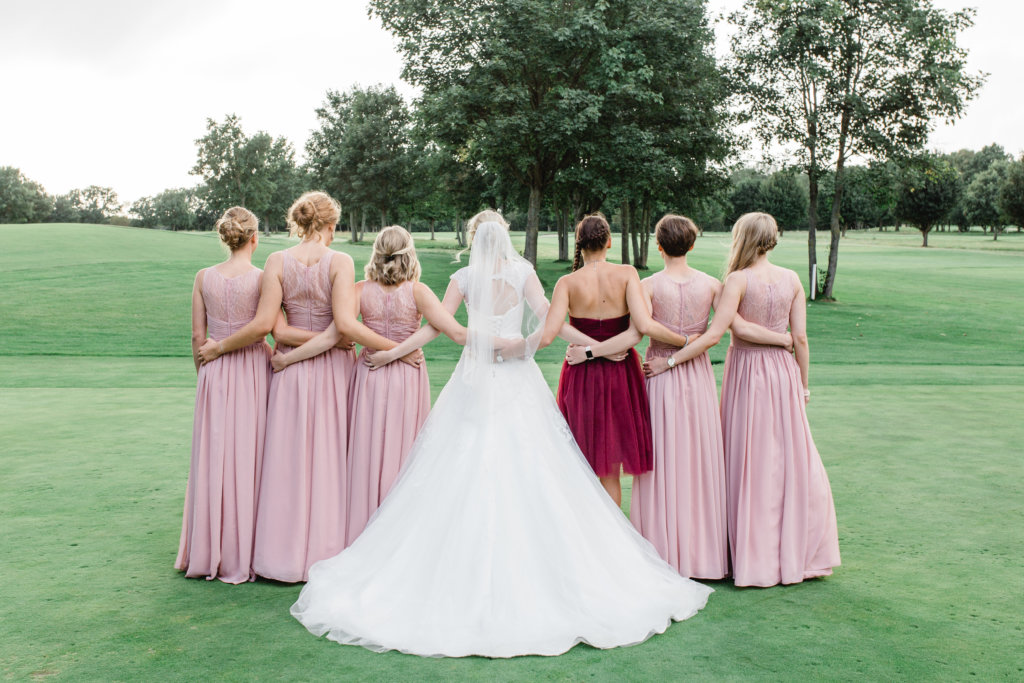 Styles (from left to right) : #COZK16005 & #COZM15016
5. Accessorize Right
While the bridesmaid dresses are mismatched, you can tie the look together with identical accessories. The idea is to have one design component that ties the look together. Identical bouquets or similar sash or hairpiece among all the bridesmaids can do the trick. An interesting idea is to arrange for colored bouquets that play opposite to the dress color. You can even consider gifting statement necklaces and earrings for a uniform accessory look. Coordinated shoes will be just the right piece to complete this look.
Remember, there is no right or wrong when creating the perfect assortment. It's all about mixing fabrics, colors, and designs until you find a match that clicks!