Surrounded by family and friends, Belinda & Brian had a special outdoor wedding inspired by The Legend of Zelda video game. They hosted the ceremony in The Odssey Restaurant and enjoyed a wonderful day. Belinda and her girls were so glowing in this special day, we are so honored to be a part of their big day by making those stunning dresses!! Wish Belinda & Brian great happiness forever!
All photos were taken by Diego Abraham & Cristyan Aquino.
Wedding Dress Style: Customized Version of #LD3832
Bridesmaid Dress Style: #PR3570
Q: Any advice or tips for future Mrs.?
The best advice and tips i have is , one..make sure you really sit down and think about how you want your wedding to unfold. No one else has a say, except you and your hubby. Next, make sure to set a budget and a checklist. The checklist is super important, it will help you stay organized and stay grounded on everything that needs to get done. You can always find these lists online and follow them. Lastly, the most important advice i can give is to have fun while planning. Make it like a fun project. If you let the stress get the best of you, you will not enjoy everything you worked so hard for.
Q: What was the inspiration behind your wedding theme?
The legend of zelda video game. We are big zelda nerds and enjoy the video game so much, we decided to incorporate certain aspects of the game into the theme.
Q: Tell us your love story! Where & How did he propose?
One of our good friends introduced us a few years back. She kept pushing for us to meet.She knew both of our backgrounds very well when it came to our past relationships and everything we both had been through.She seemed to know that we where what each of us needed and boy was she right. We finally met, and hit it off very well. We filled each others holes. For the proposal, it was definitely something special. For the longest, my husband had been wanting to go to japan. I have always wanted to travel , so i figured why not make a trip to japan.
It was very spur of the moment and i had aimed to go in Oct of 2018. He was very excited and thought why not make it a trip for our 3 year anniversary.Which such short notice we decided to save up as much as we could and make it possible. I had absolutely no idea that he was intending on proposing. On April 2nd, we decided to go up the Tokyo Tower. As the sun set , and all the lights started to shimmer in the city, he got down on one knee and proposed. It was definitely one for the books, and will always be special and memorable for the both of us.
Q: How would you define the message "Dare to Love"?
The way i would define the message "Dare to love" is to love w/o boundaries. To love in the good and the bad, to love and accept each others flaws, and no that no one is perfect. To love unconditionally.
Q: What was the best/most memorable part of the day?
The most memorable part of the day was walking down the aisle to my husband. We had zelda's lullaby playing in the background (one of the song from the legend of zelda video game), and it was simply beautiful. We got extremely lucky with weather too.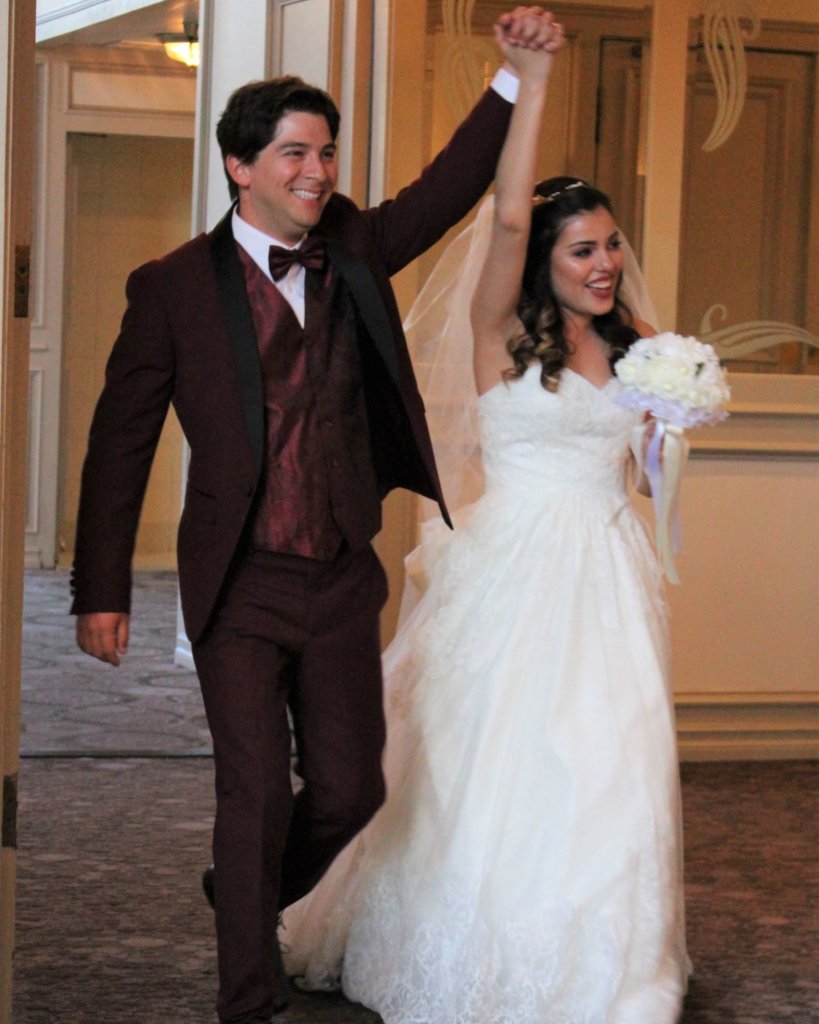 Q: Did you have a particular theme or color scheme? Is there a story behind this color theme and why you chose it?
As far as color scheme , i have just always loved the burgundy color. Red is one of the main colors featured in the video game Zelda. It was the color that stood out to me the most so we went with it.
Q: What did you love most about your #CocoMelody dress (es)?
The lace and the train. I was completely in love with how the double lace and the way the wedding dress flowed on my body. I felt like a princess.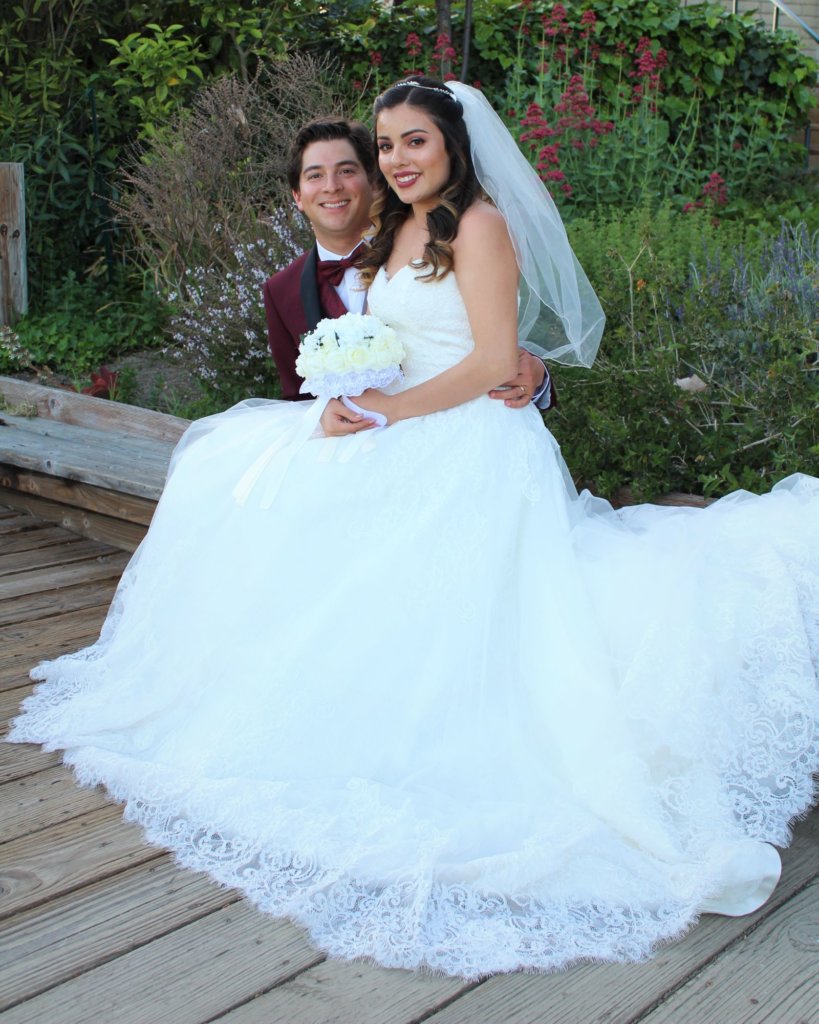 Q: Why did you choose CocoMelody for your bridesmaids?
I chose CocoMelody for the bridesmaid dresses because of how easy and efficient my experience went with dress picking that i figured the girls would love the comfortable experience as well. Plus their staff was just so fun to work with , and the bridesmaids really enjoyed it.
Q: What do you think about CocoMelody and the customer service?
CocoMelody is an amazing bridal boutique shop. They were so patient with me, i never felt pressured when it came to dress picking. Everyone was so nice, i felt right at home. I did not have one single bad experience. Everyone was extremely helpful and communicative. Shipping was incredibly fast too, i got all my dresses right before the due dates they had given me. They were also really great with scheduling my appointments, and even when they seemed to get a little busy, they always made sure to meet all my needs. LA has a great time of workers. I have nothing but great things to say. I would definitely recommend them over and over again.