Gorgeous bride Brianna married handsome groom Kevin at an amazing fall wedding in Pevely, Mo, TBC. With the prettiest colors of flowers and trees, their big day was so perfect. And Brianna's fit-and-flare dress with stunning back details was straight out of a dream! We're really honored to help make her dream come true! Congratulations to these 2 cute lovebirds!
All photos were taken by Jennifer Cato.
Wedding Dress Style: #LD5064
Q: Any advice or tips for future Mrs.?
The best wedding advice is to surround your self with people that will keep everything fun, light-hearted, and always have champagne/beer with them. The best things that I remember looking back at this day, is 1) we splurged on an open bar (husband's must have) and it was the best choice to even have the open bar even throughout the wedding itself. 2) the photos: you always can look back on it, so I felt like It was a necessity to pay for a little bit more on that. 3) the people that was around me. All the money in the world will not make your day perfect, if the people you care about isn't going to be there. All of our family is going to try help out, and change things, and make it a wedding day they have in their head. have people on your side like your bridesmaids that will keep your vision on track. Mine was my wedding planner and the officiant was the ones that kept things the way I liked, small, casual, and full of alcohol.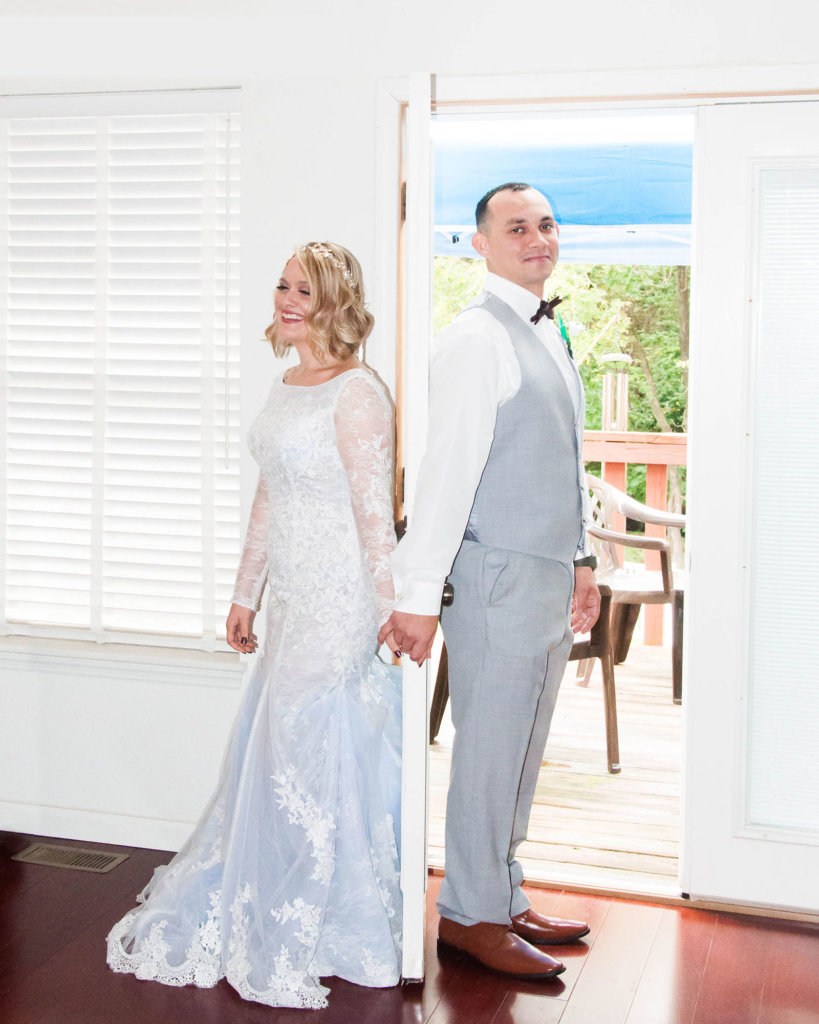 Q: What was the inspiration behind your wedding theme?
It was October, so I loved the fall theme. but it was also the prettiest colors of flowers and trees. it just all worked out.
Q: Tell us your love story! Where & How did he propose?
My love story was not a love story, Kevin and I had been together so long that family friends came in visited us to tell Kevin that It was time to marry me. He then did the most husband thing he could have done, looked at me and was like, "well, we doing this or what?". Totally not romantic, but he did help put together a large amount of the wedding. Which meant shot gunning a beer at the alter. But you win some you loose some I guess.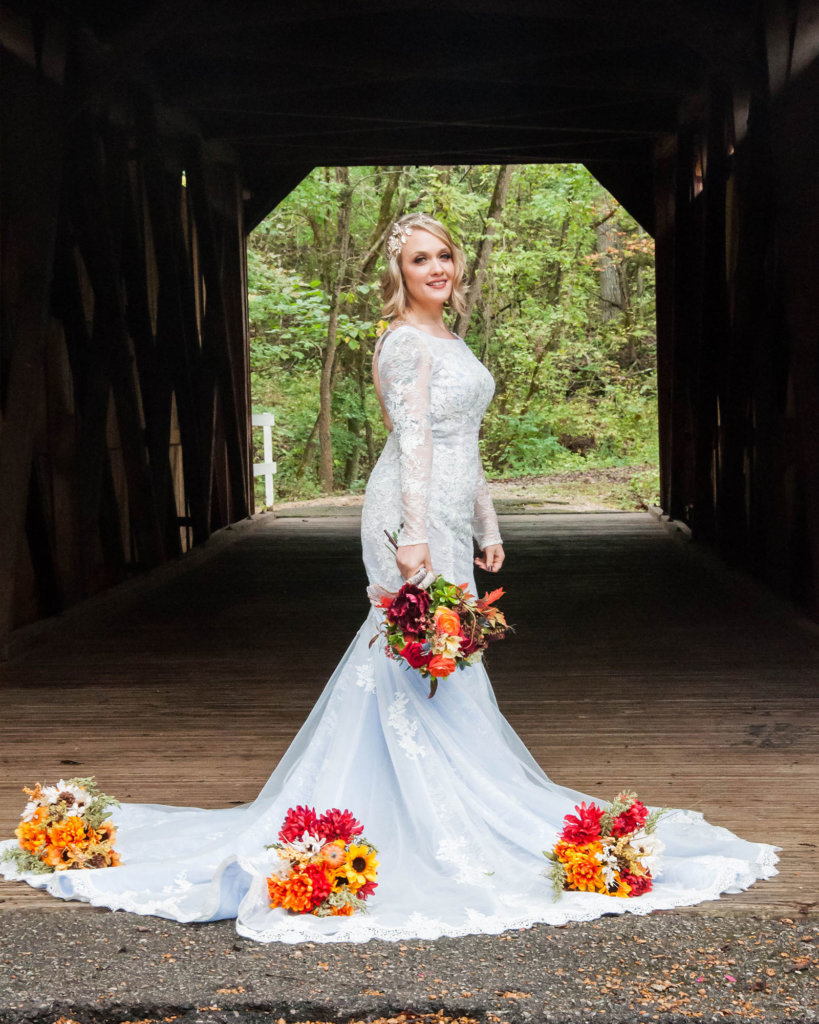 Q: How would you define the message "Dare to Love"?
I would say, allow yourself to fall in love, but also remember that marriage is loving your partner the way they need to be loved, not the way you want to love them. Everything else will fall in place when you can submit to your partner and love them the way they can understand it.
Q: What was the best/most memorable part of the day?
My most memorable moment was when I first saw Kevin at the first look and he had the origami flowers that my father made himself pinned on his shirt. It was the most amazing thing I thought I had ever seen.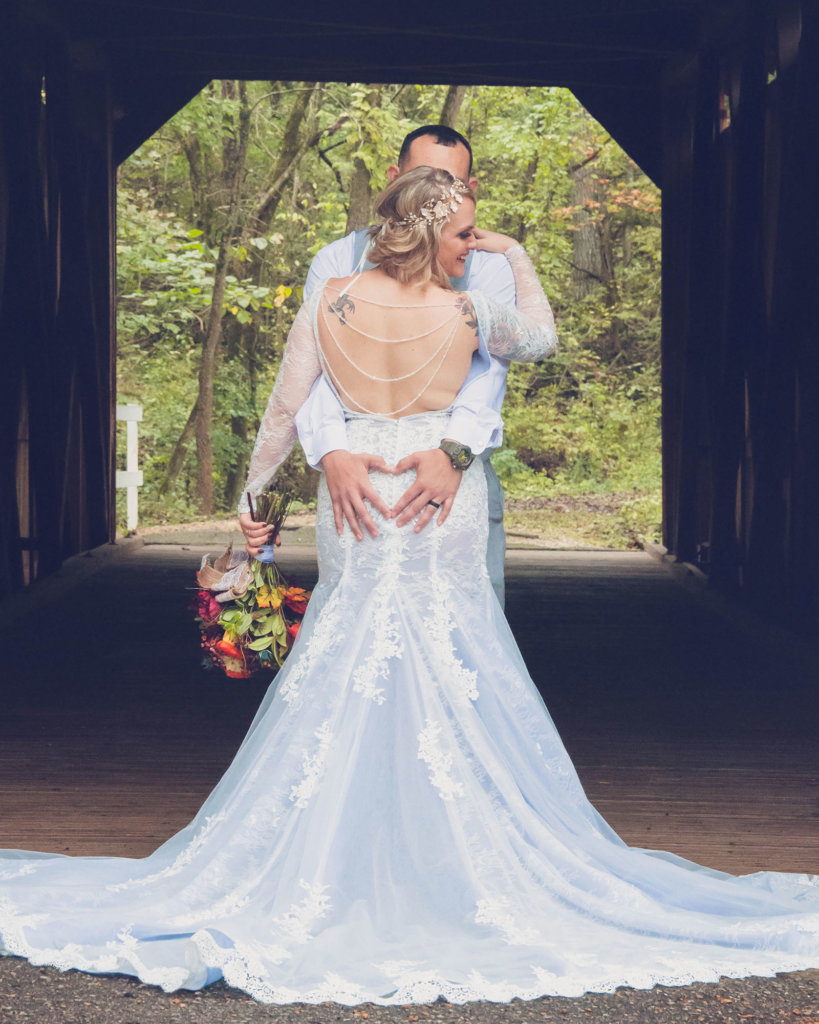 Q: What did you love most about your #CocoMelody dress (es)?
Of course the price of my wedding dress. I paid 500 bucks for the dress and I think 300 for alterations since I was so short and curvy, it had to be taken in certain areas and lifted like 3.5 inches, as well as the bustling I had done to the train.
Q: What do you think about CocoMelody and the customer service?
Honestly, one the best decisions I could have made. I had to pay for the wedding myself, so being able to get a great dress that fit my crazy personality that didn't put me in debt was great.
Q: Where did you hear/find CocoMelody?
I was looking for cheap wedding dresses on line and I think CocoMelody had the best reviews.