No better place than a cruise for a small and intimate wedding! Sarah & Ken tied the knot on Carnival Pride in front of close friends and family. Halter-neck mermaid wedding dress did the talking while the ocean set the scene for the perfect "I Do." Congratulations to this sweet couple and check out a selection of our favorite pics from their big day below:
All photos were taken by Raj Kodical.
Wedding Dress Style: #HS9628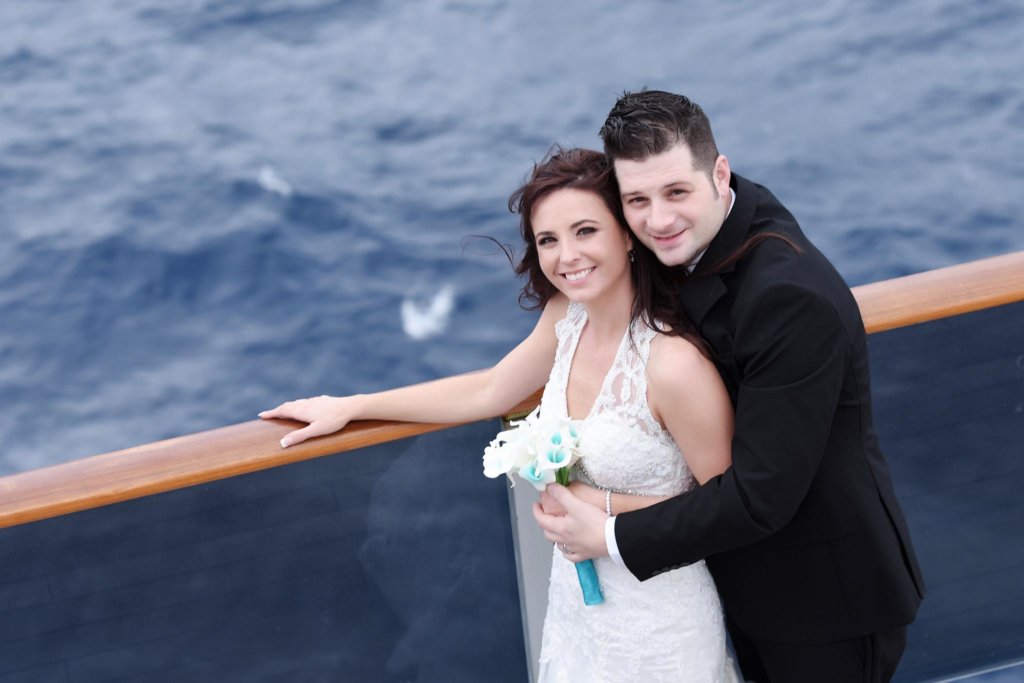 Q: Any advice or tips for future Mrs.?
Don't stress and enjoy the day once it finally arrives. Small details that you stress over go unnoticed on your big day. It goes by so fast, enjoy the moment.
Q: What was the inspiration behind your wedding theme?
I have such a small family and circle of friends. I wanted my wedding to be small and intimate. No better place than a cruise for a small wedding!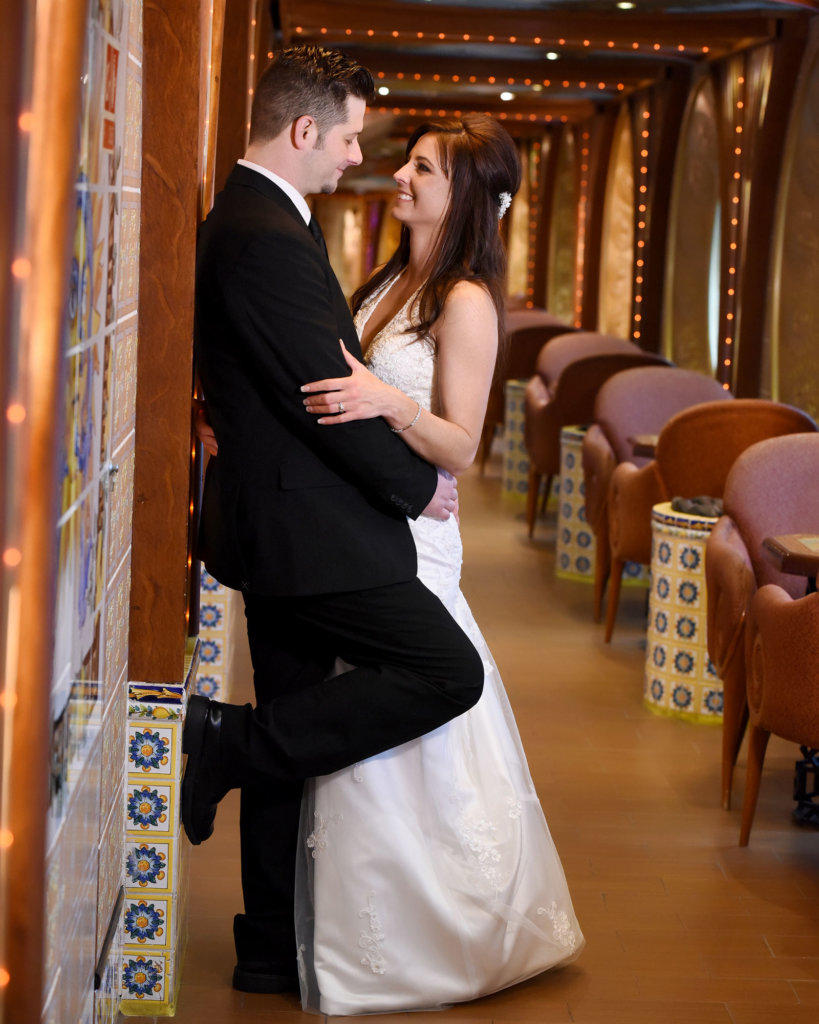 Q: Tell us your love story! Where & How did he propose?
Ken and I were childhood sweethearts. We met at 14. He was my first boyfriend and first kiss. We lost touch when I moved away. We reconnected 12 years later through Myspace. We've been together almost everyday since. After 8 years and two beautiful boys he decided he FINALLY wanted to propose. He took our oldest son to help him pick out a ring. ???? The proposal was short and sweet, in our home since we had a newborn. Nothing extravagant but perfect for us. Our children got to watch which was amazing.
Q: How would you define the message "Dare to Love"?
I think it means don't be scared to take a risk. Don't be afraid to let love lead. So many of us stay closed off in a fear of getting hurt. If you don't trust your heart then you could miss out on something great.
Q: What was the best/most memorable part of the day?
I would say everything about my day was special. From the moment I sat in the salon chair, to the end of the night at the deck party. I will say the most memorable part though, didn't have anything to do with the wedding itself. After the ceremony and short reception we went around the ship with our photographer. As we were on the deck taking photos we saw a family of baby dolphins jumping through the air and playing with each other. They swam right along with us for quite some time. It's like they were congratulating us in their own way. It was amazing to see such beautiful creatures having the time of their lives just as we were.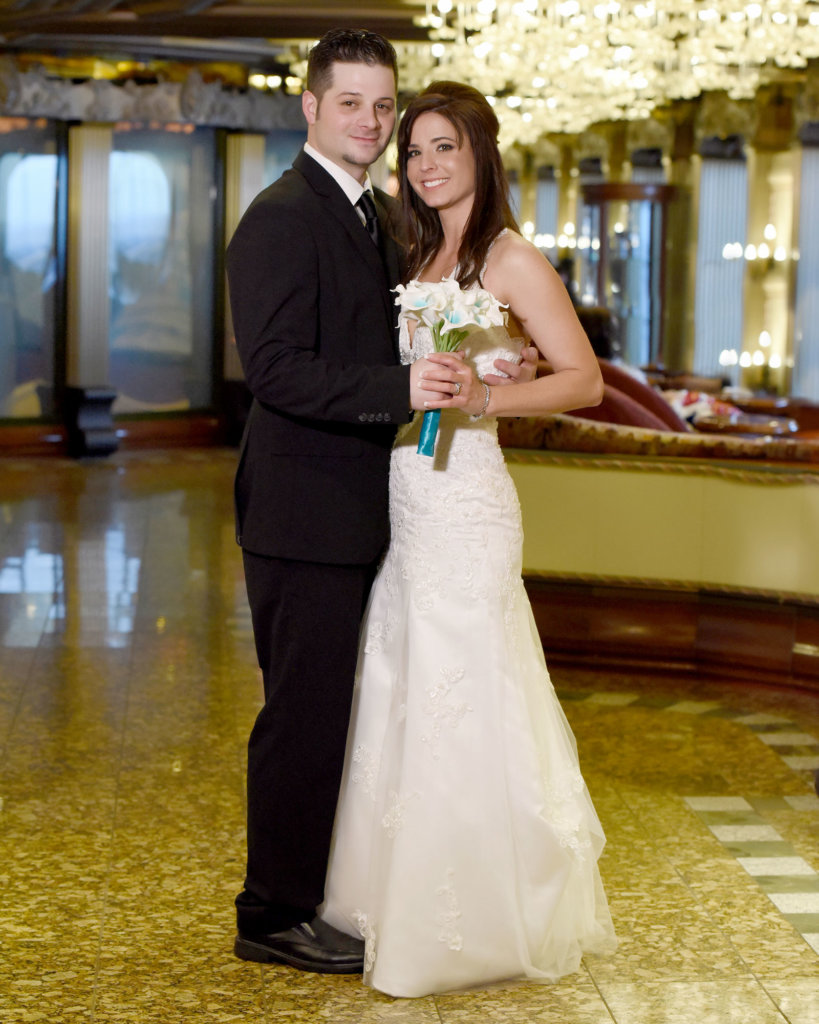 Q: What did you love most about your #CocoMelody dress (es)?
Everything was perfect. My wedding dress was exactly what I envisioned when my husband asked me to marry him. The quality was top notch, the style fit my body frame perfectly, and the detailing was beyond beautiful. I felt like a queen.
Q: What do you think about CocoMelody and the customer service?
CocoMelody for me was amazing. Very simple process. No hiccups on ordering, shipping or receiving. I received my dress in the exact time frame they gave me, actually sooner. There was no stress in the ordering process at all. My dress came beautiful and exactly like the photo. My biggest fear was that it would look different from the photo, but it was spot on. They were great.