Brittany and Zack tied the knot in Texarkana, Arkansas. Their southern rustic fall wedding totally made our heart skip a beat! We were also obsessed over Brittany's off-the-shoulder ball gown which gave their venue the ultimate elegant and romantic touch!
All Photos were taken by Breanne Bradshaw Photography.
Wedding Dress Style: #LD3832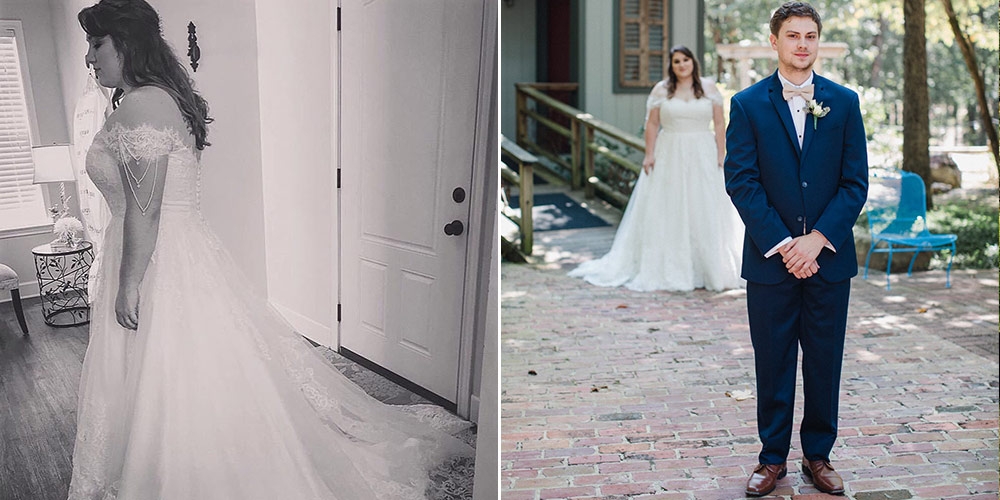 Q: Any advice or tips for future Mrs.?
To always love your husband even in the bad and tough times. To pull through everything, no matter what life throws at us. Always love each other and cherish every moment you have together.
Q: How did you meet? And where did he propose? 
We met on Ok Cupid. He had sent me a message first. He knew how to keep a conversation going. He asked questions and we made jokes within the first hour or two of talking to each other. We went on our first date two days later. It was wonderful. We talked the whole time and kept each other laughing. That butterfly feeling in my stomach was not going away. Sometimes, I still get that feeling to this day. He asked me out that night, but I told him to give me some time. I was scared, nervous, but happy at the same time. A day later I said yes. I couldn't resist his beautiful smile and his love for deep conversations. Fast forward a about 6 months and he asked me if there was one place I could go, where would I go? I said Disney World. He made it happen and we went in March 2017. He proposed to me on March 18th, 2017 at the Be Our Guest restaurant. It was a special time as well because the Beauty and the Beast movie came out and that just so happened to be Beauty and the Beast's themed restaurant. He knew that was my favorite Disney movie and he made it so special but proposing in front of the Beauty and the Beast characters and everyone there. I cried so much. My heart was so full of joy. I will never forget how he made my dreams of going to Disney World come true and in such a beautiful way.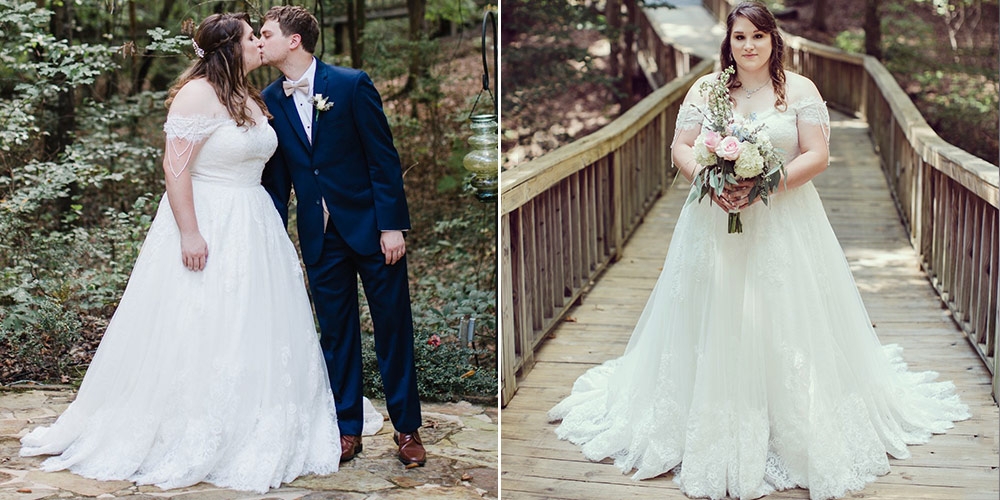 Q: What was the inspiration behind your wedding theme? 
My love for anything rustic, really. I'm from Arkansas, so I loved the idea. My best friend got married not too long before me. Her wedding was sort of rustic themed, with spring colors. I loved it so much that I changed it to fall colors since I got married in September.
Q: Did you enjoy the wedding planning process? Why or why not? 
The wedding planning process was just a hot mess. Haha! We had 6 months to get everything done. I got everything done close to the last minute. I had everything planned out, believe it or not, but life works in mysterious ways. I didn't like some of the ideas that I had liked before and I was getting so nervous about the wedding that I got on Pinterest 5 days before the wedding and made all of my decorations. They turned out beautiful, thankfully. Overall, I didn't like the planning part. I wished I had someone to do that part for me. But I'm happy I got things done my way.
Q: What was your hubby's reaction when he first saw you on your big day? 
I have a picture of him when he first saw me. He cried his eyes out. He called me beautiful and kissed my forehead and then I started crying. Thank goodness for waterproof mascara and setting spray! He couldn't keep his eyes off me. He LOVED my wedding dress. 
Q: What did you love most about your #Cocomelody dress? 
Literally everything. How it looked so beautifully made. It looked like a really expensive wedding dress. But the price was awesome! The lace. The pearls. The little train I had on my dress. EVERYTHING. I loved how it was so easy for me to have the wedding dress of my dreams in my size. I love how Cocomelody takes in consideration of plus sized women like myself. I felt included!
Q: What do you think about Cocomelody and the customer service? 
I could brag forever. 10/10. I have already recommended Cocomelody to so many people. My sister is getting her wedding dress from Cocomelody and my best friend, who is getting married next year, is getting her dress from Cocomelody. Customer service was so amazing and got with me in a timely manner! They answered all my questions about my measurements and so much more. Thank you so much, Cocomelody for making me feel so beautiful on my special day!
Facebook Review from Brittany: