Christina & Paul tied the knot with a romantic vintage garden wedding in The Bridges Golf Club in San Ramon, CA. Christina was absolutely gorgeous in her dream lace gown and it's our great honor to be a part of her special day. How wonderful the wedding day was! Cheers to this beautiful couple!
All photos were taken by Jeremy and Danya with onelove photography.
Wedding Dress Style: #LD3905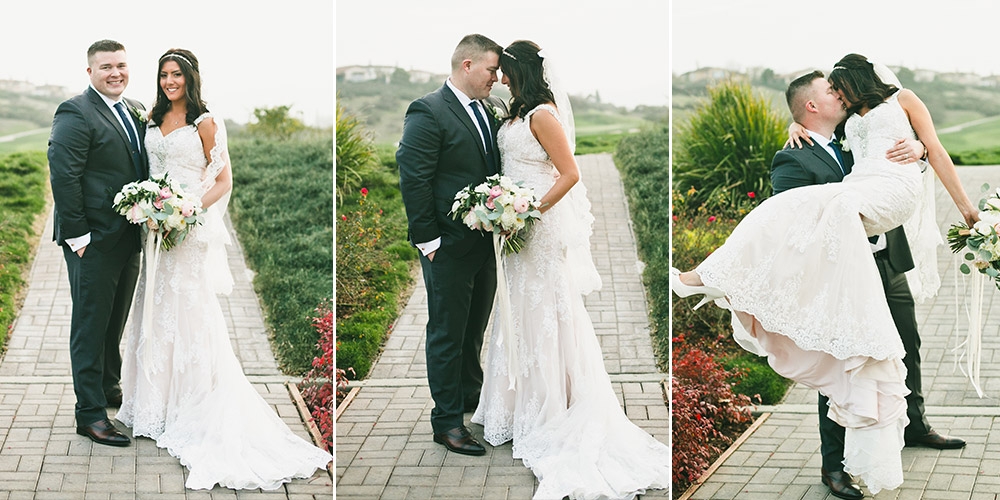 Q: Any advice or tips for future Mrs.?
When planning your big day, make certain you acquire the help of your bridal party (don't be shy!), and try to work in a spa day at least once a month!
Q: Can you tell us your love story? Where and How did he propose?
It is September 2016. Paul arranges for a private chauffeur to pick her up early in the morning, where she was then provided a bountiful cooler of fancy champagne and other beverages. Unbeknownst to her, Christina was taken to her favorite local spa. The ladies already knew what was in store for her before Christina walked on in. After an amazing massage, facial, and mani/pedi, Christina was then whisked off to a local salon. Here, she was even more pampered and a couple hours later she left with a lovely made-up face and a gorgeous hair style. This entire morning, everyone Christina came into contact with asked her what the special occasion was to which she responded, "I don't know for sure, but I'm not complaining!" When Christina was picked up by her private chauffeur, she carefully entered the luxurious SUV and located a new note on top of a to-go lunch- it was her favorite… sushi! Christina was let known that Paul was going to meet her at the Sacramento Fairgrounds within the next hour and a half. Christina knew what was so special about those particular fairgrounds on that specific day, and she was thrilled and excited for what was to come.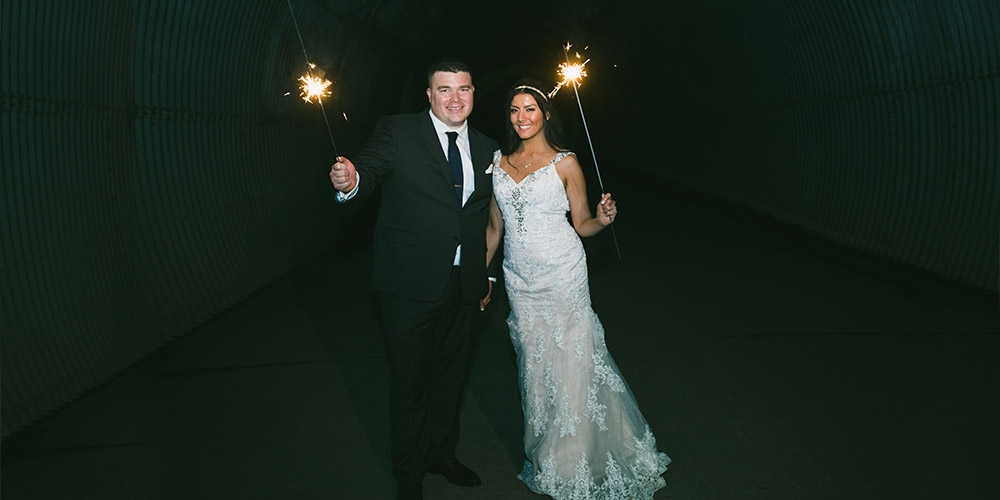 Christina's favorite band, Andrew McMahon in the Wilderness was set to perform on this day. Christina's chauffeur was able to schedule their arrival on time, however, Paul was running a little late. Between getting lost, needing to fill the tank with gas, and his phone battery dying, it was safe to say Christina was becoming worried for them missing the set and more importantly, saying "bye-bye" to Paul's calm demeanor. One and one half hours later, Paul approaches Christina's blacked out luxury SUV, apologizes for a rough turn of events, to which Christina responds, "You're fine, I was enjoying my sushi and drinks!" As the couple approach the entrance gates, they hear an all too familiar song of AMITW: "Cecilia and the Satellite". Christina goes on to have a slight panic knowing that at that time of his career, the lead singer more often than not would end his sets with his notorious single. The couple enjoys the remainder of their time at the fairgrounds and depart late at night.
Visibly bothered, Paul asks Christina what was wrong, to which she stated, "Oh nothing, I'm fine." They were on their way to enjoy a nice upscale dinner at The Firehouse Restaurant nearby in Sacramento. Christina had a hunch that something very special was to occur at the set of her favorite band, but since they missed the entire set, she hoped for a second chance at dinner. Christina had not had such a fancy dinner such as that during their time at The Firehouse. Never in her life had she been bestowed a mid-meal palette cleanser! Five courses later with no special "question of the night" in sight, dinner had come to an end. The couple departed on their way home, that is, until Paul told Christina he had to stop by his cousin's house a few miles away to retrieve some things for Paul's continuous photo project which honors his late Father.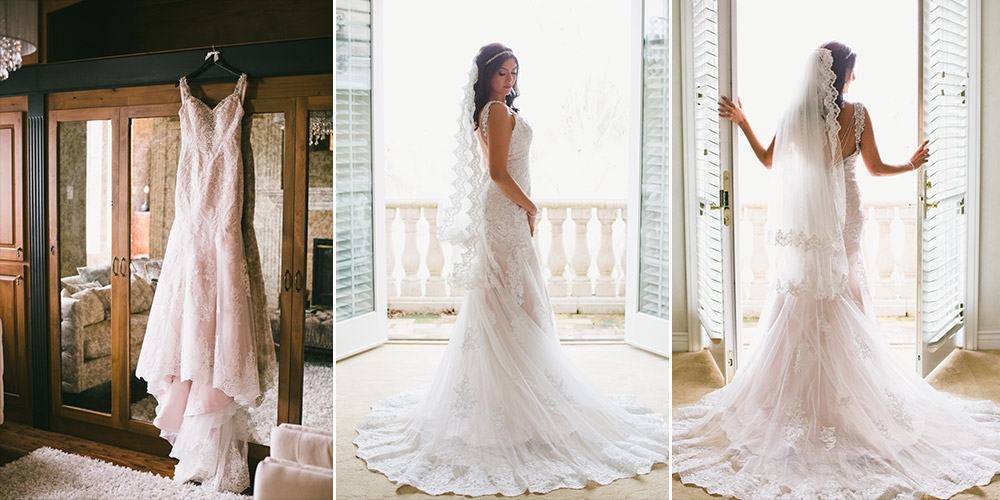 At this point, Christina's thoughts were multi-fold. Prior to Paul making an abrupt detour to go home, Christina was seemingly annoyed to the point where she told Paul, "Why would you spend all this money for me to get pampered when it's not even my birthday or a special occasion?" For anyone who knows Christina, it is known that Christina needs justification before their spending a pretty penny on anything that isn't needed. Many years ago, she would rarely purchase something without using a coupon. So, for something to not happen after a day such as this was something that really bothered her, that is, until they arrived at Paul's cousins house.
What appeared like a quaint multi-unit residence with old town Sacramento charm was in fact not Paul's cousins house, but instead was an establishment called, The Inn & Spa at Parkside. However, Christina didn't realize this fact until about 30 minutes after arriving on scene. Upon entering the building, Christina followed Paul up a tall flight of stairs to a door that was supposedly his cousin's front door. Paul opened the door slowly, and to Christina's absolute surprise and utter delight was a mid-size room that exploded with various photos of the happy couple, rose petals everywhere, a chalkboard that read, "Christina Hamilton Lopez, Will You…", and metal lit-up letters that read, "Marry Me?" strategically placed on the other side of the door. Christina stood frozen in the doorway, and as her eyes filled with happy tears, her mouth hitting the floor, her peripherals blacked out, and her hearing muffled, she turned left to see Paul kneeling on one knee holding up a small square satin black box with the most beautiful, simplistic and brightest ring proceeding to declare his purest love for Christina finally asking her for her hand in marriage.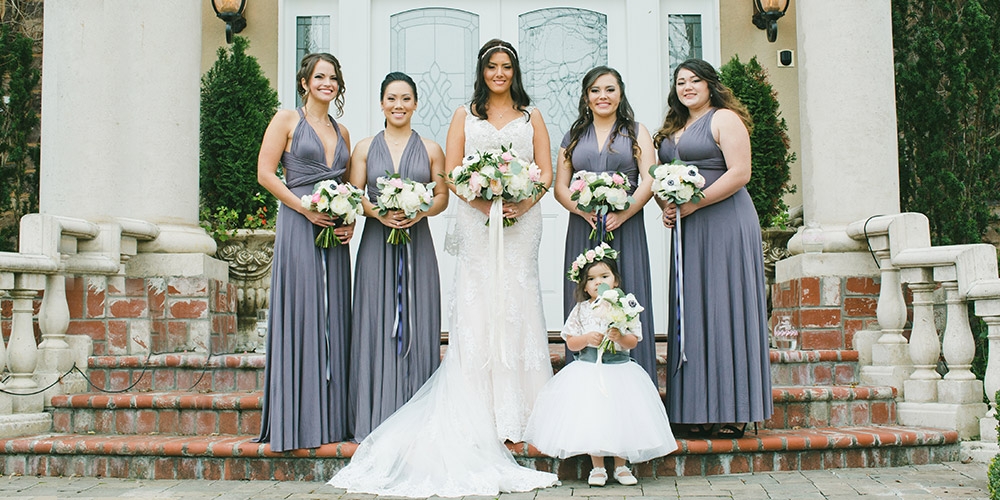 Q: What was the inspiration behind your wedding theme?
Being that the wedding date was in January, I knew better than to include anything that had to do with Spring or Summer. So no fruity drinks, super bright floral, bright bridesmaids dresses, etc. I knew I wanted to keep things classy, which led to us choosing our theme. We love greenery, it was the most romantic setting with candles most everywhere, and we kept our decor to include subtle vintage pieces- and keeping away from the tired and overused typewriters.
Q: Did you enjoy the wedding planning process? Why or why not?
For the most part, yes, I enjoyed the wedding planning process. Of course, it helps when your bridal party actually wants to help, in addition to hiring a wedding planner/designer to assist with certain things like oh, helping you deal with troublesome vendors!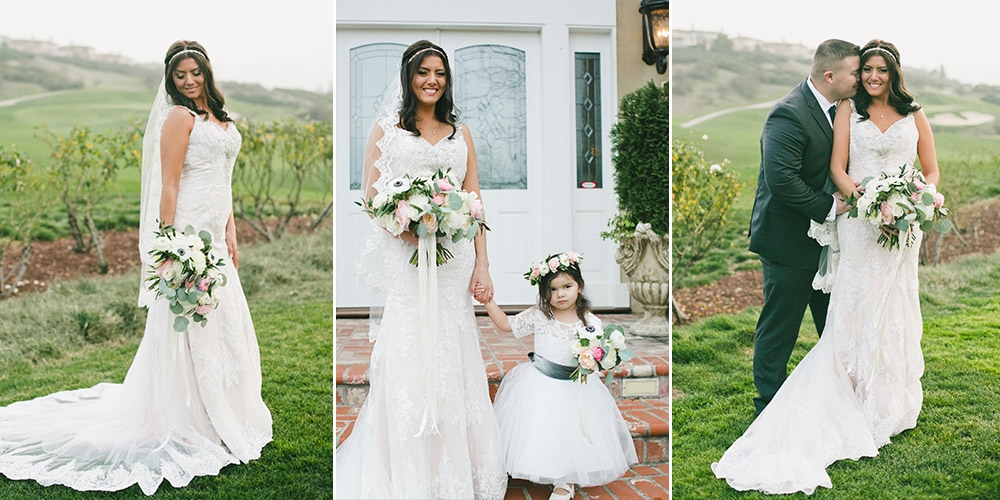 Q: What was your hubby's reaction when he first saw you on your big day?
You can see for yourself at: http://mattervideo.com/the-sopers-canyon-view-san-ramon-wedding-video/ . Though he didn't "ugly cry", his expression says it all.
Q: What did you love most about your #Cocomelody dress?
I absolutely love how the quality was not bogged down because of the low cost of the dress itself. Everyone truly thought the value of the wedding dress was in the thousands! Now that's a compliment!
Q: What do you think about Cocomelody and the customer service?
I undoubtedly had spent many nights contacting Cocomelody via their online chat option. All of my questions were answered on the spot, which led me to have a high level of trust with the company itself. That's a big deal.
Facebook review from Christina: