Constance & Cindy held their woodsy/simple wedding in Frisco, Texa. We just absolutely adore their venue with so many beautiful flowers! Constance's bridesmaids were stunning in red as well. Congratulations to the beautiful couple!
All Photos were taken by Cinnamon Dreams Photography 
Wedding Dress Style: #LWKF15003
Bridesmaid Dress Style: #COZF140A1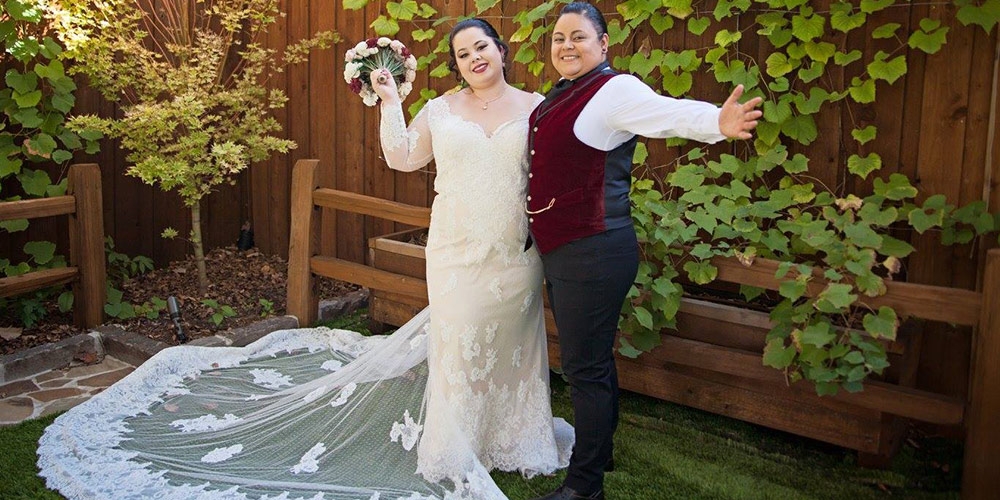 Q: Any advice or tips for future Mrs.?
Do not stress over the little details!!
Q: How did you meet? And where did he propose?
We met on Facebook back in 2010. At the time I lived in Pa, and she lived in Tx. She came to visit me a few times and I decided it was time for us to be together, so I moved to Texas! On March 10, 2015, she booked a room at the Hilton and put rose petals all over the room and lit candles in a circle. She blind folded me and when I walked in she gave me a bouquet of roses and led me into the circle. She put on one of our favorite songs and made me dance with her (which I am not too fond of doing). She spun me and when I turned back around she was down on one knee and asked me to marry her.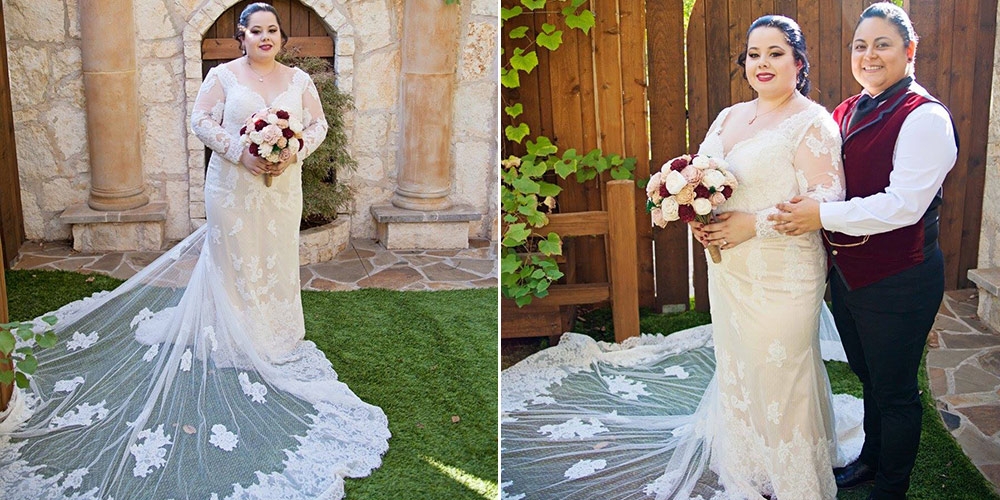 Q: What was the inspiration behind your wedding theme?
We wanted to have something that was simple and that we both enjoyed.
Q: What location did you pick to have your wedding and why did you choose this place?
We chose to have it a venue called Magnolia Terrace and we chose this location because it is covered in flowers and is decorated perfectly to wear you do not have to go overboard with your décor.
Q: Did you enjoy the wedding planning process? Why or why not?
Yes, we both enjoyed our wedding planning process because it was something we could do together and make our day everything that we both wanted.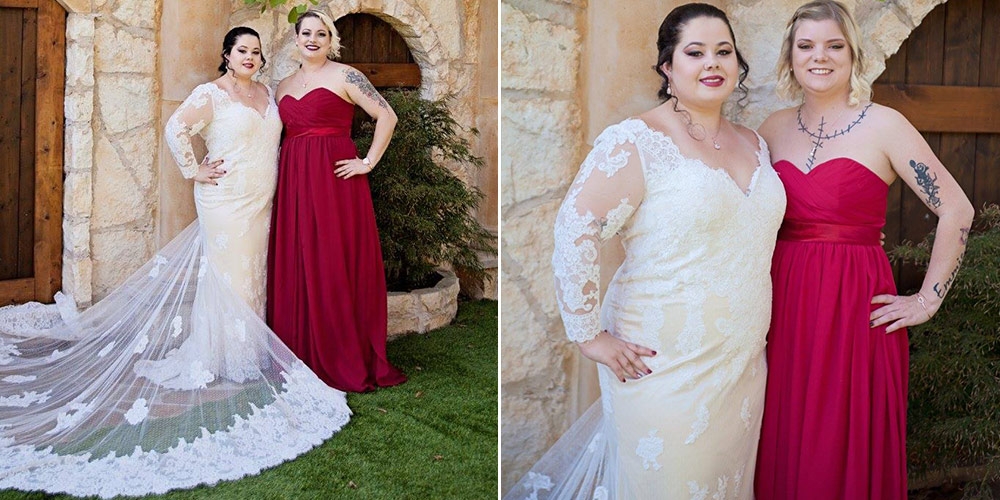 Q: What was the best/most memorable part of the day?
The most memorable part of our wedding day is when we did our first looks. Our photographer had Cindy on the other side of the venue while I was still inside getting ready. She then called me down to Cindy, where she was standing with her eyes closed. I walked up to her and put my hand on her shoulder and she opened her eyes and we just melted into each other's arms. It was a moment I'll never forget.
Q: What did you love most about your #Cocomelody dress?
I cannot give just one thing that I loved about my wedding dress, I loved everything. It came out perfect and was everything I expected my dress on my wedding day to be!
Q: What do you think about Cocomelody and the customer service?
I think that Cocomelody is an affordable way to go. They have everything from wedding dresses to party dresses and even shoes and accessories to go with them! It is a less expensive alternative and you get the same quality you would as going into a store only to pay triple the price.