Emily & Ben tied the knot in Pacific Palisades, CA, and Emily looked beyond beautiful in this custom off-the-shoulder lace gown. It's our great honor to be a part of her special day. Take a look at some of our favorite shots from this romantic wedding:
All photos were taken by Mieke Snepvangers.
Customized Version of Wedding Dress Style: #CWZT15008
Wedding Veil Style: #AV0015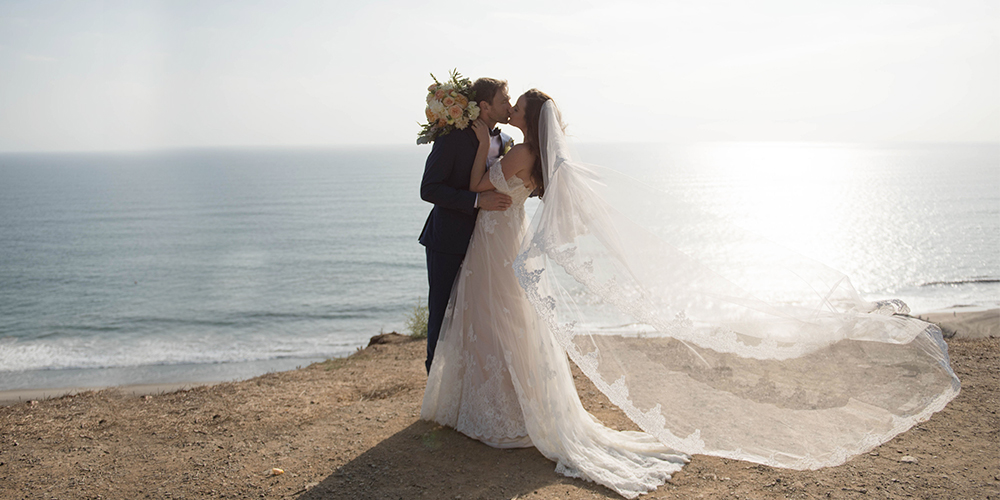 Q: Any advice or tips for future Mrs.?
"It's not the destination it's the journey" your wedding is NOT the end all be all of your life don't let it consume you, take time to enjoy all the special moments along the way. I realized fairly quickly that our wedding was not only for us but for our family and close friends, it was an opportunity to bring us closer and let their love surround our love. So ask for help, be open to other people's opinions, let it be a time to grow closer to your community as well as each other.
Q: What was the inspiration behind your wedding theme?
Momma Mia! My sisters and I have always adored the movie and broadway musical Momma Mia!. It is such an uplifting and fun story that I really wanted to capture the free spirited community style of the wedding in the story and of course breaking in to song and dance every now and again!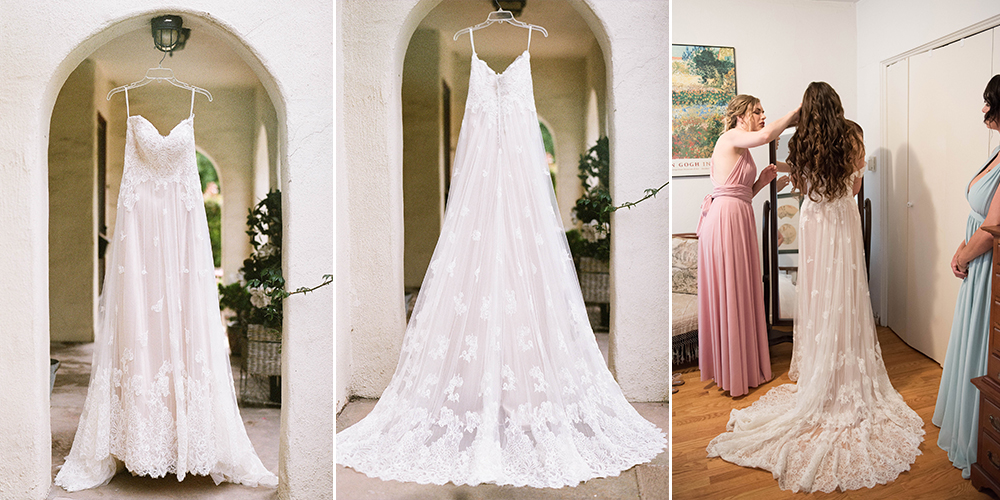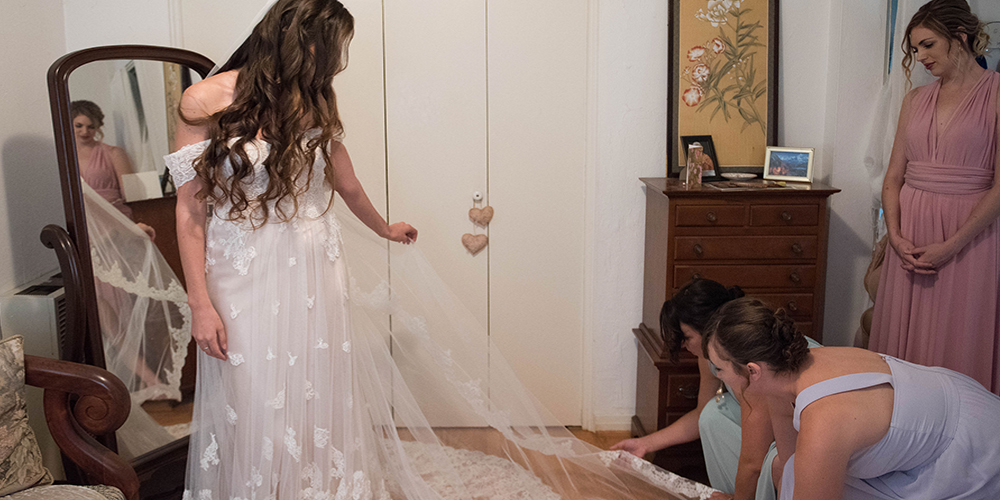 Q: Tell us your love story! Where & How did he propose?
I was working at the front desk at a hotel when I noticed a new cute valet guy out front. Later that day as I approached the elevator to the lunch room, he was waiting there just happening to be going on his break at the same time and we started talking and didn't stop until we had to get back to work. In the weeks after he said he had been picking up shifts just to get a chance to see me. I liked him and I could tell he liked me but at the time I wasn't looking to date so I always managed to slip away if I got the feeling he was about to ask me out. Finally a month or so later as I was waiting for that same elevator after my boss sent me home because I was coming down with a cold, I thought about how I didn't want to see him because I felt so gross. In my mind I said "there's no way he would happen to be in the elevator when it arrives" but fate laughed at me when the doors opened and there he was! This time there was no beating around the bush, he jumped at his opportunity to ask me out and the romance was immediate. Three years later we are married!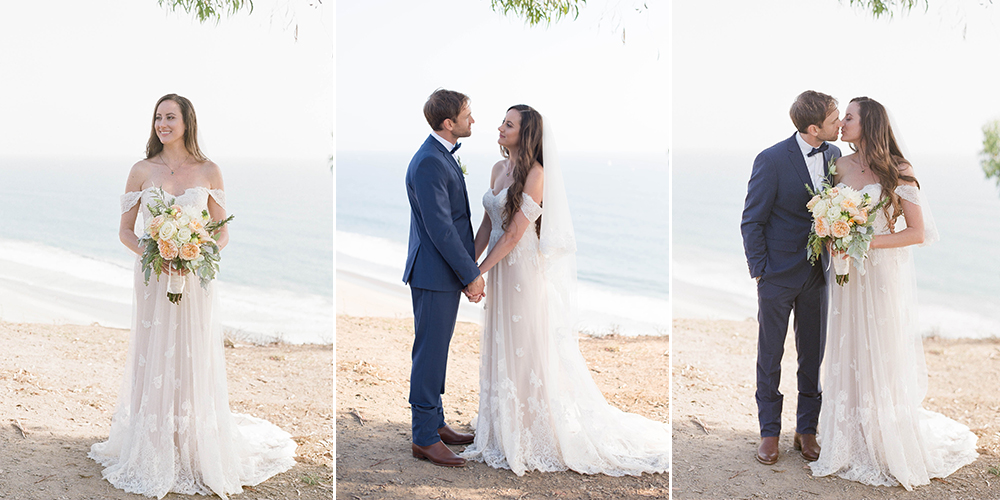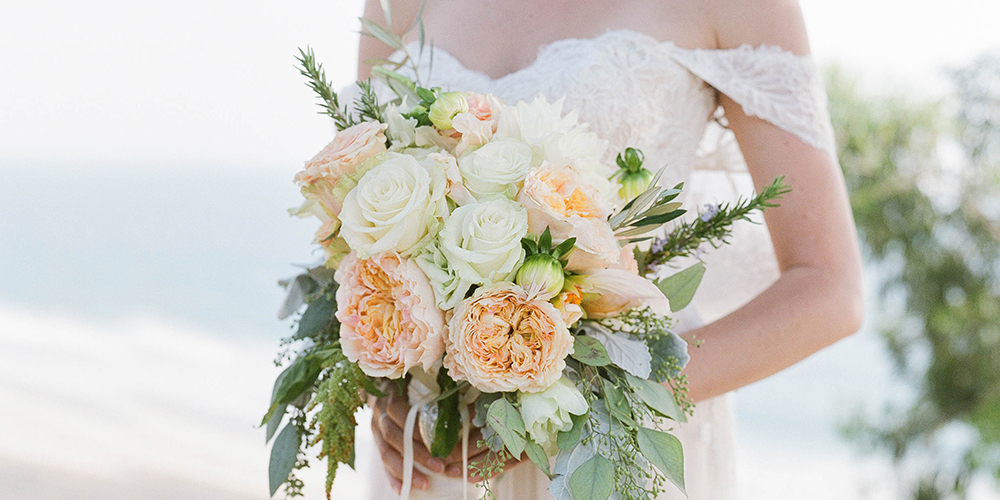 Q: How would you define the message "Dare to Love"?
To love deeply you must be vulnerable, it is one of love's beautiful qualities. In the three years before I met Ben I spent most of my time with with my father who's health was deteriorating, I was very close with my Dad and his illness and passing was difficult. I hadn't dated at all during that time so I was afraid to date again, but daring to go on that first date with Ben even though I was felt vulnerable, found me my love and my husband.
Q: What was the best/most memorable part of the day?
The moments just after I walked down the aisle and joined hands and eyes, it was a deeply profound moment for the both of us, like time stopped and fog rolled in around us.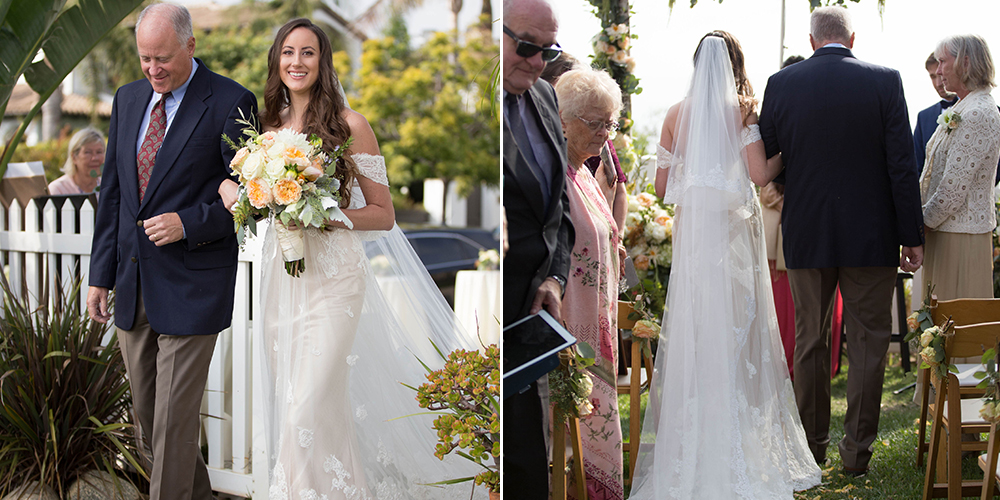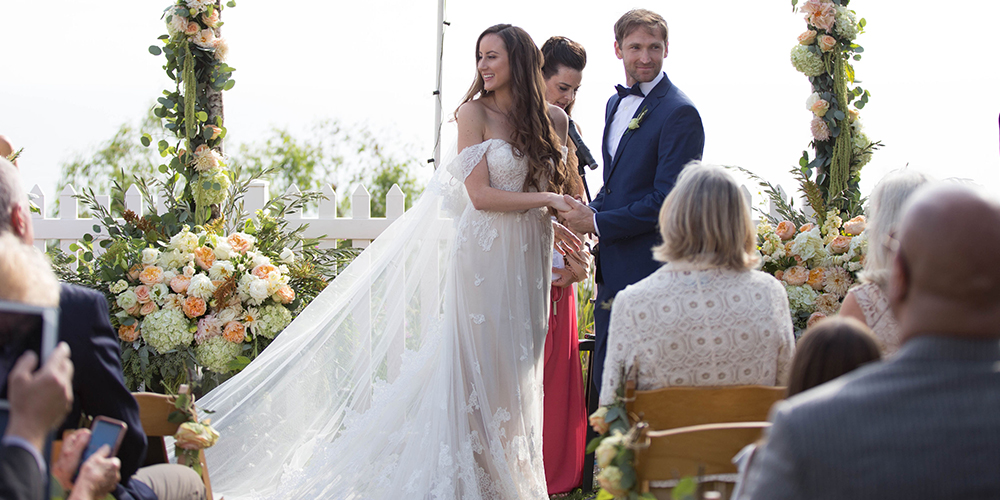 Q: What did you love most about your #Cocomelody dress?
Affordability and quality of my wedding dress.
Q: What do you think about Cocomelody?
I loved my dress, I loved the quality and for a great price and my experience at the showroom everyone who helped me was lovely. Thank you, Cocomelody!