Georgia & James were married in a unique "Tropical fun" themed wedding in The Edgewater Resort and Spa, Rarotonga. Georgia was so glowing in this special day, We are so lucky to be a part of their big day that we can finally share their new chapter life here! So much love for this couple!
All photos were taken by Nathalie Ponga from NCapture.
Wedding Dress Style: #CWAT16001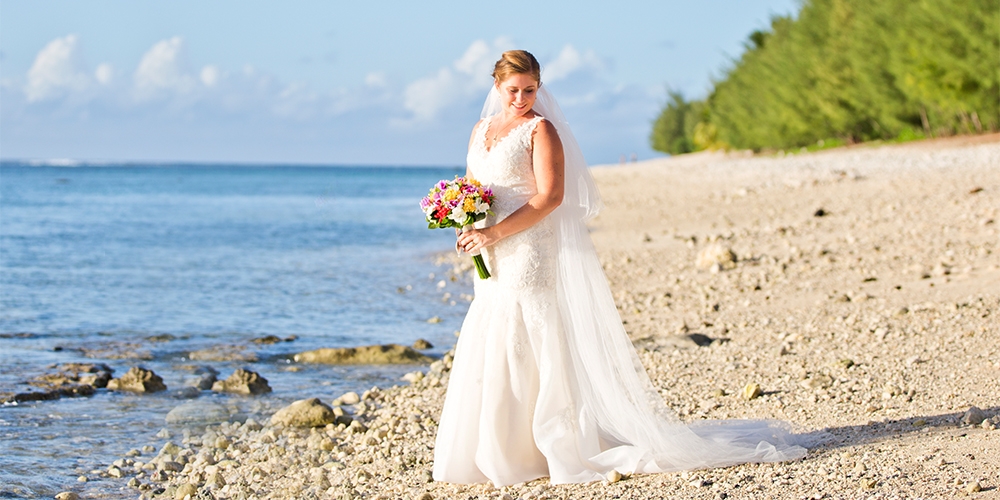 Q: Any advice or tips for future Mrs.?
Enjoy yourself! In the month leading up to the wedding I really started to worry and stress about small details. Someone pulled me aside and said "this is a time of your life you will never get back. Once you are married you will never once be able to say you're engaged or call James your fiance. Enjoy this time." It was by far the best piece of advice anyone has ever given me.
Q: Tell us your love story! Where & How did he propose?
We met after our best friends dated! James and my best friend Ben ended up being flat mates and one night Ben hosted a dinner party where James and I met. A few weeks later we met up for lunch, and then had our first date. It was on that first date that I became James' first girlfriend and after a year and a half we started talking seriously about marriage and the future. We went shopping for the engagement ring together over labour weekend. James picked up the ring on a Wednesday and had this grand proposal planned out. I was incredibly eager to wear the ring though so on the Friday night while I was having a shower he lined the path from the bathroom to our bedroom with candles, created a heart on the floor out of candles, and knelt behind it waiting for me to open the door. I screamed yes before he even got a chance to ask.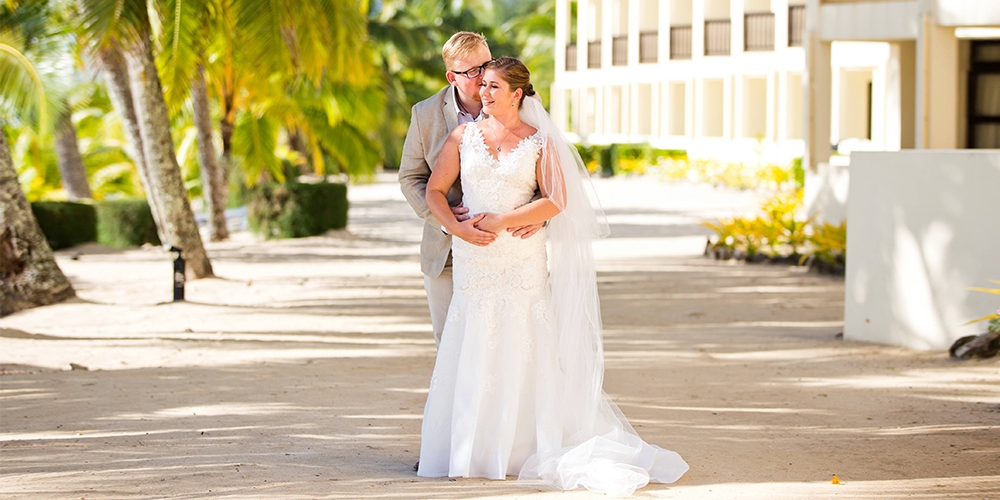 Q: How would you define the message " Dare to Love"?
To love someone is a very brave thing. It means taking a risk and placing your happiness and your life in someone else's hands. Trusting that person to always consider your best interests and being prepared to make sacrifices yourself in order to do what is best for another person. To me, "Dare to Love" means you are prepared to risk everything for this person because the love and joy you feel with them is worth the risk.
Q: What was the inspiration behind your wedding theme?
I had been to Rarotonga multiple times and on my first trip I decided I wanted to get married there. James was sold on the idea once he discovered the option of a pineapple and coconut flavoured wedding cake. We wanted the theme to be tropical to match the tropical island we were on. The fun part of the theme came simply from the desire for the day to be a fun and relaxing day, rather than one of stress. I stress quite easily so I decided from the start I wanted to view the day not as the biggest day of my life but as the most fun day of my life. That way I was less likely to stress about every little detail.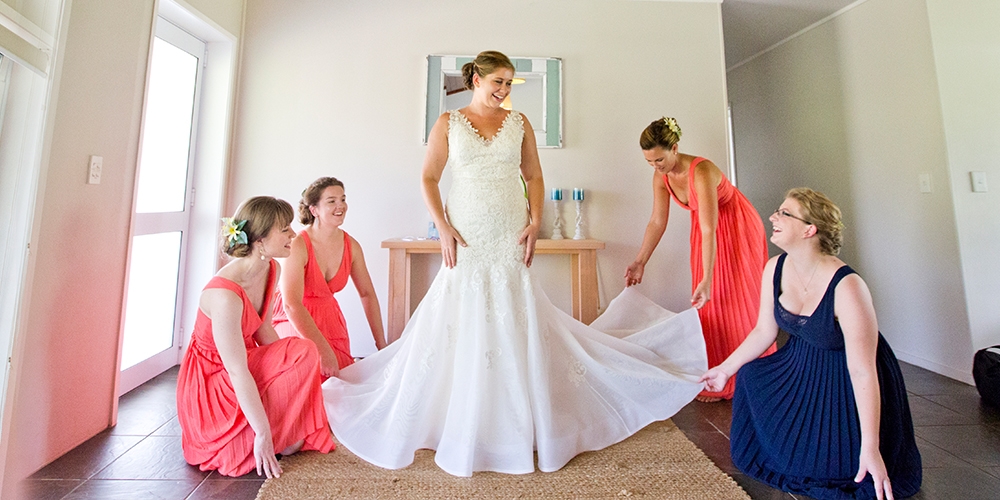 Q: Did you enjoy the wedding planning process? Why or why not?
I loved the planning process! We were very lucky as we had a fantastic wedding planner at the resort called Heather who made the entire process so easy and enjoyable. James and I chose our colours together, flowers, made the invitations, designed a wedding website, and made decorations for tables at the reception. A highlight of planning was when we sat down together and made a clay sculpture of our golden labrador to go on the cake. I was guttered I couldn't fly him over with us for the wedding so it was a fun way to have him be a part of the day and I loved getting hands on and crafty.
Q: What was the best/most memorable part of the day?
As a part of the ceremony we were given a coconut tree to plant. After taking some pictures on the beach and enjoying some ice cream with our guests, we discovered the tree wasn't there. James' sister went and told the wedding planner who insisted it was on the beach next to a pre-dug hole. We still couldn't find it. When the planner came down she got the most shocked look on her face and went 'someone has planted your tree!' At that point my 11 year old niece and her friend went 'oopps, that was us..' They thought someone had dug the tree up and were worried it would die! It was so cute and although the wedding photos fell behind schedule making us late for the reception it became the absolute highlight of the wedding day! The following week whenever we would see one of the kids we would joke about the tree and even now it's one of the most told stories from the day.
Q: What did you love most about your #Cocomelody dress?
It's hard to pick my favourite part of the wedding dress! The back was gorgeous and the train was absolutely stunning! I think overall, from the second I opened it up (surrounded by co-workers in the office because I was so excited!) the lace stood out. It was so beautiful and the quality was outstanding. When we purchased it I was not expecting the amazing quality of the craftsmanship and fabric. It was so light weight as well which was a bonus getting married on a tropical beach.
Q: What do you think about Cocomelody and the customer service?
The service was fantastic! Ordering online was so easy and there are so many options to choose from. I received my confirmation email so quickly and once it was ready received the track and trace details which were updated frequently. I reached out to the team once to check on something and I got a really good detailed response really quickly. Working in customer service myself I can easily say that Cocomelody has some of the best customer service I have ever experienced. Replies were quick and detailed and each time I was made to feel like a special customer (which is amazing to feel when planning your wedding). Thank you so much Cocomelody Team! You are outstanding!