Iola & Max chose to say I Do in their hometown Canmore Alberta Canada, they chose burgundy, moss green and rose gold as main colors. We loved the color combination which was so fresh and would look utterly exciting during the winter wedding. all the girls looked so glowing in the red bridesmaid dresses, it was such an ethereal day! 
All photos were taken by Studio Lumen in Calgary AB.
Bridesmaid Dress Style: #COZK16005, #COZF1401F, #COZK16004, #COZF1500F & #COZF1500E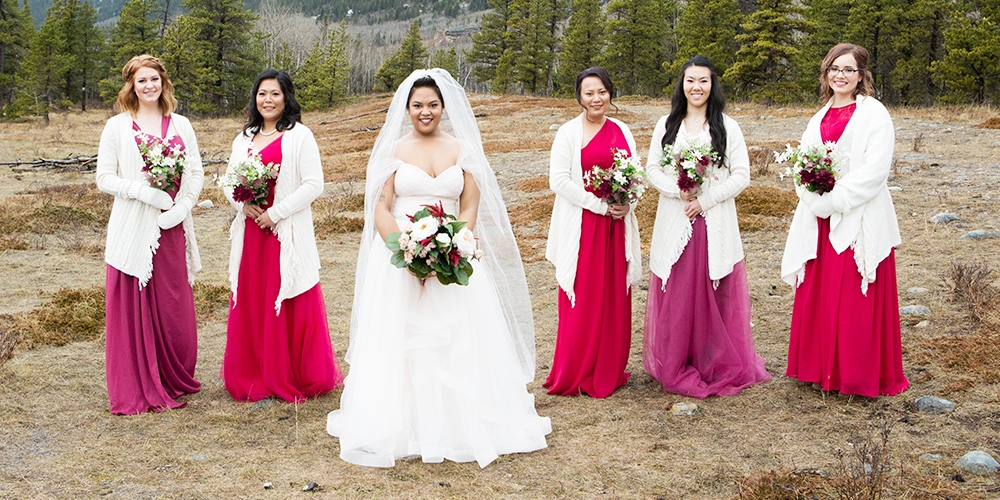 Q: Any advice or tips for future Mrs.?
There's something to be said about long engagements. Take your time, you can do everything you want and stretch out the experience if you want. Enjoy the process and don't sweat the small stuff. 
Q: What about your love story? 
Max and I first met in middle school. We were good friends for a couple years and then started dating at 14 yo. We have been together ever since. Early on we shared some pretty interesting experiences together (family tragedies, conflicts, attempted suicides) and made it to the other side with clarity and compassion for each other. We went to college in different cities but eventually decided to move back to the mountains and share our life together here. Obviously after 12 years together we were in no rush to get married. We got engaged in November 2015 on Vancouver Island and waited two years to get married. You need to find someone you enjoy normalcy with. The high of a wedding can take your emotions way over the top. But once you come down, you need to make sure that when the wedding blues kick in and things go back to normal that you enjoy those moments. I found that with him. He is a professional cave guide, he's underground every day and it can sometimes be dangerous work. He never takes anything for granted and absorbs as many experiences and as much knowledge as he can. He grows and learns every day and I learn a lot from him.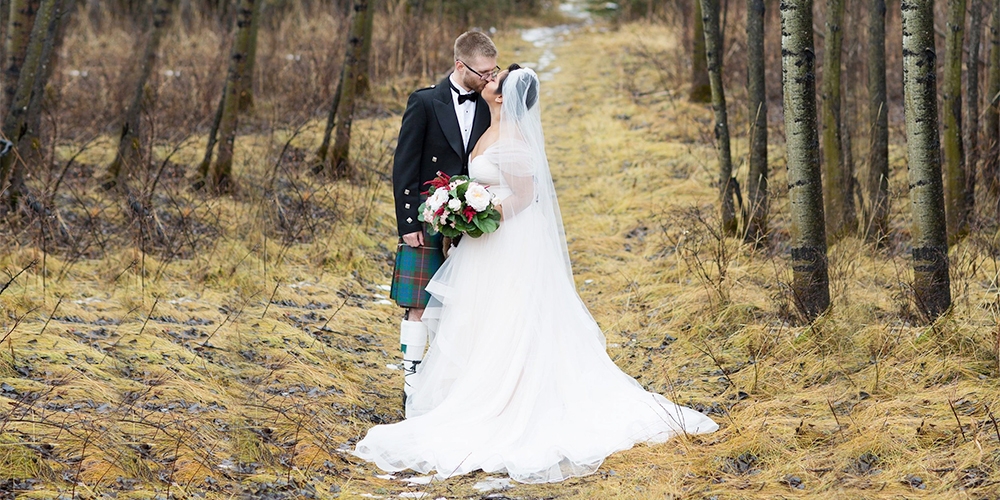 Q: Did you have a particular theme or color scheme? Is there a story behind this color theme and why you chose it?
We wanted to commemorate the beauty of the mountains. We were both born and raised here and wanted to showcase that. We ended up going rustic but we did incorporate modern elements. Obvious things such as wood, lanterns, fairy lights, salt lamps/rocks, and greenery were essential parts of our theme. We are both a part of very interesting modern fields in our careers (I am a nurse for a plastic surgeon in Banff and he is the experience manager for a caving company). We are constantly growing and learning. There was a purpose for every element in our wedding because we wanted to showcase the journey we've been through. We chose burgundy, moss green and rose gold as our colors. We loved the color combination, it was fresh and modern and would look really exciting during our fall/winter wedding. We were hoping for snow so that the colors would pop even more, but we had one (abnormal) day of rain on our wedding day. It was still beautiful; it was such an ethereal day. 
Q: Did you enjoy the wedding planning process? Why or why not?
I absolutely loved it! I am Filipino and so we are used to party planning with big families. There was a bit more pressure because it was much more upscale from what we normally do. Still, because we stretched the process over 2 years I had lots of time to gather and make what we wanted. We booked the most important things early on (venue, photographer, and officiant) so we didn't have to worry. I was able to DIY a lot of projects and save tons of money buying second hand. There were a lot of small details that I had time to incorporate but at the same time, they were extras. I had the most incredible bridal party and family to help with our pieces and vision come to life. I delegated all the work to my cousin and her friends 6 days before the event. I gave them lists and spreadsheets and in the end, left it up to them to make the decisions. They let us enjoy the wedding day. 
Q: What was the best/most memorable part of the day? 
The most memorable part of the day was our ceremony. We had hired a life-cycle celebrant to officiate our wedding. She is a local as well and we met with her 1 year before the wedding so that she could get to know us. We wanted a ceremony that celebrated us, the people there and where we lived. We are not religious folk and wanted to keep it fresh and family-centered. She sent us very intimate questions a few months before the wedding and built the ceremony based on our answers. We included elements traditional to Filipino and Scottish weddings but picked our readings and vows and involved the congregation. It was interactive and engaging. People come together for a wedding to witness the ceremony. We didn't want it to be too contrived; to feel like an annoying prelude to a fun party. We wanted it to be meaningful, unique and a good opportunity to set the stage for a fun party and our new life together.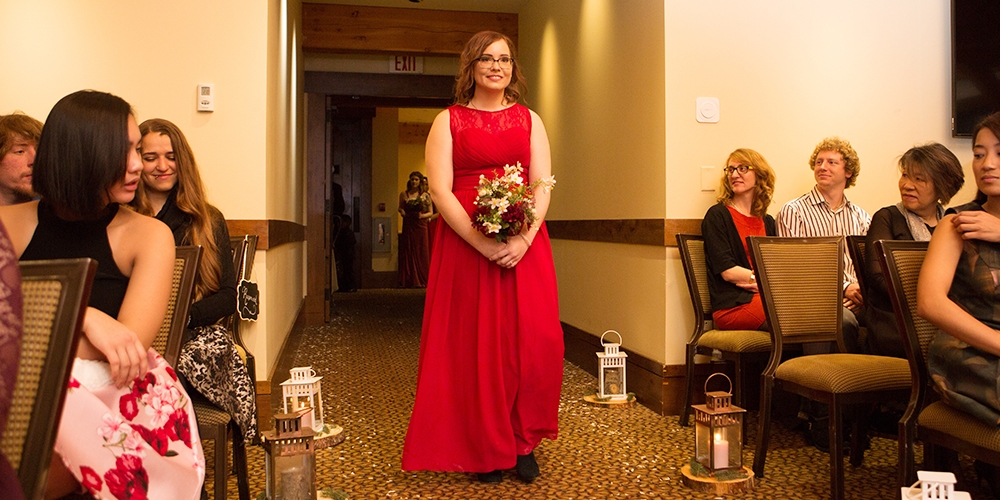 Q: Why did you choose #Cocomelody for your bridesmaids? 
I was being priced conscious for my bridesmaid dresses. I have had some experience of shopping for gowns online (debut, graduations) so I did some research checking Etsy, Dessy, etc,. During the process, I was looking for wedding gowns that were similar to the detail work of Filipina gowns but more modern and affordable. At some point during my search, I found Cocomelody. I spent a lot of time perusing gowns and dresses and was really impressed with the detail, the reviews and the thought that is put into each dress, each client and each interaction. I did fall for a wedding dress but by happenstance when I went to a shop just to figure out what silhouette I wanted I found my dream dress. I did not want to pass up the opportunity to work with Cocomelody though and I let the girls pick their own dresses from your site. There was such a good selection that I knew they would find something that flattered them, matched their personality and something they would look hot in! My only request was long gowns and I chose the colors. Some of them were a bit nervous ordering online but we all went into the process with the expectation that we needed to get their dresses altered regardless. Some were pleasantly surprised that all they needed was ahem, some we took in but we never had to do a huge overall which has been my experience ordering a dress for my sister's wedding a few years back. The shipping process was seamless and came in good timing. I ugly cried when they came in. I had inspected each dress before giving them to the girls and they were all perfect. Just perfect. 
Q: What do you think about Cocomelody and the customer service?
Cocomelody was amazing! So quick to respond to inquiries and really flexible with custom dress requests. I never felt like a number, you guys made it feel like I was your only client throughout our interactions. Your team is so personable. The designs of the dresses are sensational, everything is eclectic and thoughtful. There is a piece for every body type and every spirit. I can't rave enough about what a great business you guys have and that you do a really great job with customer service. Don't ever stop that.
Facebook review from Iola: