Bridal party tribe – Janeen & Whai's "Eclectic Country Rustic DIY" themed wedding in Heartland Hotel Croydon, Gore, Southland, NZ was an absolute goals! Janeen and her girls were so glowing in this special day, we are so honored to be a part of  their big day by making those unique convertible dresses for the girls!! Check out the breathtaking pics here:
All photos were taken by Imprintz Photography.
Bridesmaid Dress Style: #COED16001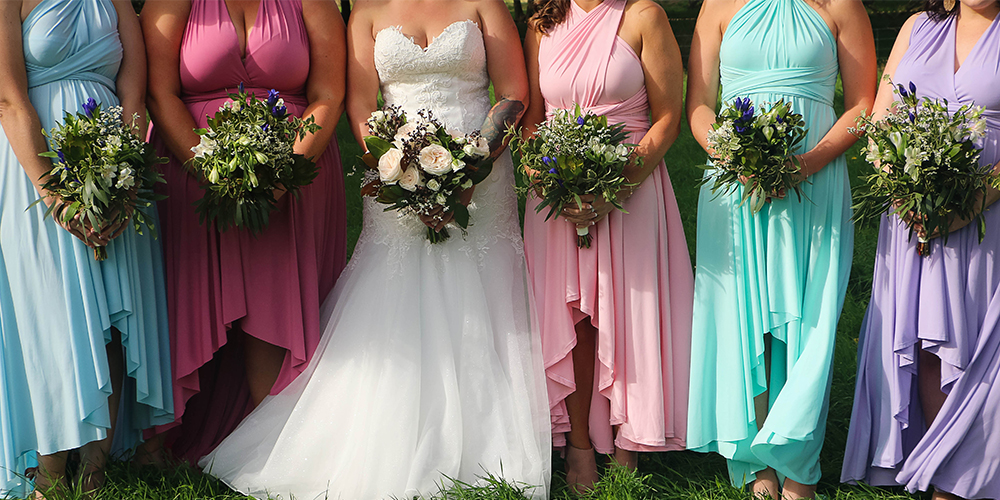 Q: Any advice or tips for future Mrs.?
If I could do it all again I would have just paid more for food (we had finger food and had to have aunties heating it through speeches) so I would have paid more for a caterers and venue organisers to decorate ect as I was up until 11pm decorating our reception venue (it did look amazing in the end but phew it was a big day!) I'd probably bite the bullet and pay extra for a wedding videographer, there seemed so many special wee things happening throughout the day that we didn't catch in photo. You're only going to do it once so don't hold back budget wise, just go for it I promise you'll have no regrets!!
Q: Tell us your love story! Where & How did he propose?
I was a single mum, I had a 2yr old son when I met Whai. He also had an 8yr old son at the time. I was actually really happy with where I was at in life and wasn't actually looking to be in a relationship with anyone but we got to chatting, went on a few dates and somehow he managed to convince me otherwise! We have so much in common, our love of music, our family values and dedication to careers that we thoroughly enjoy, our sense of humour, fun and spontaneity.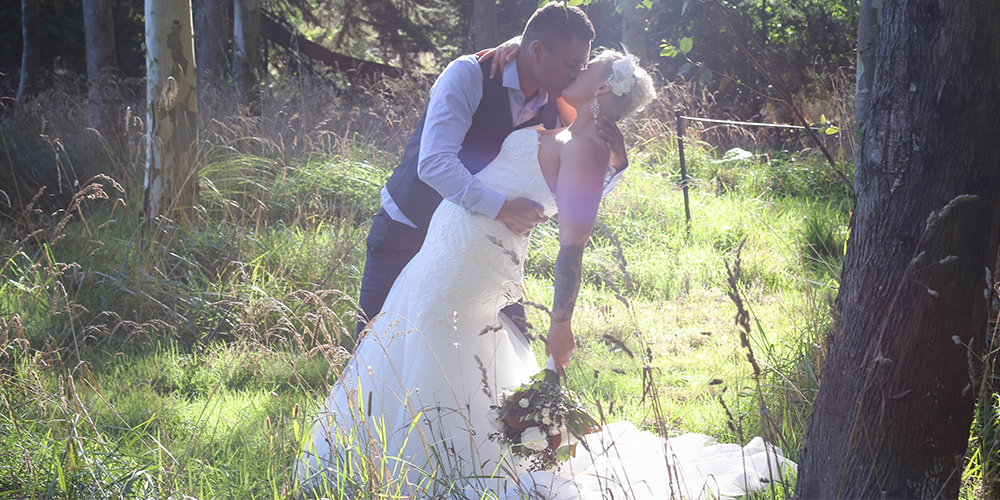 Ours was a whirlwind romance. We moved in together quickly and fell pregnant with our 3rd (combined) son. We are in our 30's we knew that this was what we wanted and that if we were to make it work we were going to do everything to be able to do so, we still work on this idea today. We constantly find ways to better communicate, support and love one another. He's my biggest fan! (and I'm his of course!!)
Whai proposed to me in our backyard, he chose the ring, our baby was only 12wks old at the time. I remember I was sitting down to my first hot cuppa of the day and he burst into the kitchen telling me something had happened in the backyard and rushed off again. He had made it sound very urgent so I made sure the baby was safe, put my cuppa down and went out to the backyard. There I found him down on one knee surrounded by glitter, butterflies and hearts (he had sprinkled them all over the grass/plants) it really did look quite magical. Whai was all dressed up in his 'date night' clothes, he had gone to a lot of effort!
Getting so nervous and a bit flustered from running in to get me to come outside by this point, he just kinda blurted out "Be my wife?" I of course said "Yes!!" and we had a wee giggle over him getting so nervous! We love to tease one another just a little.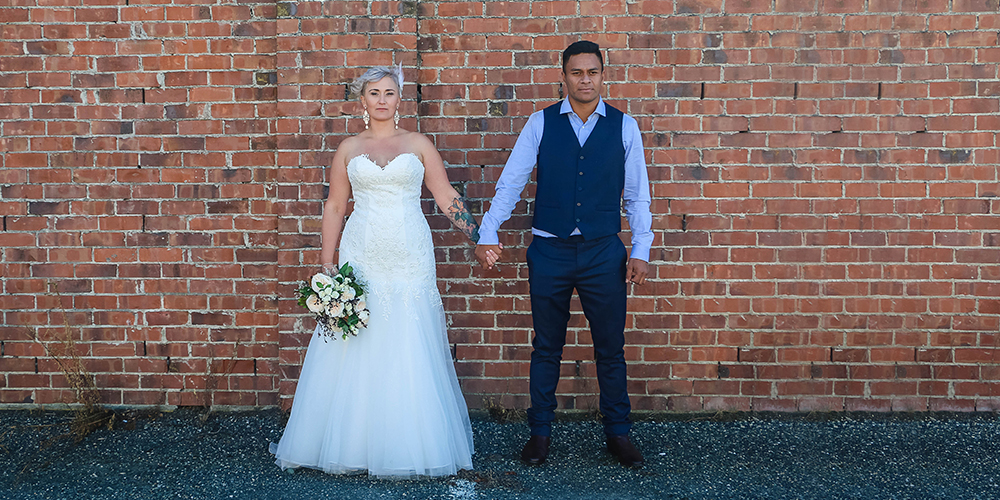 Q: How would you define the message "Dare to Love"?
It takes a lot of courage to put yourself out there and completely love someone. You have to love their faults as well as their strengths, recognising/admitting that you too have faults, you must be brave to do this. Accept yourself and your husband for who you are and you will 'Dare' to love and grow together for a lifetime.
Q: Did you have a particular theme or color scheme? Is there a story behind this color theme and why you chose it?
My theme was quite eclectic, country. I had bridesmaids of all different shapes, sizes (2 were pregnant!) so I went for soft pastel tones of all different complimentary colours, I chose infinity dresses so they could all wear them differently to suit their specific body shapes. I'm quite creative, I am a hairdresser by trade so I really loved the eclectic idea and having the girls all in something a little different but keeping it uniform so photograph wise it still gelled and looked effective. I chose the colours because they blended well. I had Wood tones with hessian, lace, natural foliage, eucalyptus, natives and toi toi for wedding decorations.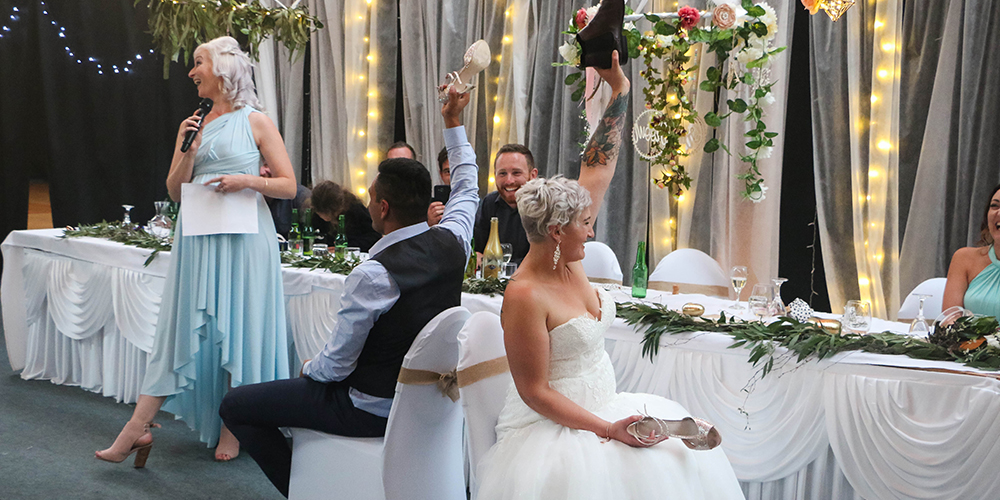 Q: Did you enjoy the wedding planning process? Why or why not?
I'm quite unorganised so I felt a little stressed and overwhelmed by the wedding process if I'm honest. My Husband was very supportive but it still was very tough with 2 young children to try to organise this. I had amazing support from friends, family and guests so it all came together in the end but I don't think I'd like to go through that process again!
Q: What was the best/most memorable part of the day?
My husband trying not to cry while I walked down the aisle.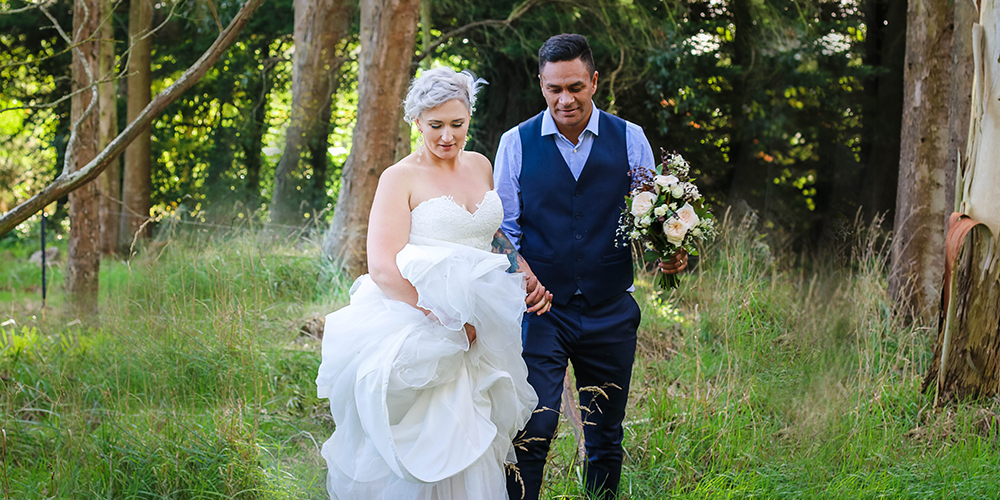 Q: Why did you choose #Cocomelody for your bridesmaids?
Cocomelody had the bridesmaid dresses in the colour and style that I wanted for my theme, the price seemed really reasonable too as I got them on sale. Though you really need a disclaimer on your sales that there may be import tax when bringing the dresses into NZ as we got hit with the $250 import tax that we weren't aware of and it was a scrape to find the money to pay it.
Q: What do you think about Cocomelody and the customer service?
I have no complaints about the service (other than the import tax) I found Cocomelody to be efficient and easy to deal with. The dresses themselves were of good quality fabric and well made.