We absolutely adored this lucky 11/11 wedding and totally wished we were one of the guests & got to experience it in person. Brandon & Kirsti held a rustic/vintage fall wedding in CA and it was absolutely perfect. We are crushing so hard on this sweet couple and in love with Kirsti's bridal party in #SeaPink!

All Photos were taken by Golden Arrow Photography.
Wedding Dress Style: #CWVT15002
Bridesmaid Dress Style: #PR3263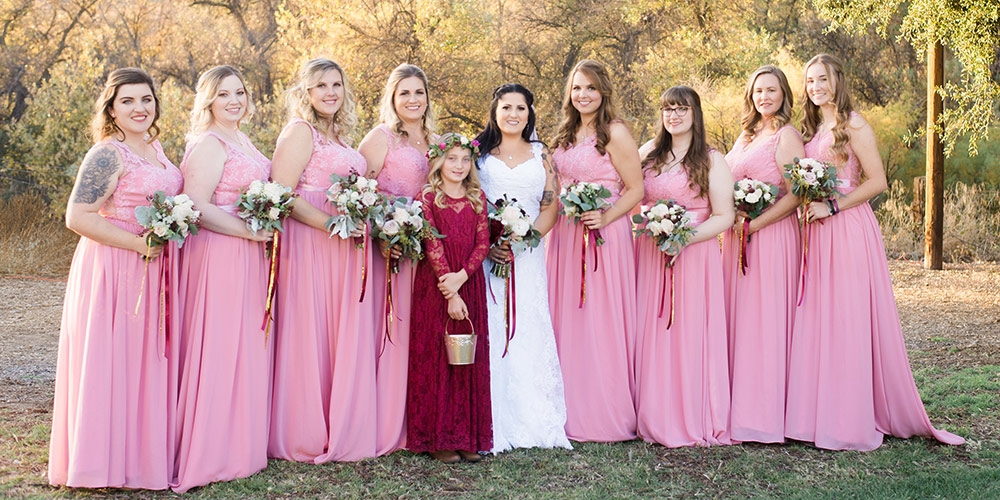 Q: Any advice or tips for future Mrs.?
DONT STRESS! in the end, it'll all work out and nobody will notice those little things that went wrong. Our officiant cancelled 3 days before our wedding and we were able to find a replacement who ended up doing amazing! things happen for a reason so go with the flow. also, make sure to eat! we got a few bites to eat before making our rounds to almost 200 people. you will be stopped a million times and the "thank you" process will not be quick and by the time you are done, it's time to dance, cut the cake, toss your bouquet, etc! if there's no time to eat, ask your caterer to pack you a to go box!
Q: What about your love story?
Brandon and I both grew up in a small town in Orange County, CA. we went to the same middle school, same high school, yet our paths never crossed. I grew up with his brother who was in my same grade, hung out with his friends, yet we didn't meet until 9 years after I had graduated! Our parents grew up together going to the same high school, we attended many of the same country concerts, one in particular where I took a photo of the artist performing on stage in 2012 and Brandon is walking in front of me in the photo, we didn't meet until 2014! when we finally met, we both knew. the night we met was the night he asked me to be his girlfriend. 6 months later we were moving into our first apartment and a year and a half later he asked me to marry him in front of our families. I, of course, said YES! 14 months of planning, building and stressing over the minor details, and we are finally married! everything came together in the end and I can honestly say was the best day of my life! I am writing this from our honeymoon suite in maui and I wish I could go back and repeat the day over and over again.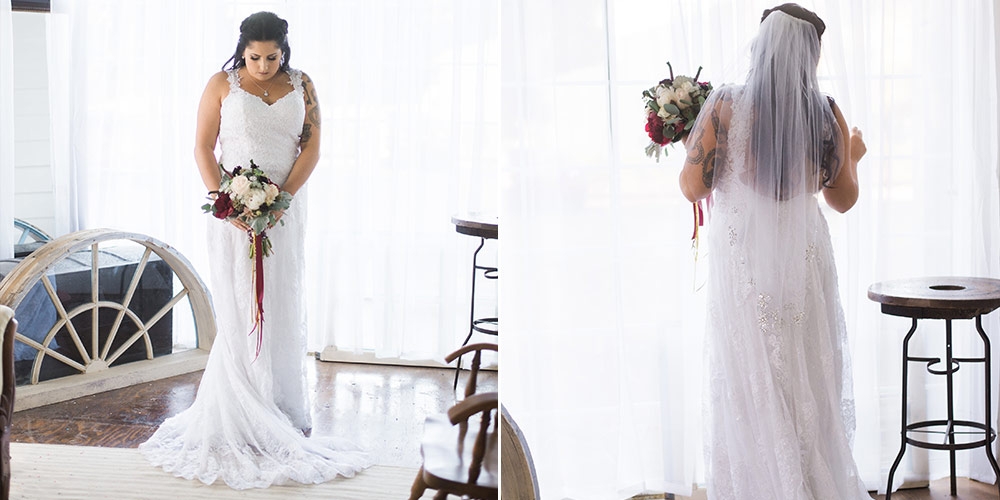 Q: Did you have a particular theme or color scheme?
With a fall wedding, we decided to go with a really rich pomegranate color. Our wedding at a pomegranate farm which was fitting! we also went with a dusty rose, white/ivory and gold. I would say our wedding was a little rustic and a little vintage. our wedding was lucky 11/11, so we added pops of clocks throughout our ceremony and reception, set at 11:11 to tie in the theme.
Q: Did you enjoy the wedding planning process? Why or why not?
I definitely had my days with the planning! I am a perfectionist and I also am a certified wedding and event coordinator so I felt the extra pressure! I would definitely say I had more good days than bad, and the stress and worry on those bad days were worth every minute because everything came together in the end!
Q: What was the best/most memorable part of the day?
There were so many! Brandon and I built and made so many things for our wedding (I'm insanely crafty) so seeing everything come together the day of the wedding was pretty amazing! I also like doing things differently so as we exited at the end of the night, we had everyone throw rainbow sprinkles in the air as we ran out of the barn. Everyone loved the idea!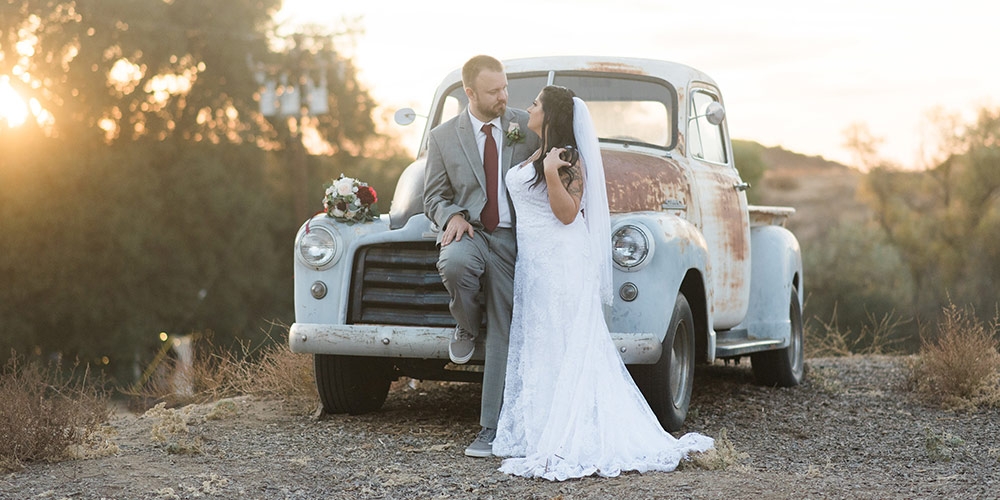 Q: Why did you choose Cocomelody for your bridesmaids?
I loved the bridesmaid dress for my girls from the moment I saw them. they were so elegant and with my bridesmaids ranging from 16-45 years old, I felt that they were a great style for everyone.
Q: What do you love best about your #Cocomelody dress?
I love everything about my wedding dress, especially the back. I had originally bought a very simple dress from a popular wedding store and realized a few months later that I wanted something totally different. At the time, Brandon was not happy with the extra expense of another dress, but now he sees why! every detail on my dress is perfect!
Q: What do you think about #Cocomelody and the customer service?
Cocomelody and their staff is so accommodating. There was a mixup with my dress and they made sure my dress was replaced in time and even offered a same day alterations since I live a few hours away from Los Angeles. I received emails and calls with updates on my dress and they never got tired me of me calling to check in!