We absolutely adored this wedding and totally wished we were one of the guests & got to experience it in person. Olivia & Paul held a simple and elegant wedding by the oceanside and it was absolutely perfect. Wish them both everlasting happiness!
All photos were taken by Matt Kelly & Ian Martin.
Wedding Dress Style: Customized Version of #CWLT16002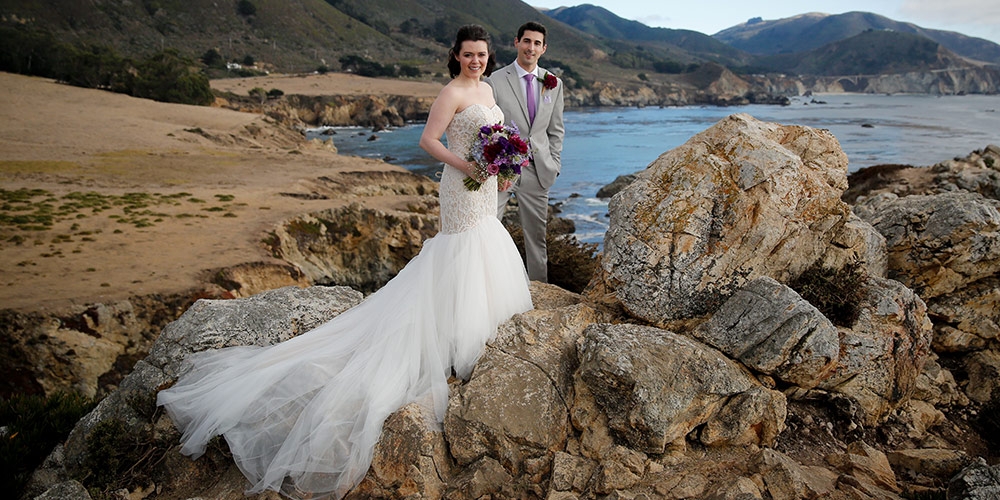 Q: Any Best wedding planning advice for future Mrs.?
My tip for any future Mrs. is to just laugh and roll with it! Especially on the big day. It really does go by so fast and you'll want to savor it all with your hubby-to-be. Paul & I were unique in that we planned our wedding completely long-distance. I lived in Minnesota and Paul lived in New York. Since we were planning everything long-distance, I had to deal with all the vendors over the phone. There was no hair and make-up test, no cake tasting, no bridesmaid dress shopping…Paul & I really had to let go of the reins and roll with whatever happened! I remember wondering if I'd be upset if the wedding didn't look the way I was picturing it in head…but those thoughts do not cross your mind when you're walking down the aisle. Everything felt special and beautiful. It was a perfect day.
Q: Tell us your love story?
We met during our first official class in Law school. He overheard me talking about going to see a rare foreign movie in New York City and he met me at the theater that weekend! He proposed on the New York City Highline, where we also went for a stroll on our first date. We survived two years of long-distance, law school, career transitions, and raising a monster of a kitten into a handsome cat! We knew we were ready to say I do.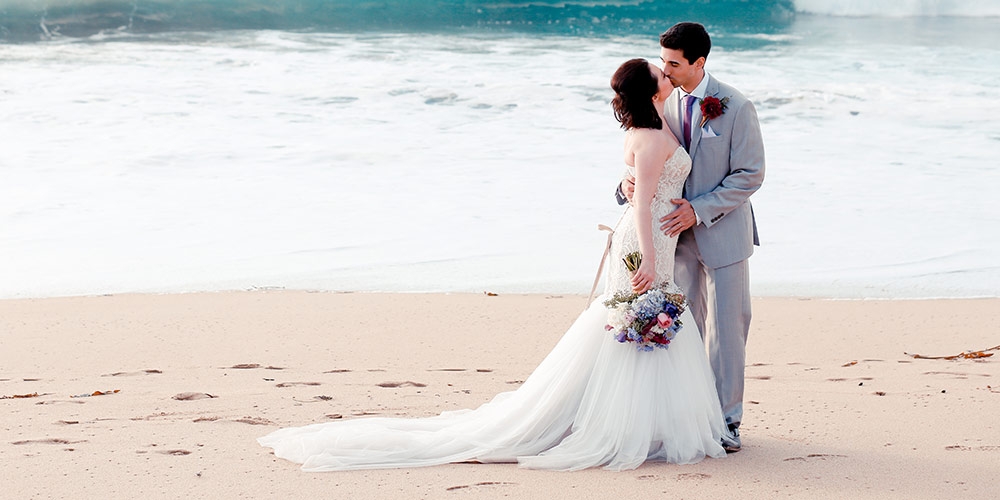 Q: What was the inspiration behind your wedding theme?
Originally we were hoping to elope, but we didn't want to hurt our parents! To stick with our initial "elopement" theme, we kept the wedding as simple and elegant as possible, only inviting the most influential people in our lives. My ladies were only my older sister and a friend who I've known since I was four years old. My husband only had his older brother standing by his side during the ceremony. To make it feel even more intimate, we asked each of our guests (total of 15) to wear our wedding colors to ensure they all felt they were apart of the wedding "party". The wedding was a beautiful sea of "shades of purple & grey".
Q: What was the best/most memorable part of the day?
My husband began to cry almost immediately as my Father walked with me down the aisle , but he was still smiling the whole way through! He later said the dress was beyond his expectations, and he says it totally made sense for my personality! It fit us and what we're about so perfectly.
Q: Where did you hear/find Cocomelody?
When I was Google Searching "affordable wedding dresses" Cocomelody was the best site that came up in the search. I began to follow Cocomelody on Instagram and fell in love with the variety of dresses and how happy all the beautiful brides looked!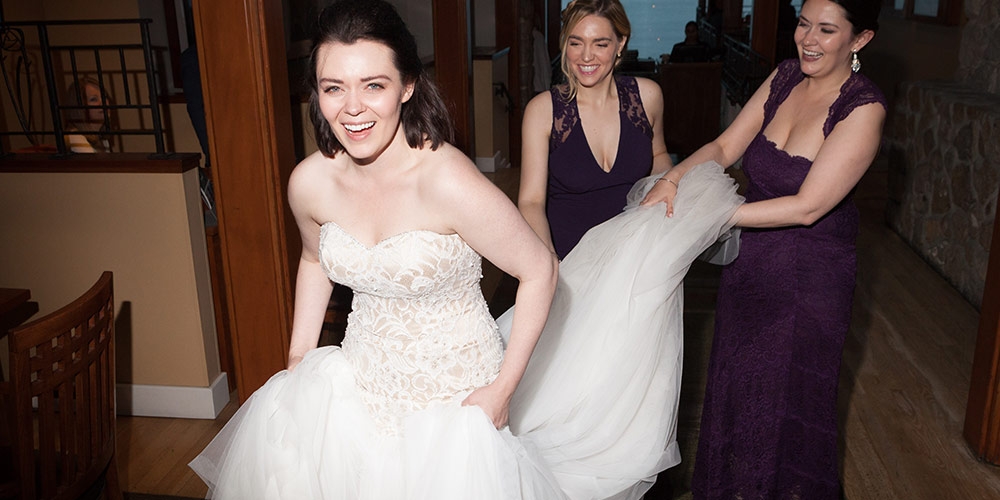 Q: What did you love most about your #Cocomelody dress?
Of course I loved the quality of the wedding dress, because it really was rich in quality and structure. However, what I loved the most was the gorgeous champagne color of the bodice! I couldn't find a color like that anywhere else and it was exactly what I was dreaming of. Some women don't feel beautiful in white OR ivory and it's okay! Lacy gold champagne was my shade.
Q: What do you think about Cocomelody?
I think Cocomelody is a true boutique wedding dress gem. Like the rest of my wedding, I had to buy the dress long-distance. I was able to visit a Cocomelody store once to try on a gown just five months before the big day. There, the customer service rep was incredibly knowledgeable and made me feel brave enough to custom make my gown, molding the bodice with another skirt. I was only able to try on the finished dress 3 days before the wedding and was blown away at the fit and attention to detail. The dress was stunning.