Jenna & Ryan pulled off a traditional Catholic wedding in St. Louis, Missouri. We're just slightly obsessed with her long-sleeved wedding dress with open back, too. Jenna & Ryan's wedding day was absolutely perfect. The flower girls stole the show, and the ring bearer was adorable. Everyone worked so hard to make it a perfect ceremony and a day they will never forget!
All photos were taken by Irish Eyes Photography.
Customized Version of Wedding Dress Styles: #LD4567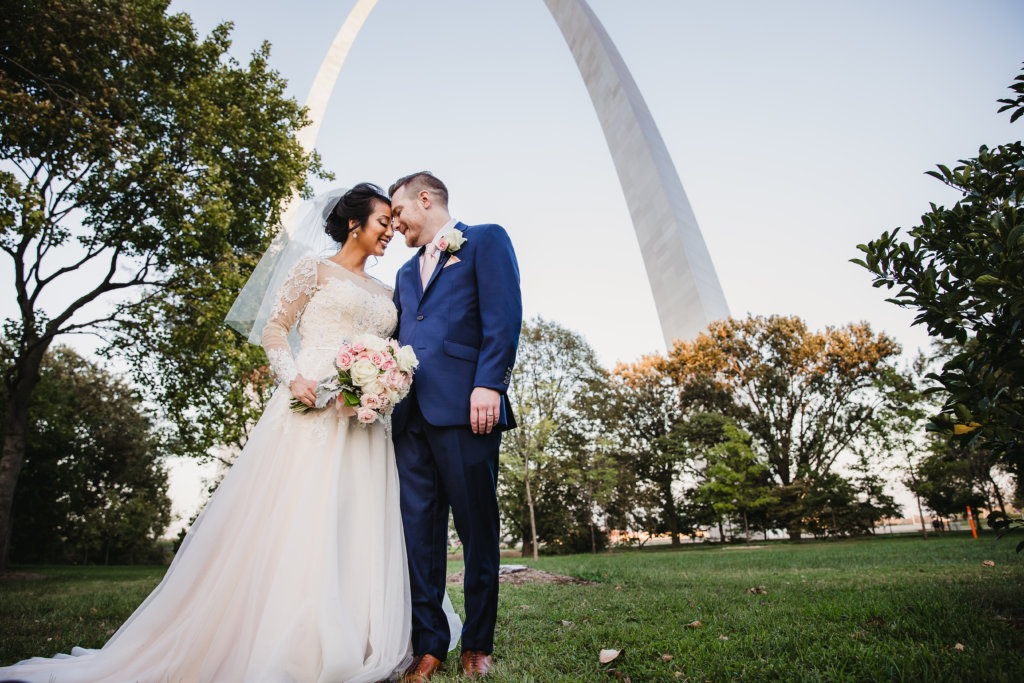 Q: Any advice or tips for future Mrs.?
Advice I would give other bride-to-be's is to go with vendors they get positive vibes from and who they really like. Every vendor of mine was great to work with from day one and made planning my wedding that much easier. Another thing is to not lose sleep over EVERY SINGLE DETAIL. I know that this is the opposite of what most brides tend to do because every single detail SEEMS so important, but at the end of the day, no one remembers all the little details. What your wedding party will remember is how special you made them feel for playing such an important role on your big day. Your friends and family will remember how nice it was to be reunited again. And hopefully YOU'LL remember that it was the day you married the love of your life in the presence of those that you loved. Details don't make the wedding day, but people do. So instead of stressing out, try to have fun!
Q: What was the inspiration behind your wedding theme?
I am from California and Ryan is from Pennsylvania, so basically our families were coming to our wedding in St. Louis from both coasts. Naturally, that inspired our "St. Louis" wedding theme. Our ceremony took place at one of the oldest churches in St. Louis called the Old Cathedral, which is nestled right underneath the St. Louis Gateway Arch! Our reception was held at Kemoll's Top of the Met, which is at the Metropolitan Building in downtown St. Louis. The Top of the Met had the most spectacular view of the Gateway Arch from the 42nd floor that our bicoastal guests could enjoy. We added to our St. Louis theme by giving each of our guests a chocolate square depicting the Arch, which were ordered Kakao Chocolate, a local St. Louis chocolate company. Our hashtag even fit with the theme as it was "#GatewayToTheGranahans".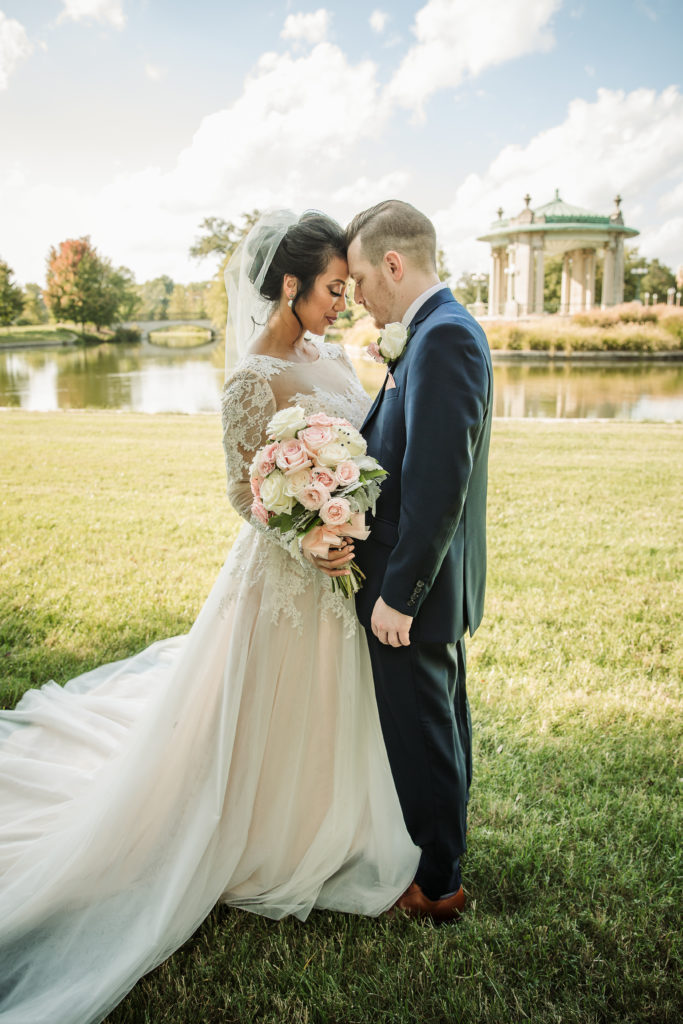 Q: Tell us your love story! Where & How did he propose?
We met in Las Vegas in May 2013. I was there for my best friend's birthday bash weekend. Ryan was there for his best friend's bachelor party. Ryan and I met because we had mutual friends. We all decided to meet up and hang out on the strip! Our best friends were the connection that started our love story. Ryan and I continued to talk after that weekend and got to know each other from afar because I lived in San Francisco and he lived in St. Louis. After a year and a half of a relationship filled with love, trust, and patience, I made the decision to pack my bags and move to the Midwest! The rest is history.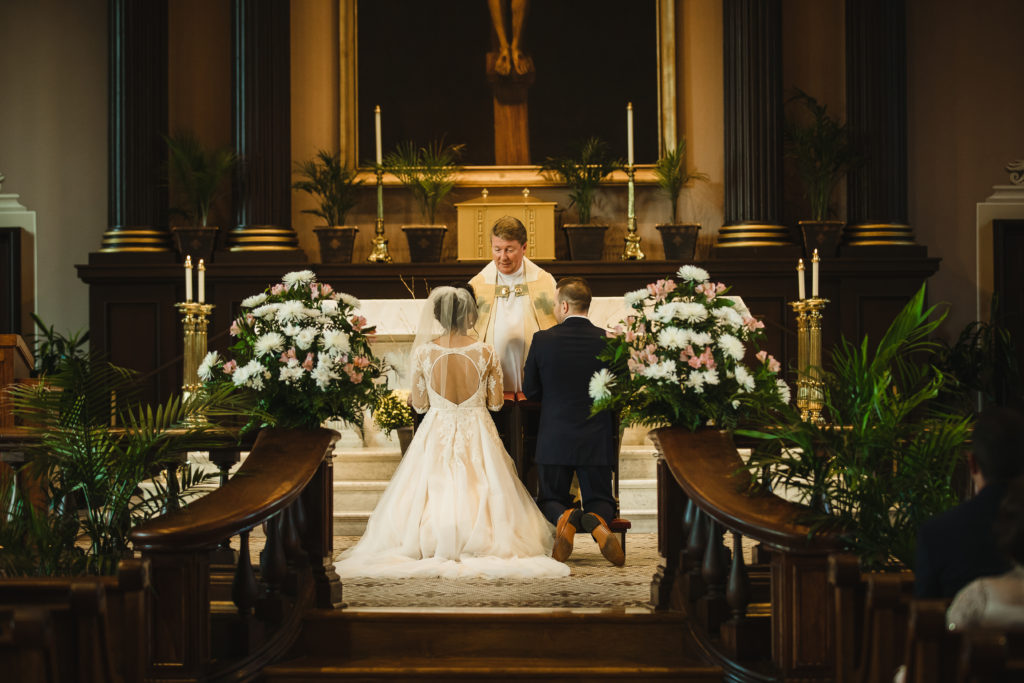 Q: How would you define the message "Dare to Love"?
Take risks for love (like moving halfway across the country, like I did!)
Q: What was the best/most memorable part of the day?
My favorite part of the day was my wedding ceremony at the Old Cathedral. It was a solemn, beautiful, traditional Catholic wedding. The vocalist made guests cry, the flower girls stole the show, and the ring bearer was adorable. Everyone worked so hard to make it a perfect ceremony and a day I will never forget.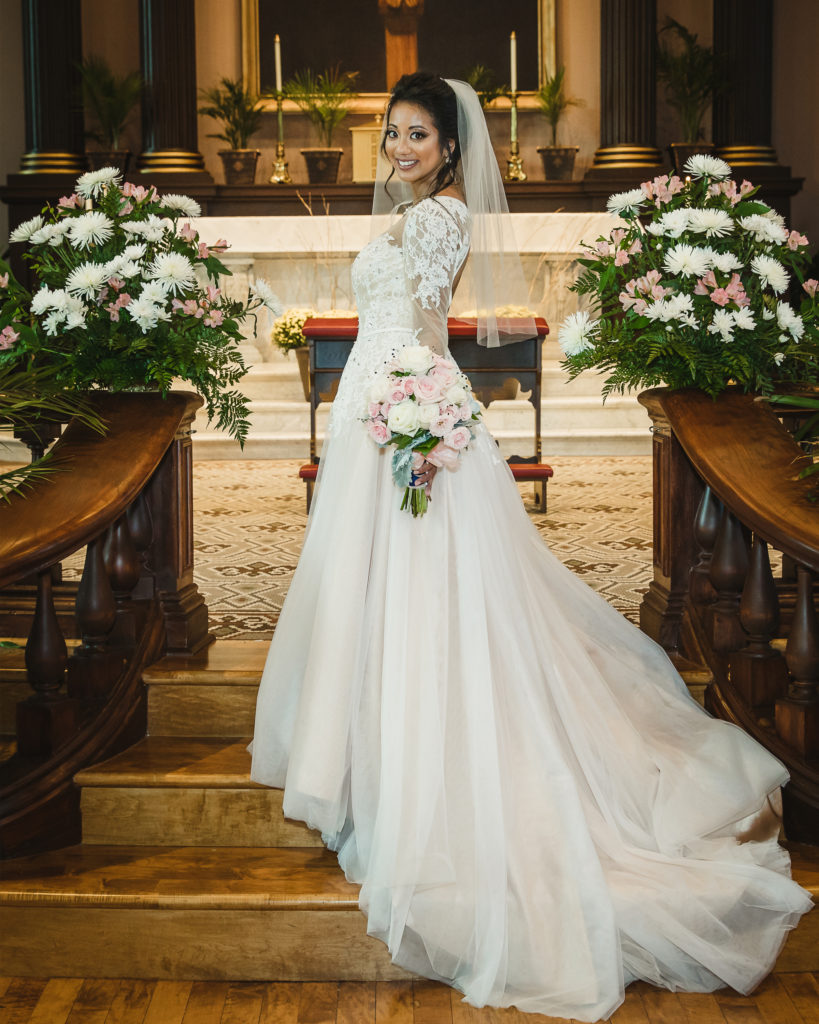 Q: What did you love most about your #Cocomelody dress (es)?
The quality and craftsmanship was more than I ever expected. The design was beautiful and unique; I received so many compliments from strangers at my reception after party. That's when you know your wedding dress was a complete winner!
Q: What do you think about Cocomelody and the customer service?
Customer service was fast. Dress selection is excellent. Customization is also made easy with the help of their staff. I highly recommend Cocomelody for any bride. My only advice is to get very accurate measurements from your tailor so that you get the best fit possible so that you get little to no alterations when you receive your dress. Shipping is very reasonable, as well. Good luck, Cocomelody brides!