A super romantic proposal in Los Angeles City Hall, an ultra dreamy wedding dress shopping experience and a wedding that topped it all of! We're so obsessed with bride Juana and groom & Victor's California Mission wedding we just had to share! Take a look at some of their amazing wedding photos below!
All photos were taken by Michelle Sobel.
Wedding Dress Style: Customized Version of #CWZT15008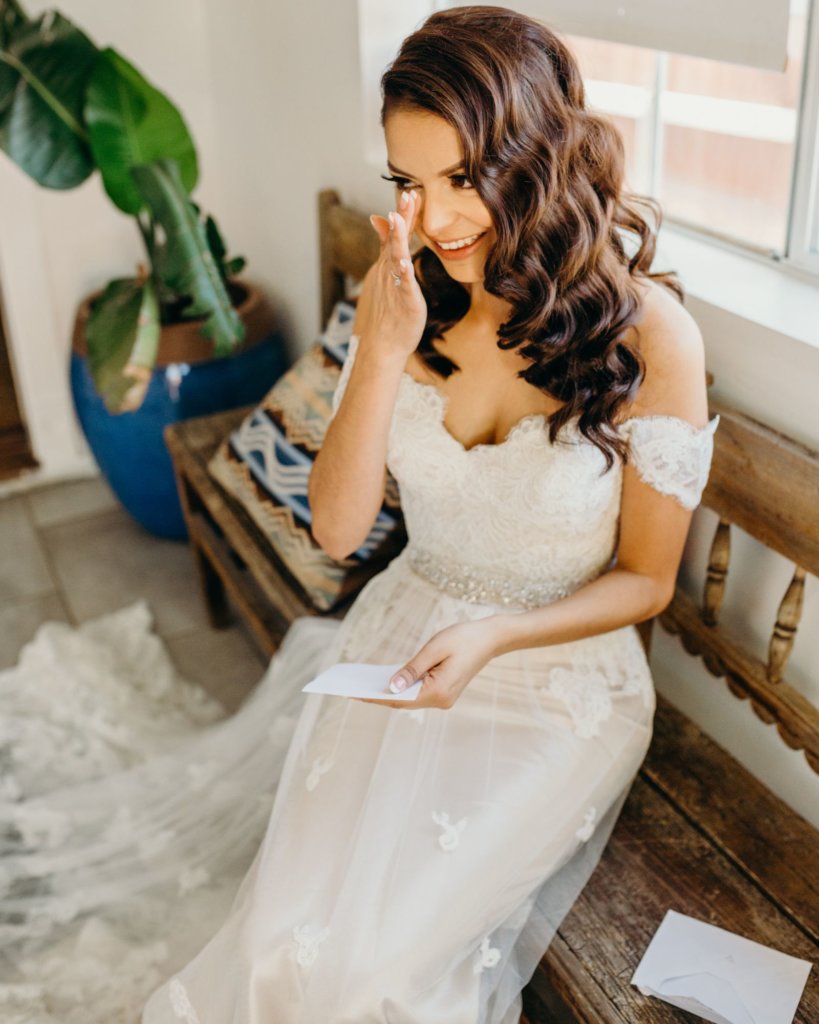 Q: Any advice or tips for future Mrs.?
It's easy to get caught up in all of the small details surrounding the day. Take a step back to focus on the big picture of why you are getting married. This is especially important when you're looking at your budget and wondering if you can add just one more thing… Your wedding day will be amazing because you're marrying your best friend, not because you paid extra to upgrade your chairs. (And trust me, no one will notice the chairs.)
Q: How would you define the message "Dare to Love"?
Love is worth the risk. Love is worth risking vulnerability in order to be open. Love is worth risking ego to put the needs of your partner first. Love is worth risking failure by giving it everything you got. But you have to be brave. You have to be daring if you're going to fully love.
Q: What was the inspiration behind your wedding theme?
Growing up in southern California, we have always felt a lot of pride in our Latinx cultures. I am Mexican and my husband is Mexican and Costa Rican. Not everyone recognizes that California has a complicated past as indigenous land conquered first by Spain, then Mexico, then the U.S. That complicated past is all around us, from the name of our city–the pueblo of Los Angeles–to the Spanish missions that surround us. We wanted to incorporate the joyous aspects of our shared Mexican culture in our wedding day through our food, music, florals, and family traditions. We also wanted our wedding day to center around northeast Los Angeles, where my husband was born and raised.
We married at St. Dominic's Catholic Church, the same church where Victor was baptized as a baby, where he served as an altar boy in his youth, and where he returned as an adult to complete his confirmation in order to become a godparent. St. Dominic's welcomes all individuals regardless of faith tradition and our priest conducted a beautiful bilingual mass that incorporated Latino traditions like the lazo de boda, aras, and gift to the Virgen. Our reception was held at the historic Grapevine Arbor, a city-owned courtyard in the San Gabriel Mission District that was a private vineyard in the 1860s. We loved working with local businesses like Eagle Rock Brewery in Eagle Rock, La Monarca Bakery in Highland Park, and Maracas Cafe & Catering in Lincoln Heights to give our guests a taste of home.
Q: Tell us your love story! Where & How did he propose?
We met in Washington, DC on 3/13/13, on what I thought was fated to be a no good, terrible, bad day. I was having a tough morning at work and chalked it up to the unlucky date. That afternoon, I received a graduate admissions offer from Harvard University and I couldn't believe how my luck was turning around. I decided to meet a friend after work to celebrate, and he invited Victor to join us. Victor was this mysterious man with long hair who said very little but who tried to buy me a drink. And when I went to grab my coat to head home, he followed. I was a little alarmed when he boarded the same bus as I did (he claimed to live in my neighborhood) but when I stood to exit at my stop, he made no move to get up or even ask me for my phone number.
Realizing I must have misjudged him, I decided to reach out to him on Facebook and the rest, as they say, was history. We started seeing each other nonstop and one day I blurted out "I love you," without hesitation. We had only known each other for 2 months, and I knew I would be moving to Boston that summer. He astounded me with his response–"I know," he said, "And I want to move to Boston with you." We lived in Boston for two years while I completed my Master's before moving back home to California together for Victor to start graduate school. 5 years, 3 cities, and 2 graduate degrees later Victor proposed to me in front of Los Angeles City Hall on our anniversary. Our luck just keeps getting better and better.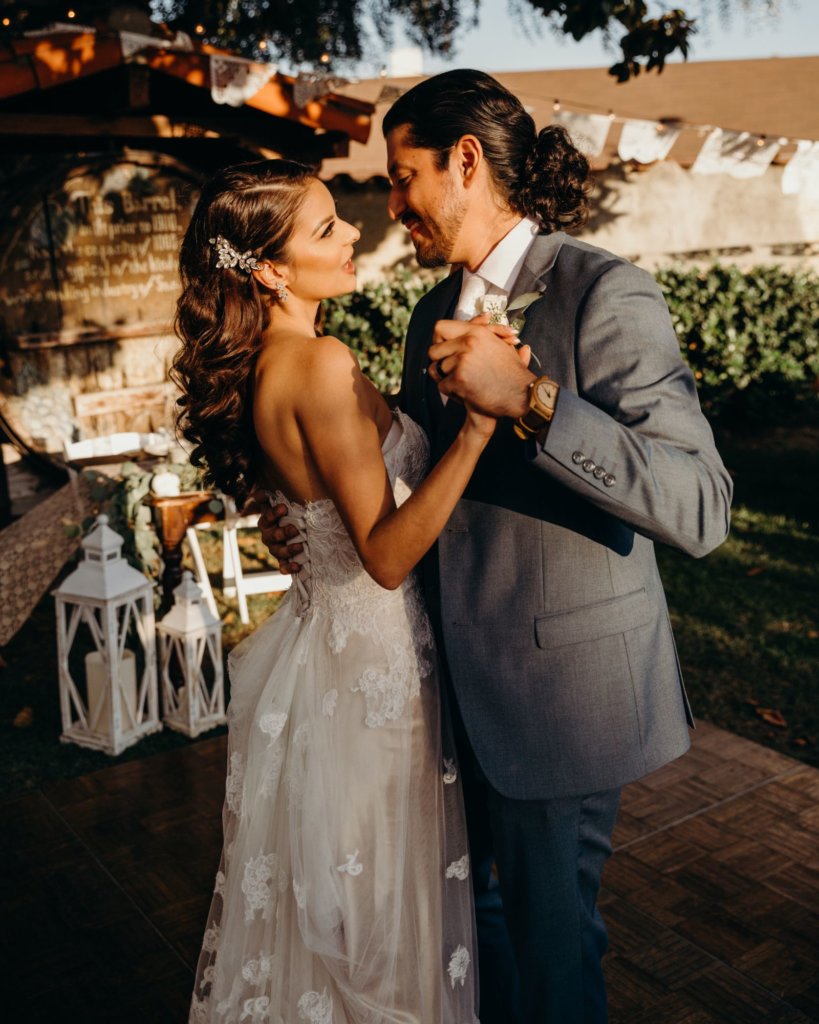 Q: What was the best/most memorable part of the day?
Our first dance as husband and wife was one of the best parts of the day. We danced to La Santa Cecilia's "Como Dios Manda" to the cheers and applause of our closest family and friends. That song brings back all the wedding day feels whenever I hear it now.
Q: Where did you hear/find CocoMelody?
The Facebook group "Something Borrowed, Something New".
Q: What did you love most about your #CocoMelody dress (es)?
My wedding dress was beautiful and lightweight. I loved the lace details along the hem and train, and the champagne underlay gave it a vintage feel. The CocoMelody team did a great job with my customizations, including adding a corset back, sewing on my belt (#YD17002), designing removable off-the-shoulder sleeves, and creating a 3-point bustle.
Q: What do you think about CocoMelody and the customer service?
I love that CocoMelody offers great style at accessible price points so you don't have to compromise your vision for your budget, or vice versa.