Both fans of vintage 40's to 60's Tiki style and culture, Katie and Kelly finally had a wonderful wedding with a theme of "Vintage Tiki" in Long Beach, California. In a tropical oasis, with mermaids, tropical drinks, tiki mugs, and ukeleles, they absolutely fulfilled their big day dream! And Katie was totally a vision in her stunning long sleeve gown with that shimmering top!
All photos were taken by Jenn Spain for Rawtography.
Wedding Dress Style: #1061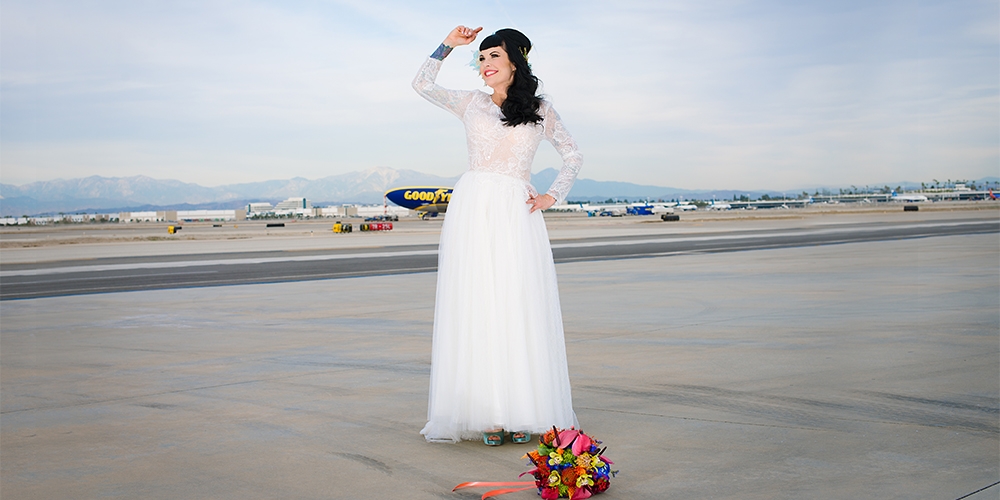 Q: Any advice or tips for future Mrs.?  
Always kiss your husband good morning and good night.
Q: What about your love story? 
We met on a hot, August afternoon in 2014 at Trader Sam's Enchanted Tiki Bar at the Disneyland Hotel in Anaheim, CA. He was a cute bartender, and I slipped him my number on a napkin. He texted me a few hours later, we went on our first date a week later, and have been together ever since.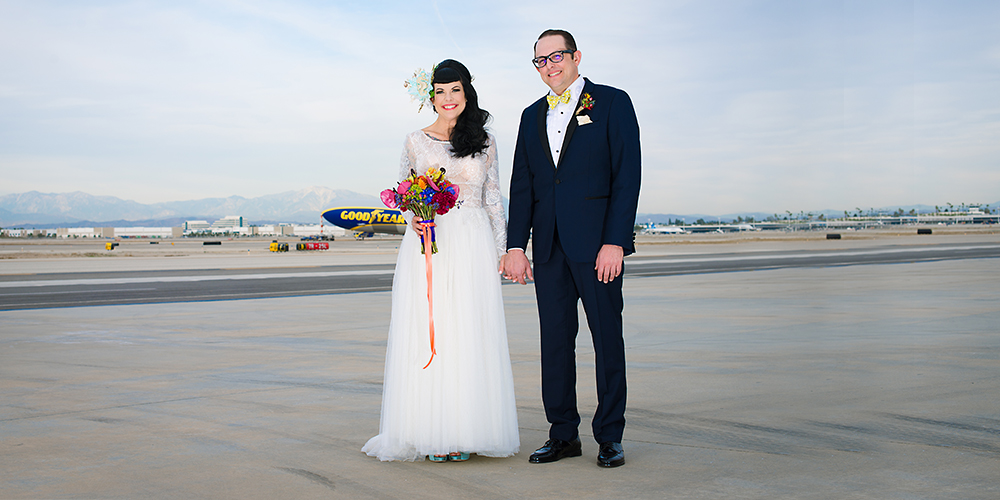 Q: What was the inspiration behind your wedding theme? 
Kelly and I both are fans of vintage 40's to 60's Tiki style and culture, and most of our friends are as well. Think Elvis Presley in Blue Hawaii. I wanted everything to look like a tropical oasis, with mermaids, and tropical drinks, and tiki mugs, and ukeleles,  which was a dream absolutely fulfilled. I also was inspired by Priscilla Presley's look on her wedding day, which meant giant beehive hair and perfect cat-eyes.
Q: Did you enjoy the wedding planning process?
The wedding process for us was totally easy because we hired a lot of great professionals to do all the hard work and make our vision come true!
Q: What was the best/most memorable part of the day? 
The most memorable part of the day was standing at the altar with my future husband, there in front of 180 of our closest friends and family, and our priest asking if they would support us through our marriage, to which there was an astounding "We Will!" Kelly and I have never felt so loved.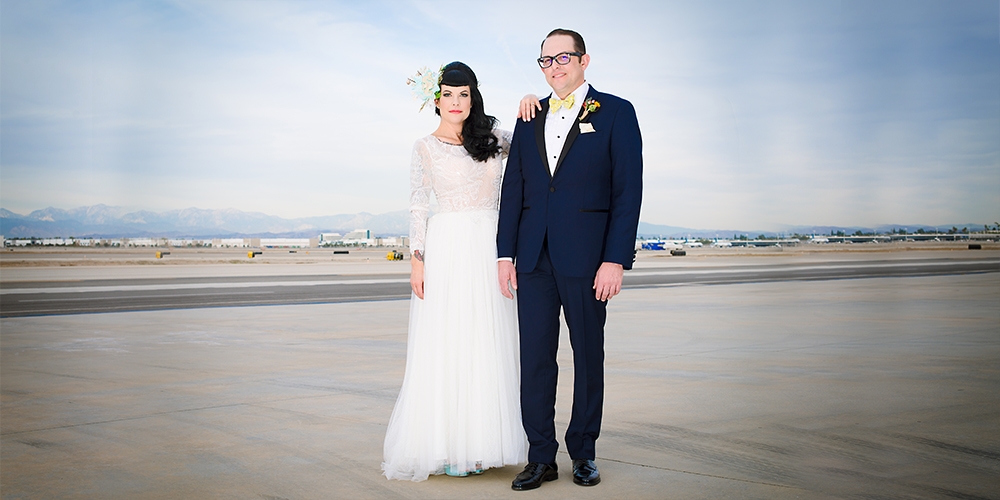 Q: What did you love most about your #Cocomelody dress?
I loved how unique my wedding dress is/was. When I went to Cocomelody last year to purchase a gown, I had a very different idea in mind. I was told that many people try on my dress, but few people have the Chutzpa to wear it. When I tried it on, I fell in love with the French Lace, the peekaboo bodice, and the long sleeves. It reminded me of something The Little Mermaid would wear, and so my friends and I referred to her as Ariel. 
Q: What do you think about Cocomelody and the customer service? 
Overall, I think everyone was super helpful and nice, and I liked that when I went for my fittings in Cocomelody, I got lots of personal attention and time to twirl.