Kristine & Jarrod exchanged their vows on Carnival Valor (Carnival Cruise Line) on ship at Galveston Port. They had a beautiful wedding dedicated to celebrating their love for each other. Kristine chose a simple tulle wedding dress and she looked absolutely beautiful. Read on to check some of our favorite pics from their amazing day!
All photos were taken by Jasmina Ban (Carnival Photographer).
Wedding Dress Style: #LD3825
Q: Any advice or tips for future Mrs.?
We got married on a Carnival Cruise. They provide a wedding planner and make planning super simple! If you're considering it, I'd highly recommend looking into it! Try not to stress over the little things! I was told to expect there to be 3 things that don't go according to plan on the big day because you can't control everything or everyone and it was great advice… put ring bearer couldn't make it. We were told the day before (an out an 8 hour drive, but we improvised and it all worked out beautifully!
Q: What was the inspiration behind your wedding theme?
We didn't have too much of a theme honestly. We tried to keep it simple, especially since we knew the cruise line was taking care of mostly everything.
Q: Tell us your love story! Where & How did he propose?
We actually swiped right and matched on Tinder almost four and a half years ago! We talked for several weeks, ended up going on a date, and just knew this was different. We both deleted our accounts and the rest is history! We lived about an hour and a half apart and would take turns driving to see each other on the weekends. After doing that for four years, we finally bought a house together, I got a new job in the new town, and we decided to go ahead and tie the knot.
Q: How would you define the message "Dare to Love"?
Daring to take chances, letting someone in, and giving them the capability of breaking your heart but trusting them not to.
Q: What was the best/most memorable part of the day?
We went ahead and did our photos before the ceremony so there wouldn't be as many people on the ship yet. After I got dressed I walked in the hall where Jarrod was and he just looked at me with the most genuine smile and told me how beautiful I looked and gave me a kiss. Just that look in his eyes as he first saw me all ready to go conveyed more than any words.
Q: What did you love most about your #CocoMelody dress (es)?
Everything!! The quality was great, it fits perfectly (had custom measurements), the detailing was beautiful but not overwhelming, and it even came earlier than the estimated delivery date! My veil matched wonderfully and stayed so well, even in the strong winds on the cruise ship deck. My headpiece went perfectly too without being too much. I also loved the garment back that folded up! It made travel and boarding the ship so much easier! I have received so many compliments and no one can believe I purchased my wedding dress all for under $400! (Black Friday Sale helped with price too!)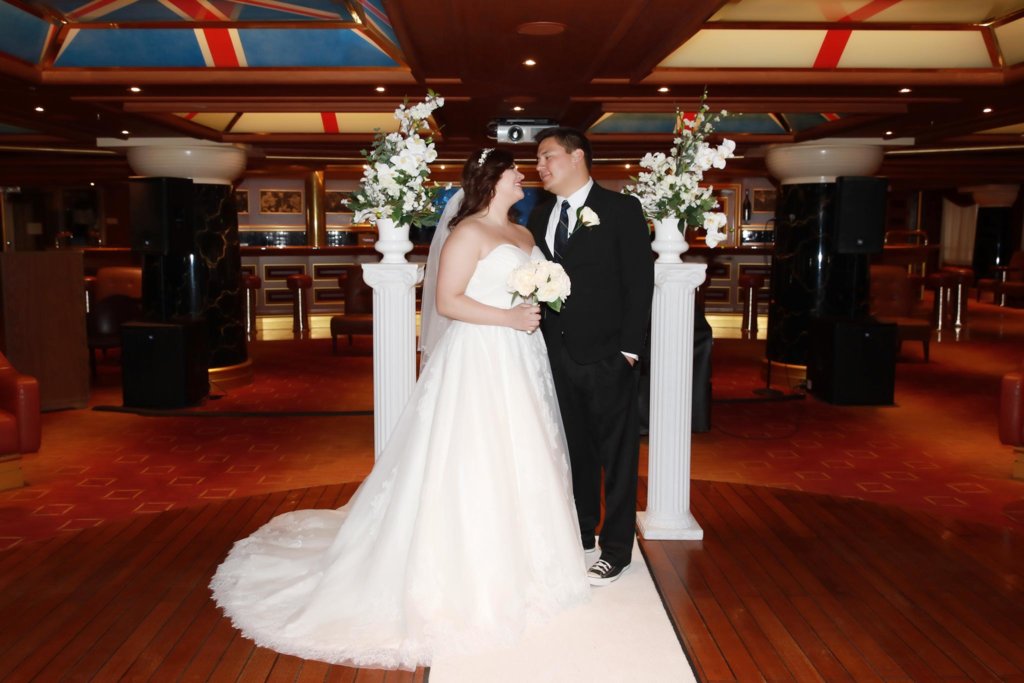 Q: What do you think about CocoMelody and the customer service?
Everything was wonderful! I HIGHLY recommend this company to anyone looking for any of their wedding needs! The customer service was wonderful and helpful. The shipping date was reasonable and I actually received mine early. The products were great quality, beautiful, and fit great (I spent the little bit extra for custom measurements and it was worth it). Thank you so much CocoMelody for helping make my wedding so beautiful and affordable!