There's something extra special about Lizzie & Randy's theme wedding inspired by Queen of Hearts Marries King of Clubs in San Gabriel Grapevine Arbor, CA that we can't quite put our finger on! Yes, a crazy cat lady, a walrus, a tap dancer, etc were all incredible and Lizzie's stunning bridal gown with custom straps added a little bit of extra magic. Congratulations to Lizzie & Randy!
All photos were taken by XO and Fetti Photography.
Customized Version of Wedding Dress Style: #LD3906
Q: Any advice or tips for future Mrs.?
Make sure you're having fun with the whole wedding process. Randy and I loved spending time together while getting together all of our wedding details. Being a great team and having a great time makes it all worth it!
Q: Tell us your love story! Where & How did he propose?
Randy proposed at the Magic Castle in Hollywood in the Palace of Mystery. We are both hobbyist magicians and met in this particular showroom. After a magic show, the magician asked if he could show us something he was working on and we agreed since this isn't an unusual request. The magician asked me to help with the trick and pulled me to the stage and close my eyes. While my eyes were closed Randy switched places with the magician, the box that I was holding had an engagement ring put inside, and Randy had arranged for about 40 people to sneak into the room and surprise me! As you could imagine I was a bit overwhelmed in the best possible way. It was a truly magical moment.
Q: How would you define the message " Dare to Love"? 
Randy and I always try to bring out the best in each other and challenge the other to try new things. Sometimes it takes some trust but we always have each other's best interests in mind. We always dare to do the craziest and wildest adventures while growing our relationship as much as we can.
Q: What was the inspiration behind your wedding theme?
Since Randy and I met at a pajama party for magicians (yes, that's a thing!) we knew we wanted to have some sort of magic type theme but nothing over the top. We are also huge Disney fans but didn't want to do anything too Disney themed either. We decided to go for a spin-off of the Queen of Hearts from Alice in Wonderland mixed with a bit of magic. Thanks to our awesome wedding planner @fandom_affairs we were able to make this vision come true!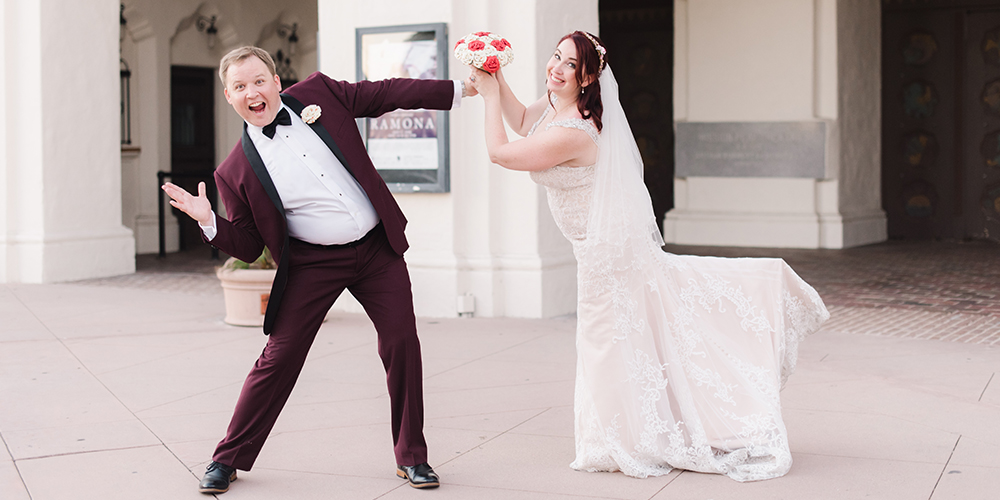 Q: Did you enjoy the wedding planning process? Why or why not? 
We loved the wedding planning process! Randy and I are both very creative so it was fun to make a lot of the decorations for our special day. Although things can get stressful we made a great team so we were able to tackle any challenge together with ease.
Q: What was the best/most memorable part of the day? 
Our officiant @scotnery helped us put together an unforgettable ceremony. Our guests were surprised by a few objections – a crazy cat lady, a walrus, and a tap dancer! To top it off, we raffled off our signature for our marriage license and Scot juggled a pancake that we poured syrup on for our unity ceremony.
Q: What did you love most about your #Cocomelody dress? 
I loved the veiled rose color and the extra custom beading on this wedding dress! The extra little sparkle made such a huge difference and I got so many compliments!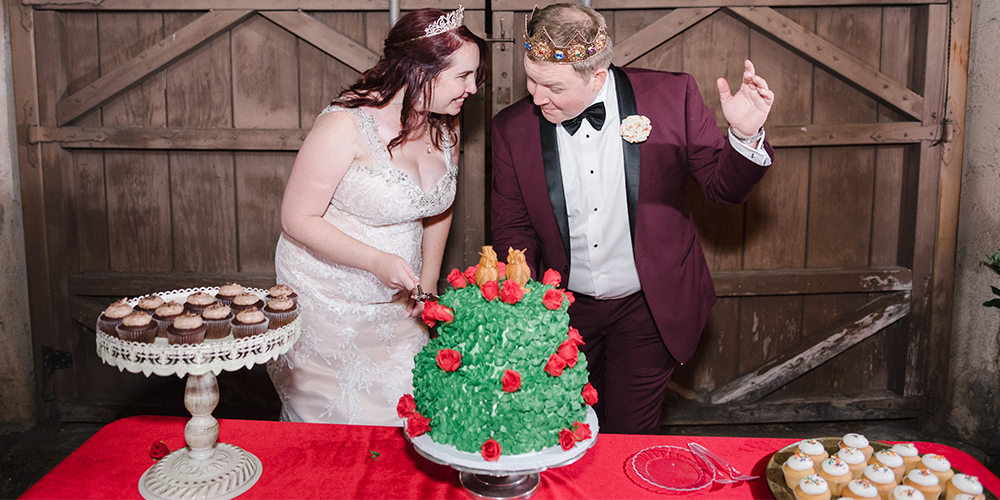 Q: What do you think about Cocomelody and the customer service? 
Benjamin at the Los Angeles Cocomelody store was a rock star! He made my shopping experience so much fun. I'd definitely recommend visiting the store and seeing all the gorgeous dresses if you have the chance.