Find a love that feels like home ❤ Marissa & Christopher definitely had one Pinterest-worthy wedding. Their gorgeous outdoor forest nuptials were set in Big Bear Lake, CA with hints of sequin sparkling in the sunlight. Marissa literally looks like a farytale princess in her dream custom gown. Read about their story and see some of our favorite pics below:
All photos were taken by Viet Huynh Productions/Sarah Kathleen Photography.
Wedding Dress Style: Customized Version of #LD5698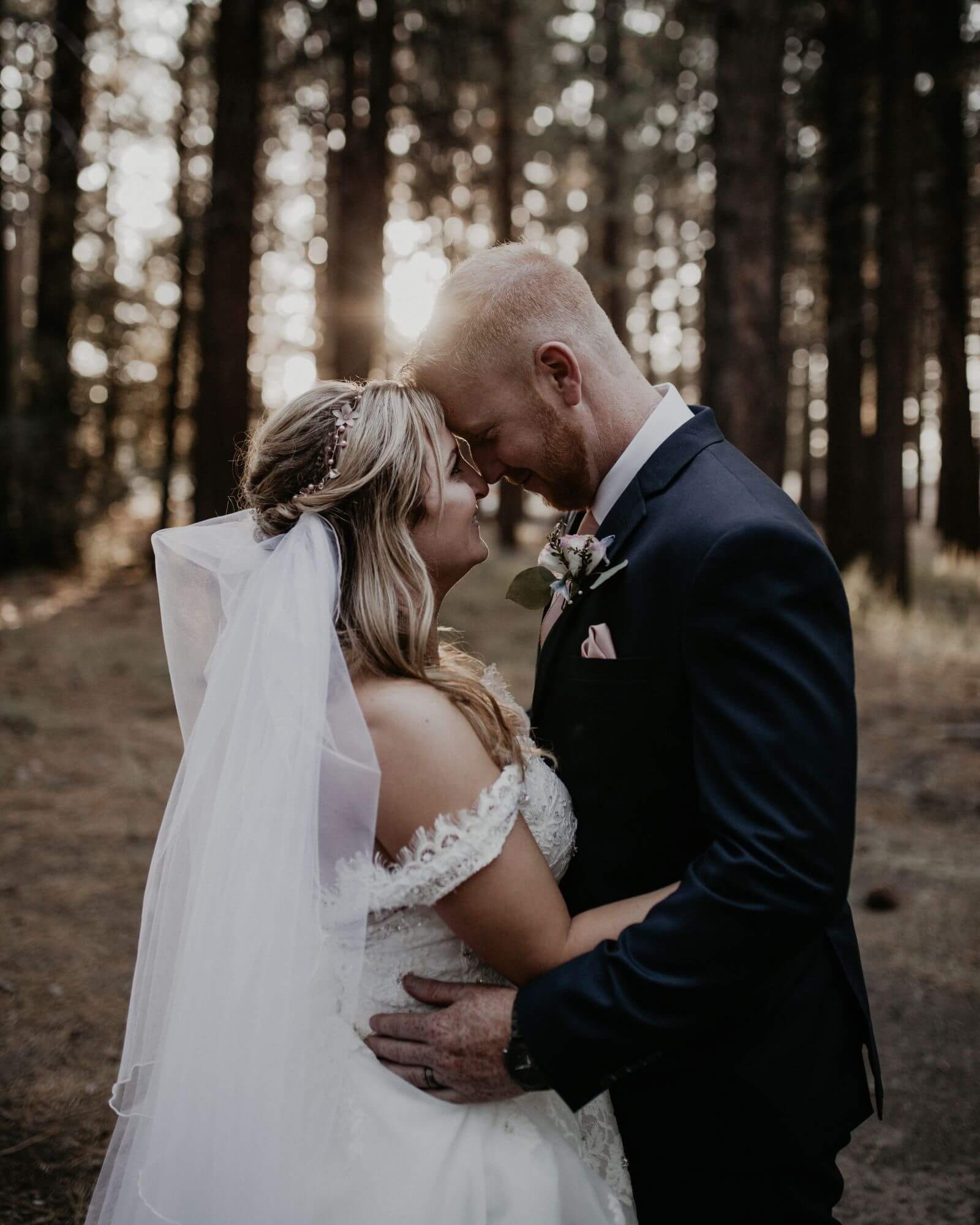 Q: Any advice or tips for future Mrs.?
Get a planning book, keep all the important names, numbers and dates organized. It feels good to check things off a list, like you're actually getting things done for the wedding date that just keeps getting closer, so right every little detail down and cross them off when they're complete.
Q: What was the inspiration behind your wedding theme?
Living in Big Bear, we knew wanted to have an outdoorsy theme. Something that showed off the natural beauty of the place we call home. I also fell in love with rose gold sequin bridesmaid dresses, so we added touches of sequin everywhere we could. Everything really sparkled in the sunlight, it was like the whole day was just glowing.
Q: Tell us your love story! Where & How did he propose?
We met many times over the years at the Orange Show Speedway, when I (Marissa) would be racing a stock car at the Orange Show Speedway and Chris would be helping his long-time friend in the pits. His friend and I competed in the same class, street stocks, at OSS. It wasn't until 2015, that we really became friends and we immediately hit it off with all of our similar interest, we really just "clicked". We began dating in late 2016, our first "date" being an LA Galaxy game, accompanied by the U-12 boys soccer team that Chris coached at the time. They sang "Coach Chris & Marissa sitting in a tree K-I-S-S-I-N-G" the entire bus ride down and dared him to kiss me if the Galaxy's won. Luckily, they did and we've been doing this thing ever since!
For Chris' birthday in 2018, he really wanted to go on a 12 mile hike to one of the highest peaks in Big Bear, Butler's Peak. About 6 miles through the hike, I was so over it and cold, but he just kept saying, "I promise it will be worth it when we get to the top, let's keep going." Once we finally reached the top, he pulls out a beautiful ring and proposed! The diamond in my ring has been passed down in his family since the 1,800's. I was totally surprised, everything about it was beautiful and perfect. The long hike was well worth it!
Q: How would you define the message "Dare to Love"?
I think dare to love means to always choose love. When the going gets tough, the planning gets stressful, life gets messy, always choose love. Dare to love your person day in and day out.
Q: What was the best/most memorable part of the day?
The entire day goes by so fast, it's crazy. I think my favorite parts of the day were the times I reminded myself to take it all in. We had so much fun at our reception, surrounded by our closest friends and family, everybody truly just having a good time. I think everyone that attended called me in the weeks following to express how much fun they had dancing. We also snuck off with our photographer during dinner for a sunset/golden hour shoot, that was so much fun!
Q: Where did you hear/find CocoMelody?
I found CocoMelody through social media, the dresses were stunning and so unique from anything else I was looking at, and so affordable! It was the only store I knew I wanted to go to.
Q: What did you love most about your #CocoMelody dress (es)?
The quality of my dress was amazing, it was truly beautiful. I got wedding dress style LD5698 and customized it to be off the shoulder, I felt like a princess all day. And it was so comfortable! I was happy to be in it all day! I was able to walk around, sit, dance, wander around the open forest for photos. It was my dream dress, absolutely perfect.
Q: What do you think about CocoMelody and the customer service?
CocoMelody was a dream to work with. Everything was so personal, I wasn't just a number. Albert at alterations made sure everything was perfect and always gave us his full attention, he made getting alterations done so much fun.