We can't get enough of Renee & Troy's big day in Purga, Queensland, Australia! They had a beautiful wedding that was Australian Rustic inspired. The couple spent a lot of time and effort on the details of their wedding and even included a soft serve icecream truck, which made the whole day fun & unique. Renee looked stunning in her dream lace gown. These cute lovebirds also took photos in the middle of a thunder storm. Read on to see some amazing pictures below:
All photos were taken by Brianna Niebling.
Wedding Dress Style: Customized Version of #LWXT16001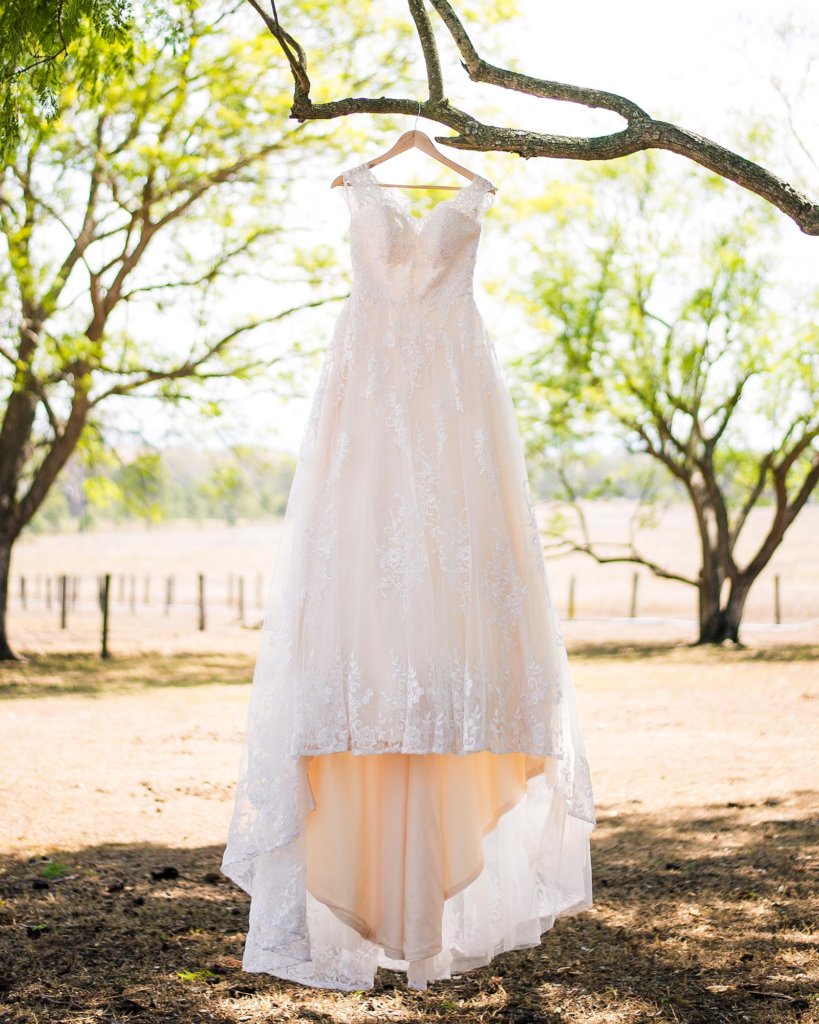 Q: Any advice or tips for future Mrs.?
Make it personal! From the songs you play, to the choice of wine, we wanted everything to mean something to us and I'm so glad we did because it made the day so personal. Another great tip is to do something fun and unique. We make the decision early on in wedding planning that we wanted to hire a soft serve ice cream truck – everyone thought we were being ridiculous! Come the day of the wedding, it was such a hit and we have since had so many people asking if they can use the idea at their wedding! Keep track of  you spending with a spreadsheet – it'll make you life much easier when working out what is left in your budget. Don't get caught up feeling like you need to have certain things because "that's what you do at weddings". All that really matters at the end of the day is that you married the love of you life – everything else is a bonus.more.
Q: What was the inspiration behind your wedding theme?
We wanted a wedding with a very romantic, classic feel to it but with an Australian influence through our floral arrangements and such. My now husband and I have always loved our Country side so decided to have an outdoor wedding capturing some of our beautiful landscape. The weather had other plans for us and we were forced inside due to a drought-breaking rainfall minutes after the ceremony!
Q: How would you define the message "Dare to Love"?
To me, Dare to Love, means to be brave enough to open yourself up completely, and give yourself completely to who you love. To force away any doubts or worries and to immerse yourself in the emotion and thrill of love.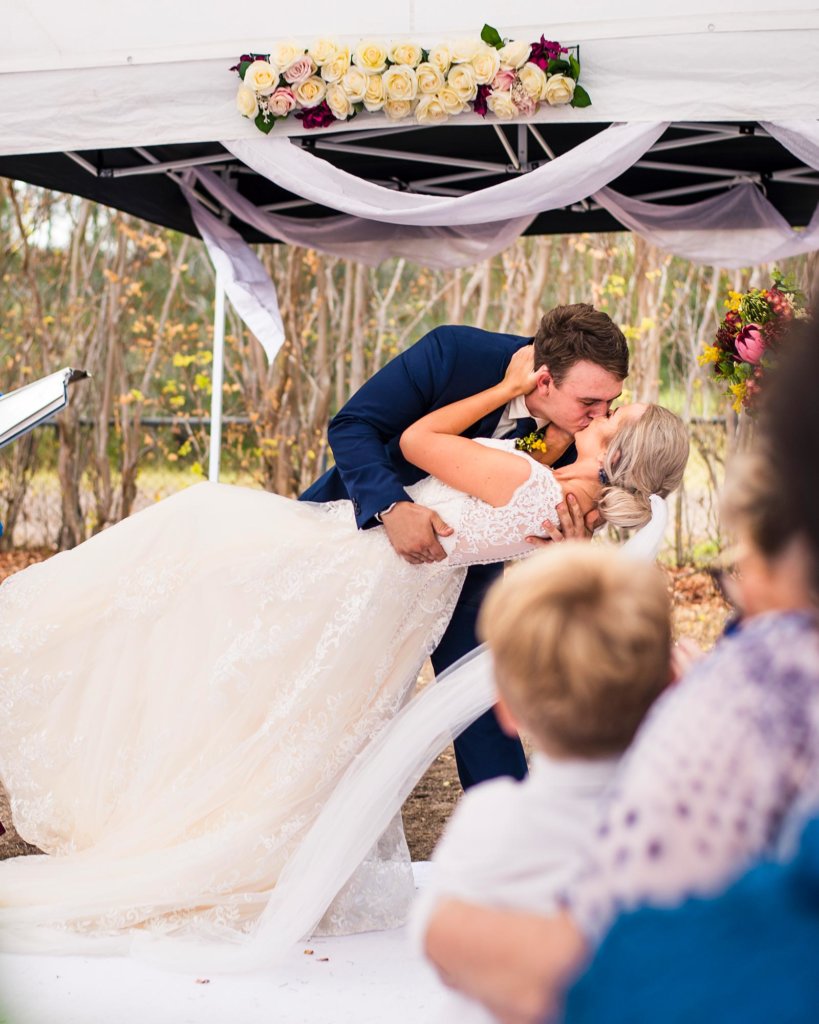 Q: Tell us your love story! Where & How did he propose?
I met my husband for the first time when I was only 16 – at a party my sister was hosting. The fist thing my sister said when he walked in was "Stay away from my sister, you're not allowed to date her!". Oops haha. We dated for a year, high school sweethearts as everyone would say, before we parted ways. Troy had left school to pursue his trade and I was needing to focus on my studies. Years later, a mutual friend accidentally invited us both to the same event without realising and the rest is history! Fate works in many way, it would seem some things are meant to be. The moment we saw each other again we both knew that this was it! We have been inseparable ever since. During the time we were apart, Troy had a son, Noah, who I adore and love as I would my own. One morning in September 2017, I was playing with him in the sandpit on the family farm, when I turned around and there was Troy – down on one knee. I was definitely taken by surprise in the best of ways! Of course I said yes! We are very family focused so being able to share the moment with our son, and on the family property was perfect and so personal to me. At four years old Noah was our proud ring bearer for the wedding, and still to this day insists that he and I got married rather then Troy and I haha.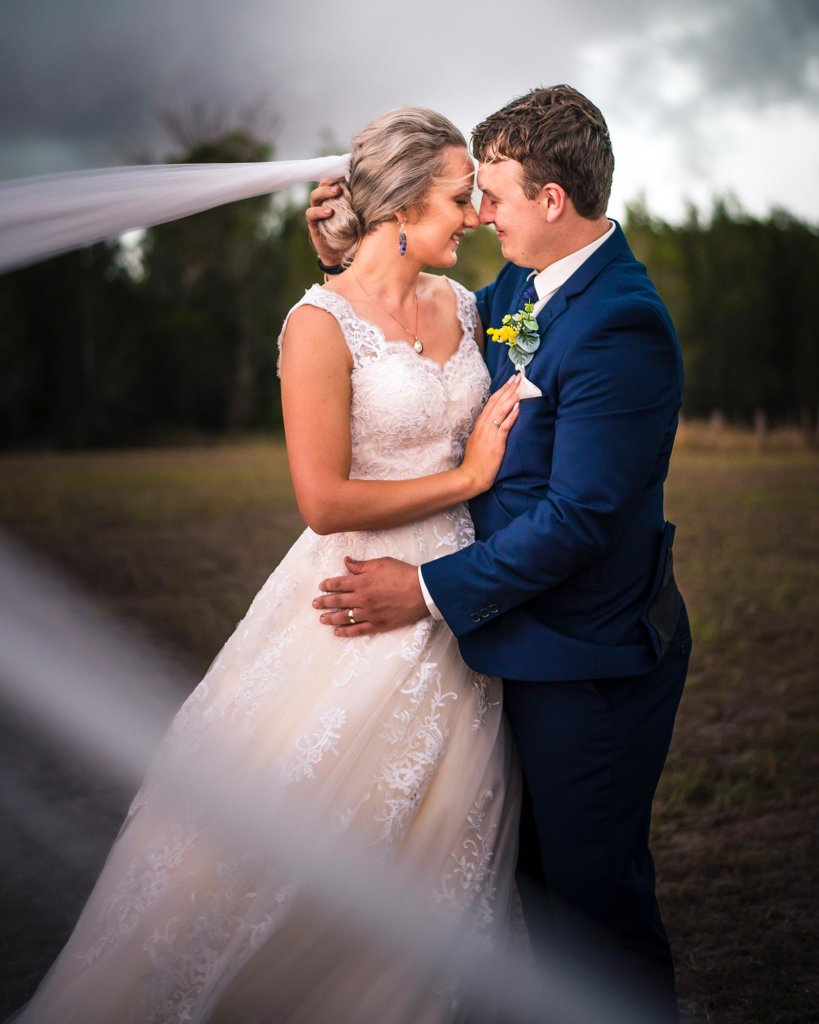 Q: What was the best/most memorable part of the day?
Without a doubt, holding my Grooms hands as he read his handwritten vows in front of our dearest family and friends. A close second in seeing Troy for the first time at the end of the aisle.
Q: Where did you hear/find CocoMelody?
Several comments in different bridal facebook groups. I eventually joined the CocoMelody bride facebook page which convinced me to order my dress. Still so glad I made the decision to!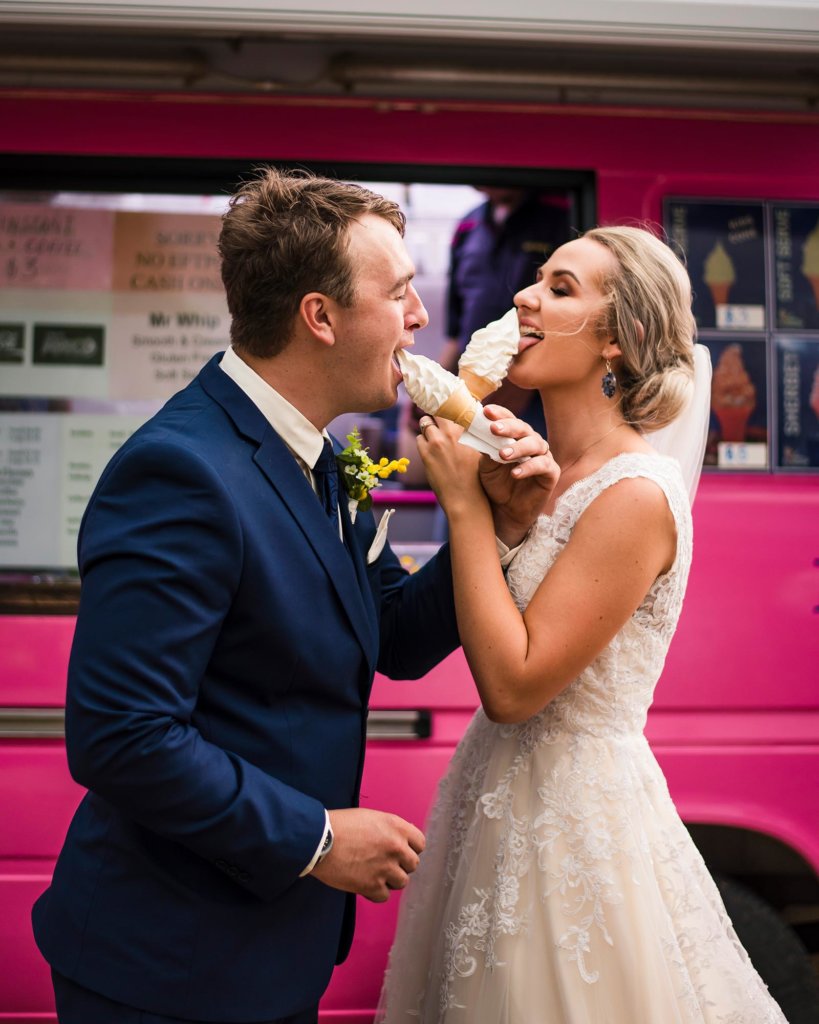 Q: What did you love most about your #CocoMelody dress (es)?
I love that I was able to have a dress custom designed and custom made for me for such an AMAZING price! The quality of my wedding dress is simply stunning and I can't believe the process was so easy!
Q: What do you think about CocoMelody and the customer service?
CocoMelody has such great customer service! The dresses are absolutely gorgeous and so well priced! I have recommended them to everyone I know whether they are a bride, a bridesmaid or looking for an evening dress. I will defiantly be ordering again for myself and can't wait for my next experience with CocoMelody!