Surrounded by family and friends, Savannah & Mike tied the knot with a "Vintage & Scottish" themed wedding in Orange, CA. Their wedding featured red, white, light pink, and gray color, we love this beautiful combination! Savannah & Mike's day is such a dream and you can see it all by checking those amazing wedding photos below!
All photos were taken by Justin Gummow Photography.
Wedding Dress Style: #LWXT16001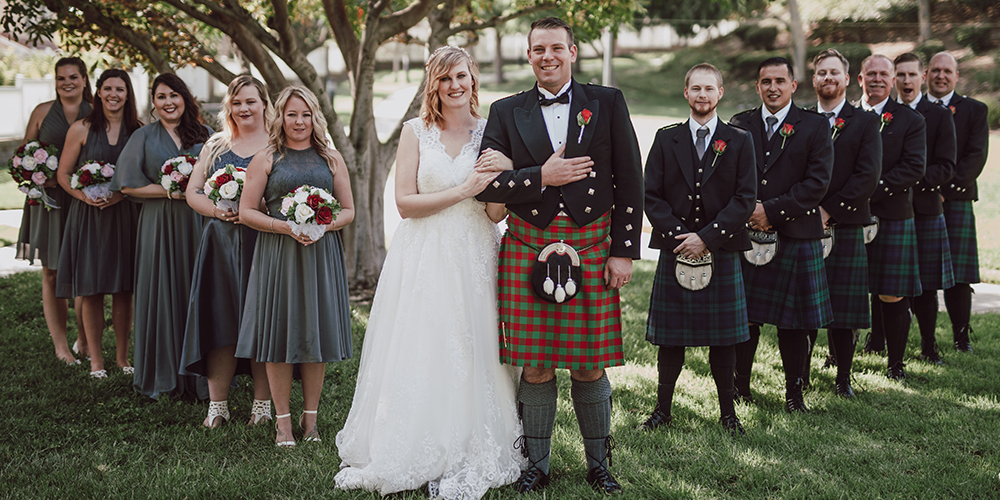 Q: Any advice or tips for future Mrs.?
Save the stress where you can! That day will be such a blur and filled with so many emotions that the little details you focused on making perfect are going to fade in the background of how happy and focused you are on your new hubby and those you love celebrating with you. The less you have to stress about the more you will be able to enjoy the day of. For instance, I used fake flowers for my bouquets and garters and no one could tell the difference. I was able to order them months in advance to make sure I got what I wanted, and now I can keep them forever. I also chose a venue that did a lot of the work for me! All inclusive is the way to go! You may be worried this will cost more, but after trying to coordinate with multiple companies (and having to tip them individually), you will appreciate all of the help you can get. With the venue I chose I only had to worry about my flowers, cake, and photographer!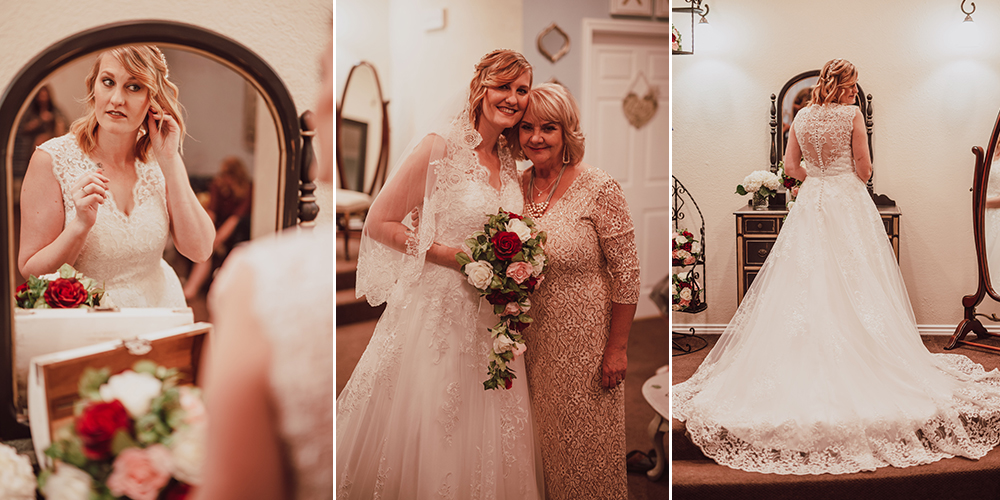 Q: Tell us your love story! Where & How did he propose?
I met my husband on the dating site OkCupid. With him being a firefighter, and myself working in an office at a university it can be hard to meet new people. We talked for about a week before we went on our first date which was dinner at Yardhouse and then walked around the outdoor shopping area near our houses. He was such a gentleman and the sparks were like nothing I have ever felt before! By our second date (which he invited himself to and met all of my friends) I knew he was the one! We dated for about 8 months, and were engaged for 5. People thought we were crazy for planning a wedding in 5 months, but if you pick the right location with a lot included it can be done!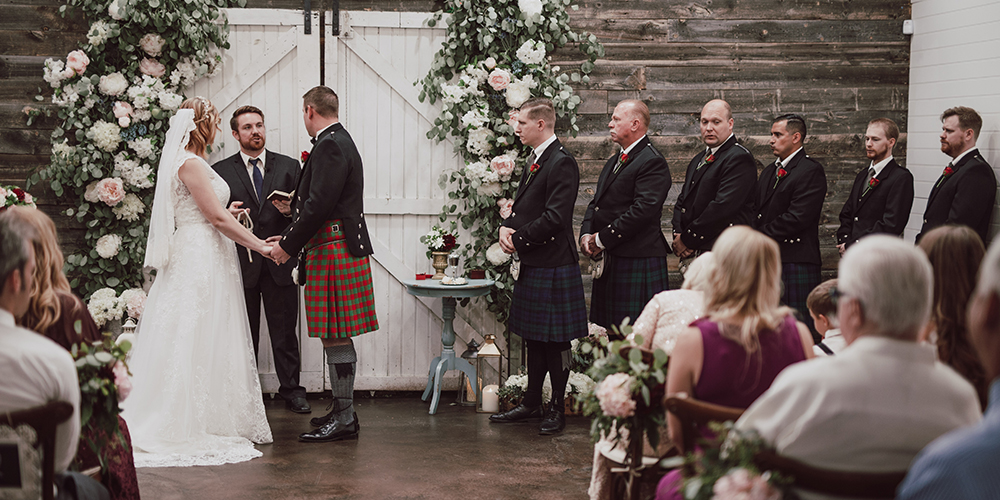 Q: How would you define the message "Dare to Love"?
Fully loving someone and being vulnerable, as well as trusting them with the rest of your life, can be utterly terrifying. However, if you are fortunate enough to find someone who makes you feel enough to do so, it is the most rewarding thing in the world.
Q: What was the inspiration behind your wedding theme?
My husband is Scottish and the men like to carry on the tradition of wearing their family kilt on their wedding day. I love vintage style and fashion. We somehow were able to combine the two and I absolutely love how it turned out! I was a little skeptical about planning a wedding around a red and green kilt and it not looking like Christmas and thus this was what led me to pick my wedding colors. I chose red, white, light pink, and gray.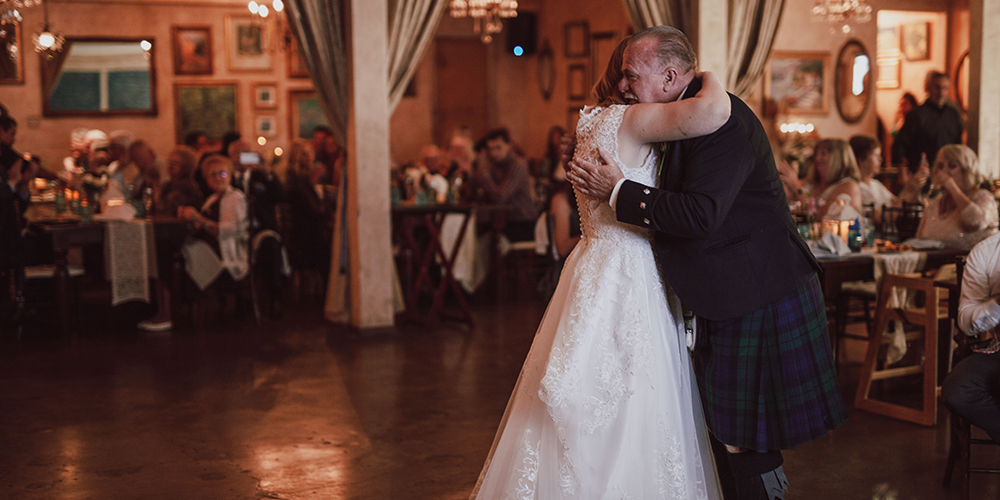 Q: Where did you hear/find Cocomelody?
I found Cocomelody online. I looked at David's Bridal first and nothing really stood out to me. When I found Cocomelody however, I almost instantly saved 10 dresses to my favorites list.
Q: What was the best/most memorable part of the day?
In the middle of our ceremony, my husband's 1 & 1/2 year old nephew came up right in the middle of us to bring his dad (our officiant and my now brother-in-law) his trash. To some this would have been really frustrating, but to me it was just a reminder of the amazing new family I was becoming a part of, and how family oriented my husband is. It was a quick flash in to our new future when we start having our own kids and how beautiful and unpredictable it will be.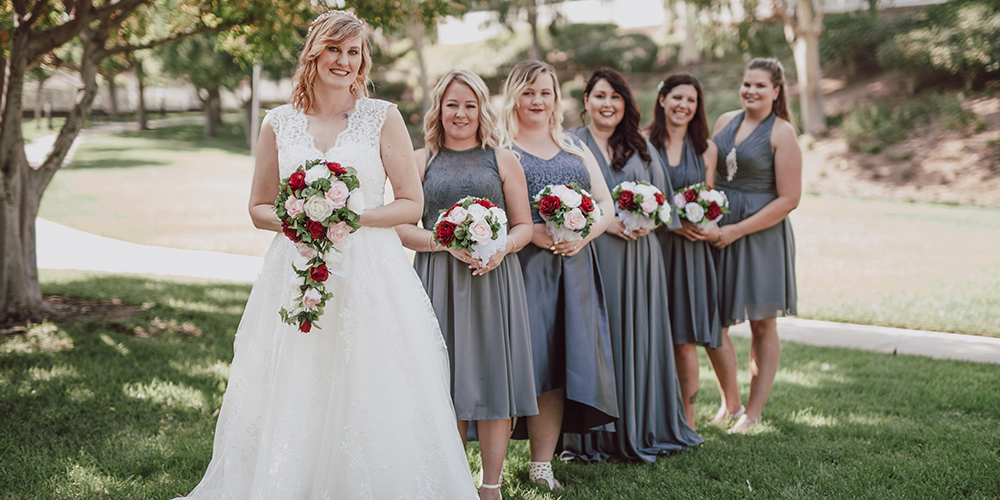 Q: What did you love most about your #Cocomelody dress?
I absolutely fell in love with the lace back of my wedding dress! It was the second dress I tried on and nothing after that even came close to feeling the same.
Q: What do you think about Cocomelody and the customer service?
Cocomelody made it affordable and easy for me to find my absolute dream dress! I went to LA location to try on dresses and had the most wonderful assistant to help me try on all the dresses I wanted. They even took my custom measurements and made my dress to fit. I absolutely loved my dress and no one believes me when I tell them how little it cost. I highly recommend Cocomelody!