We are over the moon excited and grateful to share Shardae & Warren's amazing wedding in Auckland, New Zealand with you! The beautiful lavender plant decorated the venue and went perfectly with rose gold accents. Shardae was also radiant in her custom 2-in-1 gown with some statement sparkle! So lucky to have her as one of our #cocomelodybrides. Words cannot describe how stunning Shardae & Warren were, just check those pics below!
All photos were taken by BLUSH Photography.
Wedding Dress Style: Customized Version of #LWZT15040
Q: Any advice or tips for future Mrs.?
There's only so much you can do to organise and plan for the big day. When it's time to let go, just trust in the people around you and breathe!
Q: What was the inspiration behind your wedding theme?
Lavender is such a beautiful plant which portrays calm and relaxation, so we thought it would go perfectly with rose gold accents. It looked beautiful.
Q: Tell us your love story! Where & How did he propose?
We met working together initially but actually connected on Tinder. It was love at first swipe! Warren proposed in front of a lit up fountain next to the beach, after convincing me a walk there would be a great idea – I wasn't keen, as it was raining! He dropped down on one knee saying he had to get a good angle for the photo, but next thing I knew, out came the ring!
Q: How would you define the message "Dare to Love"?
I think in life you have to take chances and believe in people – we did, the day we swiped right!
Q: Did you enjoy the wedding planning process? Why or why not?
I enjoyed the process to begin with but I have to admit I got grumpier as the day approached. I was frustrated with having a clear plan in my head but execution was a whole other problem. Eventually I just had to let go. I was so excited on the day to get up the aisle and marry Warren. After all that planning we just wanted to be man and wife.
Q: What was the best/most memorable part of the day?
We loved our ceremony in a tiny country-style chapel. It was very special and unique.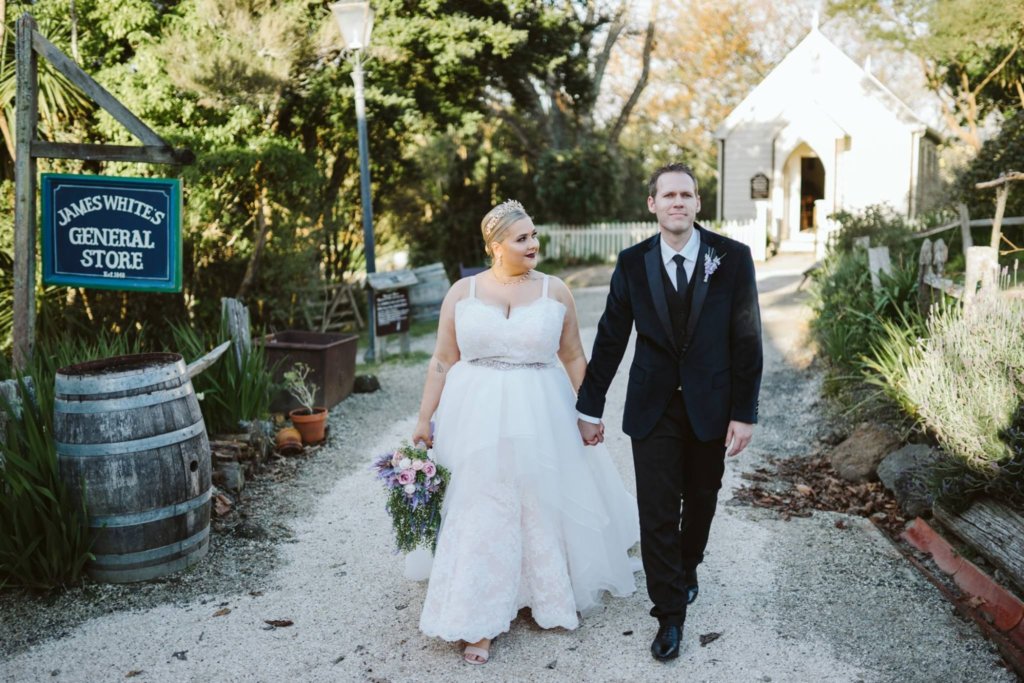 Q: What did you love most about your #CocoMelody dress (es)?
My wedding dress was comfortable but stylish and truly unique. I loved that I could customize it to bring my vision to life. The removable skirt was a highlight as I looked like a princess during the day and then was free to dance the night away.
Q: What do you think about CocoMelody and the customer service?
CocoMelody were always available for help and guidance. I can't fault their service at all. They brought my dream to life!