Real bride Somaly wed her soul mate Nigel in a fairytale tulle wedding dress with long sleeves, style LD5199 from Fall Collection by Puey. They had a rustic, vintage wedding theme at Leonda by the Yarra, Melbourne, Australia. From their beautiful venue covered in greenery and Australian native flowers to the wooden bits and pieces scattered throughout their big day, Somaly & Nigel hosted a truly breathtaking wedding. Read on to swoon over their love story:
All photos were taken by T-One Image.
Wedding Dress Style: #LD5199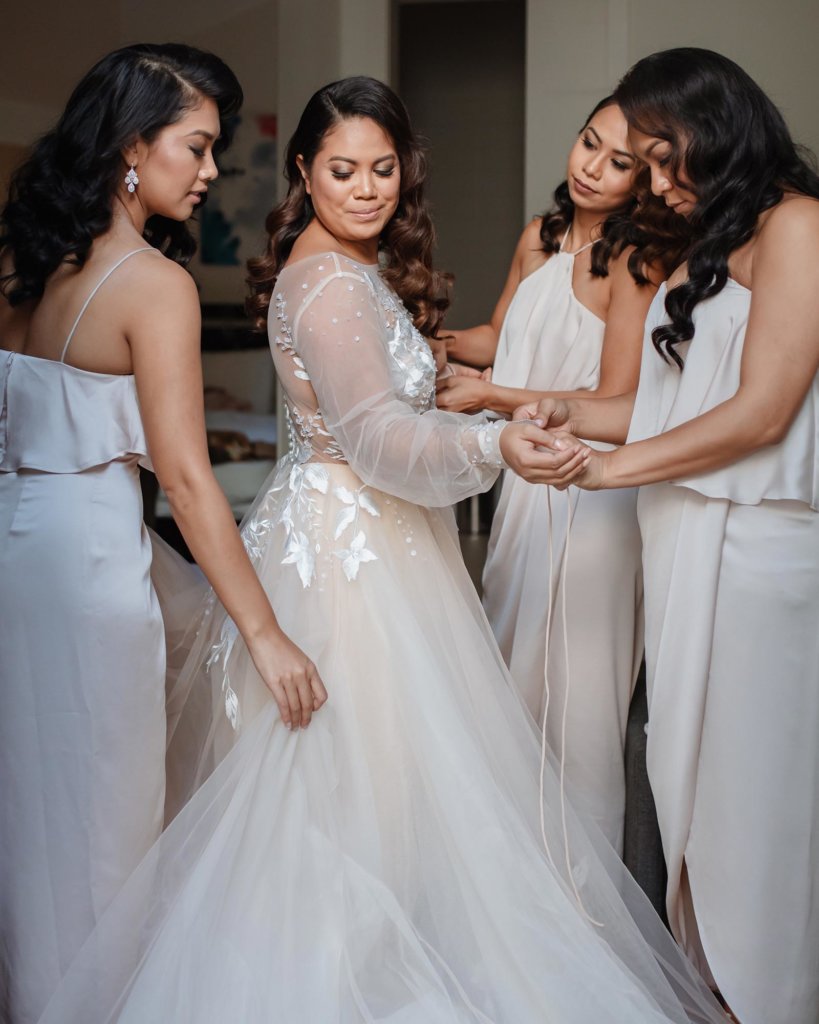 Q: Any advice or tips for future Mrs.?
Planning may be a bit stressful, but on your wedding day, try to enjoy it stress free! Everything is all done and dusted, so all you need to care about is having fun! Don't sweat the little things!
Q: What was the inspiration behind your wedding theme?
I've always loved the rustic, vintage style wedding. A lot of wooden structures and green foliage. I also love Australian native flowers, so my wedding was decorated with lots of wooden bits and pieces, covered in greenery and natives!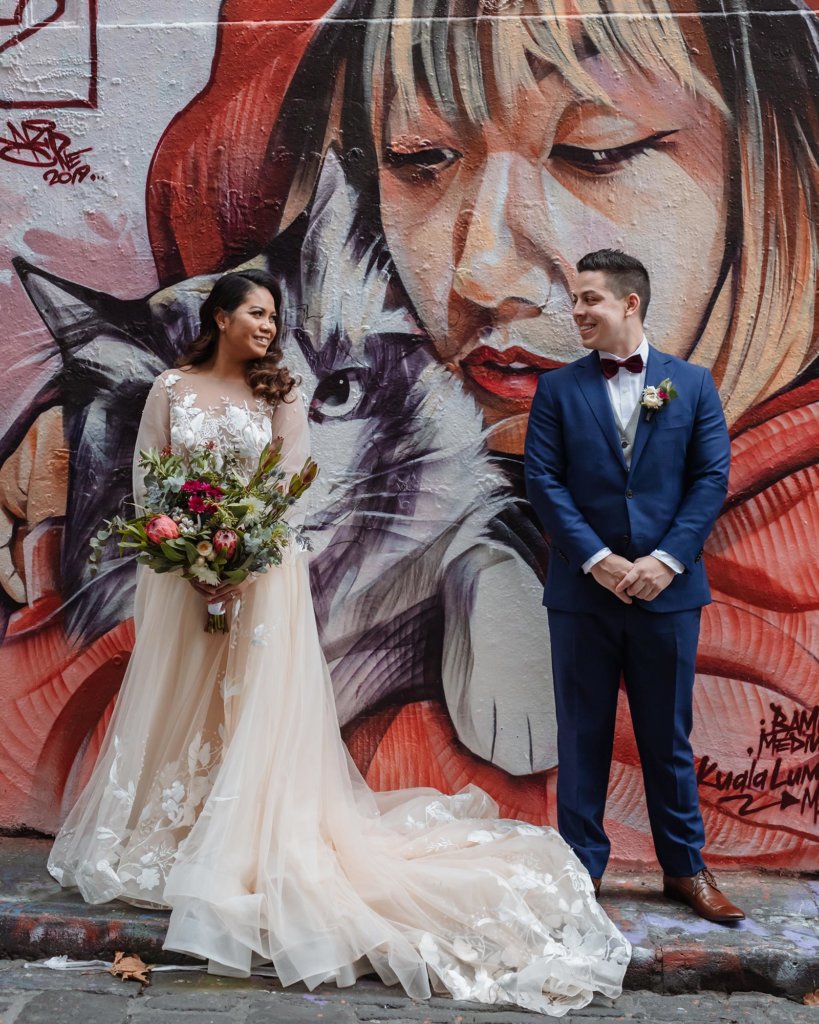 Q: Tell us your love story! Where & How did he propose?
Can you believe that Nigel and I are a Tinder success story?! It's funny how people joke that we must have set our radius really big because he lived in Sydney and I lived in Melbourne. But he was down in Melbourne one weekend, and we both obviously swiped right and we matched up! Did not meet up that weekend, he went back to Sydney, and after one month of talking every day, Nigel decided to fly back down to Melbourne to visit me. We did about a year and a half long distance, flying back and forth. And then I made the big move to Sydney! 3 years later, he popped the question! And the rest is Tinder history! This Tinderella finally met her Prince Charming!
Q: How would you define the message "Dare to Love"?
Dare to Love, for me, means being brave enough to fall deep in love. And no matter how many times you fall, you get back up and find love again, because you'll never know who is going to come into your life and bring the sunshine to brighten up your world!
Q: What was your hubby's reaction when he first saw you on your big day?
Nigel is not a very romantic guy, he hardly ever calls me beautiful. He always says I'm pretty or cute. But on the wedding day, he said I was so beautiful! He couldn't believe he was finally getting to marry me and call me his wife! He also NEVER cries, but he said when he saw me walk down the aisle, he got a bit choked up! That was gorgeous!
Q: Did you enjoy the wedding planning process? Why or why not?
Honestly, I didn't enjoy the planning process because of budget. Everything just cost so much and Nigel was stressing all the time, every time I sent him an invoice. Mind you, I was researching a lot and getting a lot of different quotes. But once I got to my venue and saw all my planning come to life, I was in awe! Everything turned out exactly how I wanted to, and looked amazing! I was so happy that I didn't even think about how much of a drainer the planning was!
Q: What did you love most about your #CocoMelody dress (es)?
I absolutely loved the colour of my wedding dress! I never wanted a white dress, and when I saw this dress, I immediately fell in love with the colour. And the floral detailing! It was gorgeous! I loved the floral details. The pricing of the dress was a bonus too! Was very well under my budget!
Q: What do you think about CocoMelody and the customer service?
You guys at CocoMelody have been a delight to deal with! All my emails and questions got answered quickly, and the one time that I stressed about the timing of delivery, you guys reassured me and helped calm me down, because I was worrying about nothing! It got delivered, not long after I emailed!