Whitney & Garrett celebrated their bohemian ceremony in Joplin, MO, US. Everything about their big day was effortless and perfect! And we are totally swooning over Whitney's gorgeous bridal look with wearing the lovely lace gown in a touch of blush!
All Photos were taken by Dori Hackleman with Vera Imago Photography.
Wedding Dress Style: Customized Version of #PR3300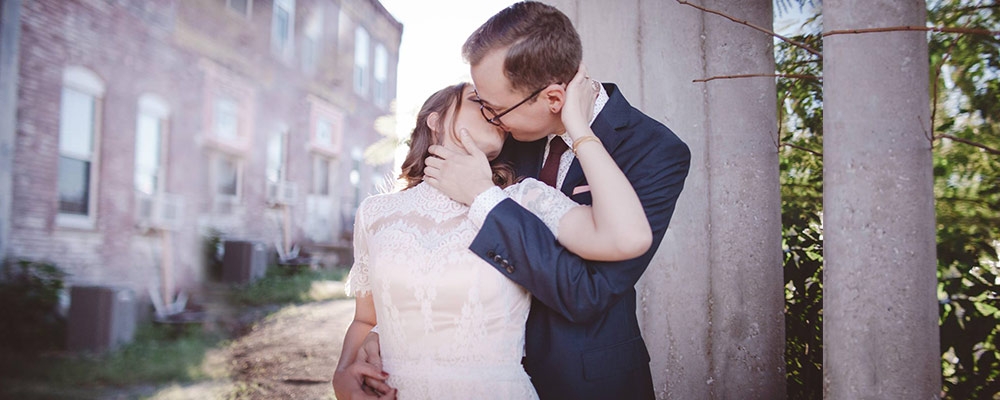 Q: Any advice or tips for future Mrs.? 
Have fun! This is YOUR wedding and you get to be in charge of the details. If there are traditions that you would rather not follow, you don't have to follow them. If there are unconventional touches that you wish to add, YOU CAN!
On the day of the wedding, don't linger on the little things that don't go exactly as planned (you'll probably be the only one who even notices anyway), just enjoy your day, be happy, and make the most of it because it passes by WAY too quickly.
Q: What about your love story?
We met years ago, when we worked at a retail store together. We began talking to one another and really hit it off. At the end of his shift one day, Garrett approached me and asked if I would be interested in going to dinner with him. I was VERY interested, but I tried to play it cool. We exchanged numbers, made plans, and went out several times after that.
Eventually, we decided to become an "official" couple and, over time, it became difficult to imagine moving forward in life without one another. Our friendship, partnership, love, and respect for one another continues to grow stronger each day.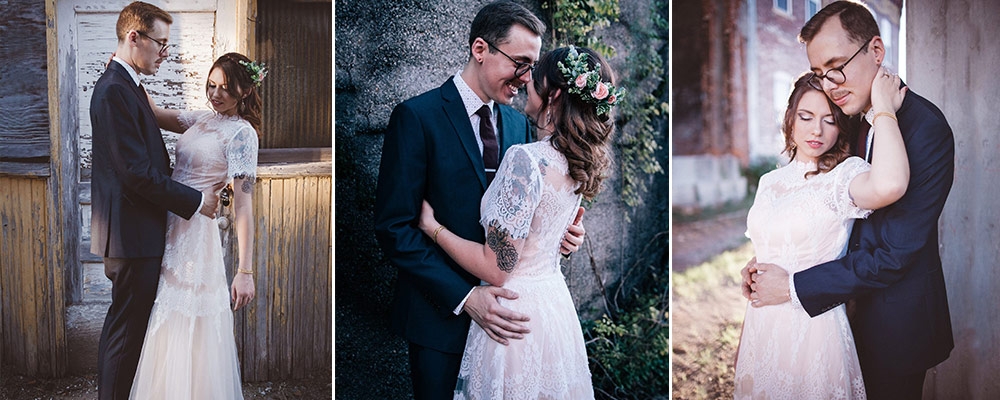 Q: What inspired your wedding theme?
I originally wanted to elope and my husband did not, so we compromised. We decided to have a local wedding with family and friends present and to have as much fun with it as possible, forgoing many traditions. No wedding parties, no specific colors, no bouquet/garter toss—instead we opted for fun, mismatched prints, lots of color, vintage touches, a variety of yummy cake flavors with homemade dinosaur cake toppers, and a taco bar!
Q: Did you enjoy the wedding planning process? Why or why not? 
Because the plan was to have as much fun as possible, we really did enjoy the planning process. We put so much of our personalities into planning our wedding and I would not have had it any other way.
Q: What was the best/most memorable part of the day?
It is so hard to pinpoint just one part of the day that was the best or most memorable; with that said, when I look back on the day now, I am in awe of the amazing family and friends we have. Our day would not have been what it was without the help and support that kind, loving people provided. We could not be more grateful for everything that our loved ones did to ensure that our wedding was a beautiful and memorable occasion.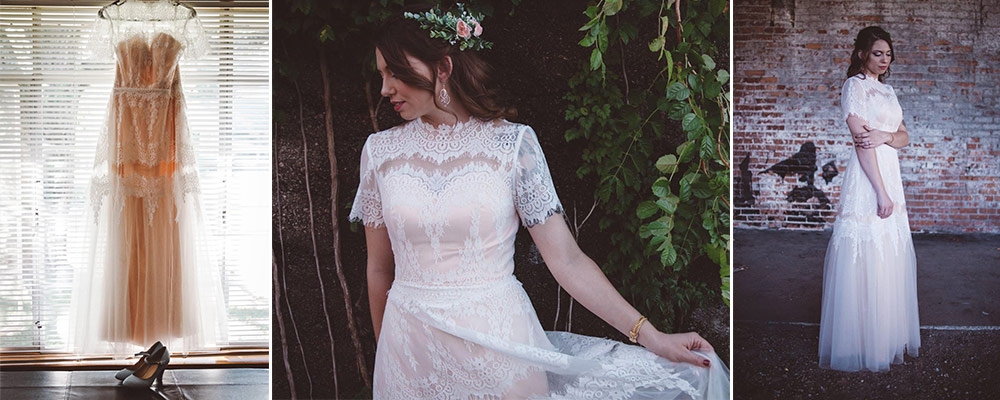 Q: What did you love most about your #Cocomelody dress? 
I loved everything about my Cocomelody wedding dress! The dress was gorgeously designed and was constructed with quality materials. I paid extra for specialty measurements and I am so glad that I did because my dress fit extremely well. I felt so beautiful and comfortable wearing my wedding dress and received a ton of complements on it. It fit the theme and my personality perfectly and I could not be happier with my choice.
Q: What do you think about Cocomelody?
Cocomelody is fantastic! Before placing my order, I contacted Cocomelody customer service to request special adjustments be made to my dress. The response that I received was quick, informative, and agreeable and the interaction was effortless and simple. The people with whom I was in contact were friendly, kind, and extremely receptive of my requests. I received my dress exactly when they said I would and it was beautifully constructed!
Ordering a wedding dress online can be intimidating and risky, but I could not be more satisfied with my decision to order my dress through Cocomelody.