When it comes to planning your wedding day, you'll want every part of it to be absolutely perfect. With so many decisions to take, it may even feel like most of your energy is spent on organizing the event, rather than your look for the big day. Picking out a wedding dress can be a hurdle enough but without the right accessories, your style can turn from flawless to faux pas. It's important to maintain a delicate balance of complementing the dress and keeping the spotlight on you.
Fortunately, this guide to the latest wedding fashion and the right bridal jewelry can help you make the right choices.
1. Heirloom jewelry
The first thing to consider is any heirloom jewelry you'll want to adorn. A lot of the time, a bride may have a piece that they absolutely have to wear to the wedding, as their "something old". This could be a family gemstone passed down from your grandmother, or a headpiece gifted by your mother-in-law. Always take this into consideration first, and plan the rest of your jewelry around this. You can even take it to the jewelry store when you shop for other accessories to help consider proportions with your face and dress.
2. Choosing the metal
Choosing the metal of your jewelry comes down to the dress. Brides these days step out of the conventional to try bolder colors such as blue, pale pink and even black for the wedding gown. Colors such as white, blue and black are better paired with white metals like silver or platinum, and others like ivory, pink and burgundy make a nice contrast with gold. You can even try mixing metals- a recent trend that can add a bright effect if it isn't overdone.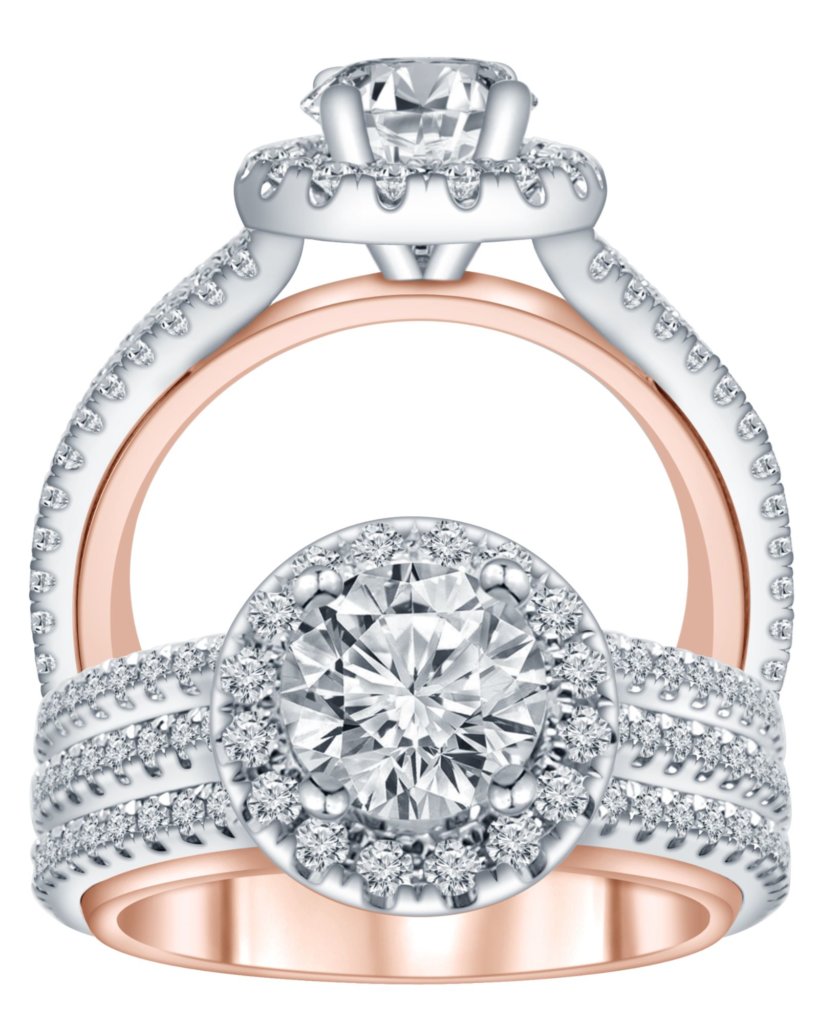 Image from ALTR Created Diamonds
3. Deciding the jewelry pieces
The neckline of your dress can carry the whole vibe for the jewelry.
A. Off-shoulder
Statement long earrings are a great pair for off-shoulder necklines. They also draw attention from the dress to the face. Avoid a necklace with these earrings, but pair them with a bracelet and ring instead. Another great look for off-shoulder dresses is stud earrings with a choker or a tennis necklace.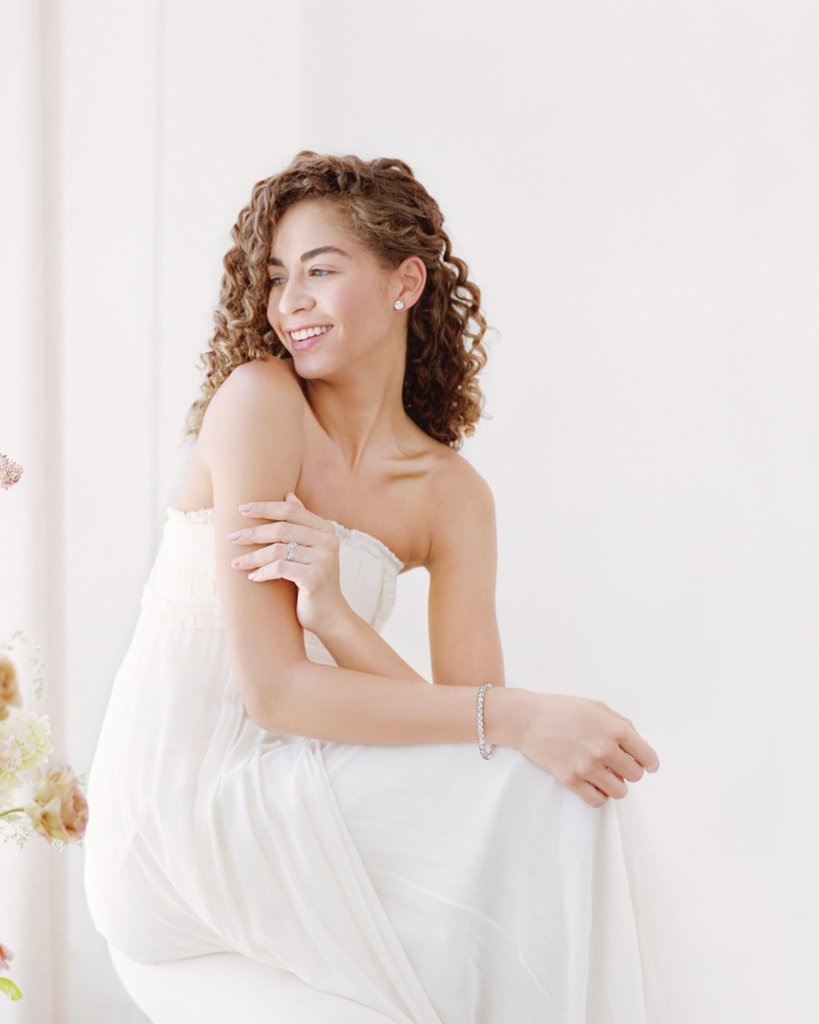 Image from ALTR Created Diamonds
B. High/Closed Neck
The best part of high neck dresses is they can add the intricacy to your bridal look and require minimal jewelry. Put away the idea of necklaces altogether for this dress, and try big drop earrings or stud earrings with your hair pulled back. Colored stones for these can add a touch of bright elegance.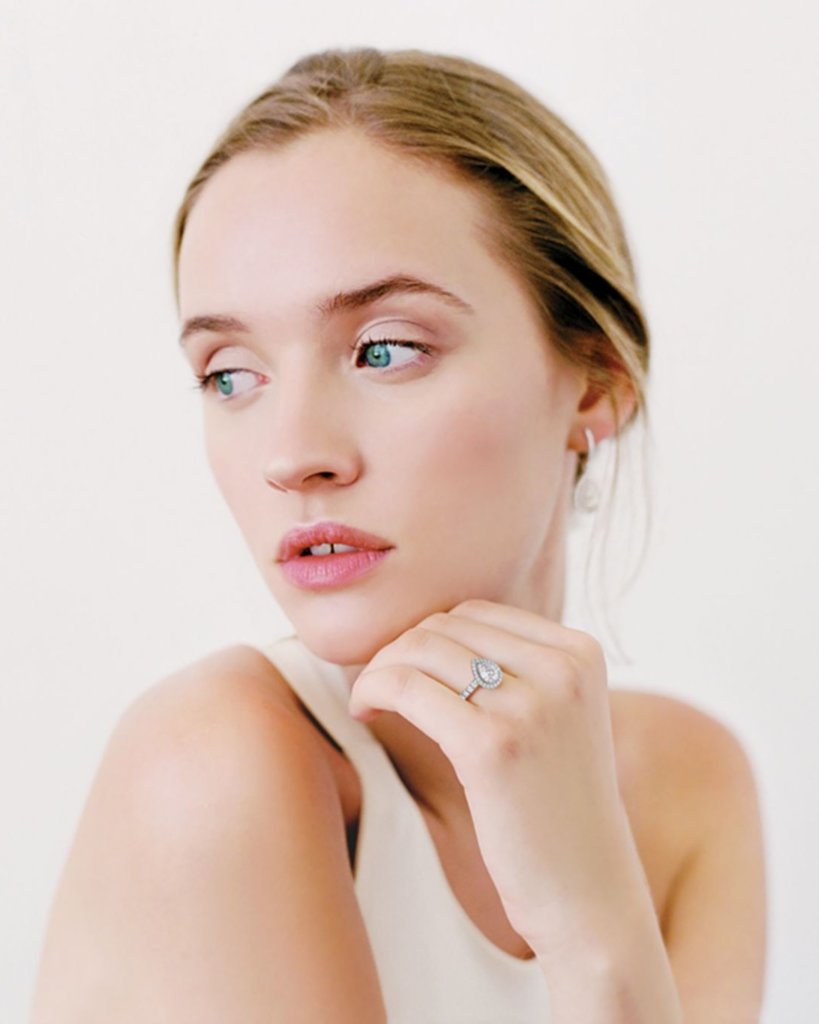 Image from ALTR Created Diamonds
C. V-Neck and Sweetheart Neck
The popular statement pieces for these necklines is a chain with a pendant, depending on the length of your neckline. For a sweetheart neckline, wear a simple chain with a pendant and make sure the chain ends at least two inches before the neckline begins. For a V-neck, try a longer chain; but make sure it doesn't compete with the neckline.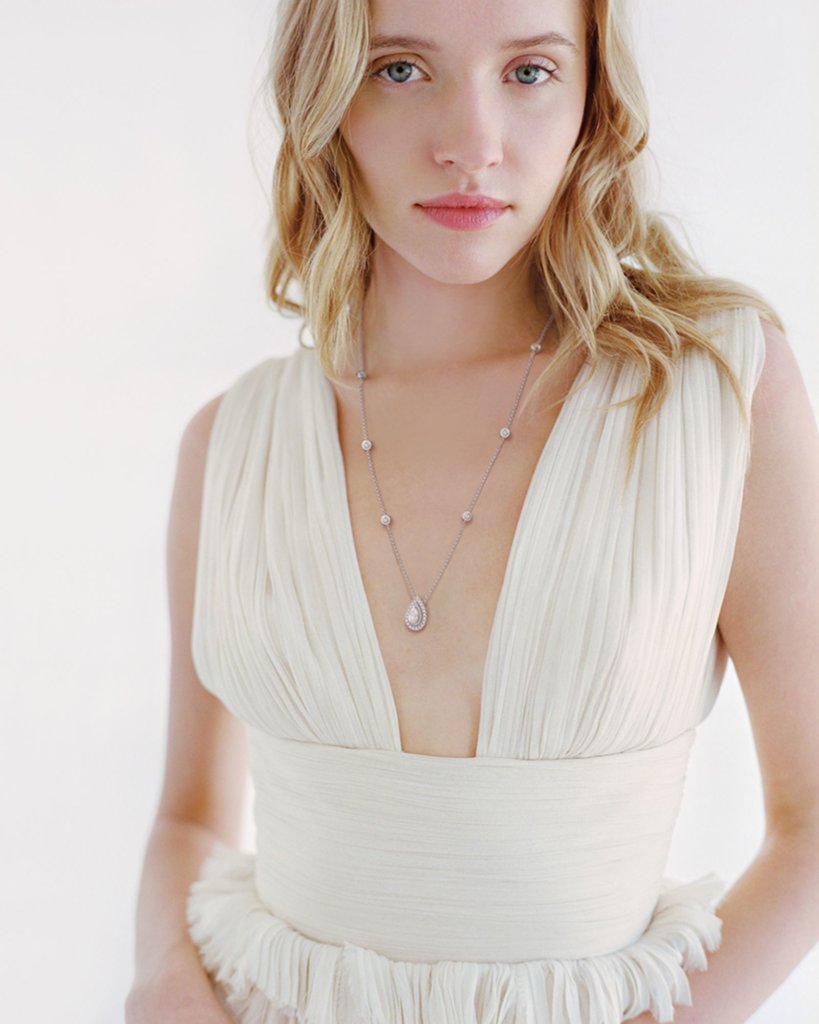 Image from ALTR Created Diamonds
D. Asymmetrical and One-Shoulder Neckline
Asymmetrical and one shoulder necklines are in vogue, and pairing it with necklaces can create an imbalance. Instead, opt for a drop or a post earring to keep the attention on the dress detail. If you're opting for a one-shoulder neckline you can even pair it with a small bejeweled tiara to add a subtle sparkle.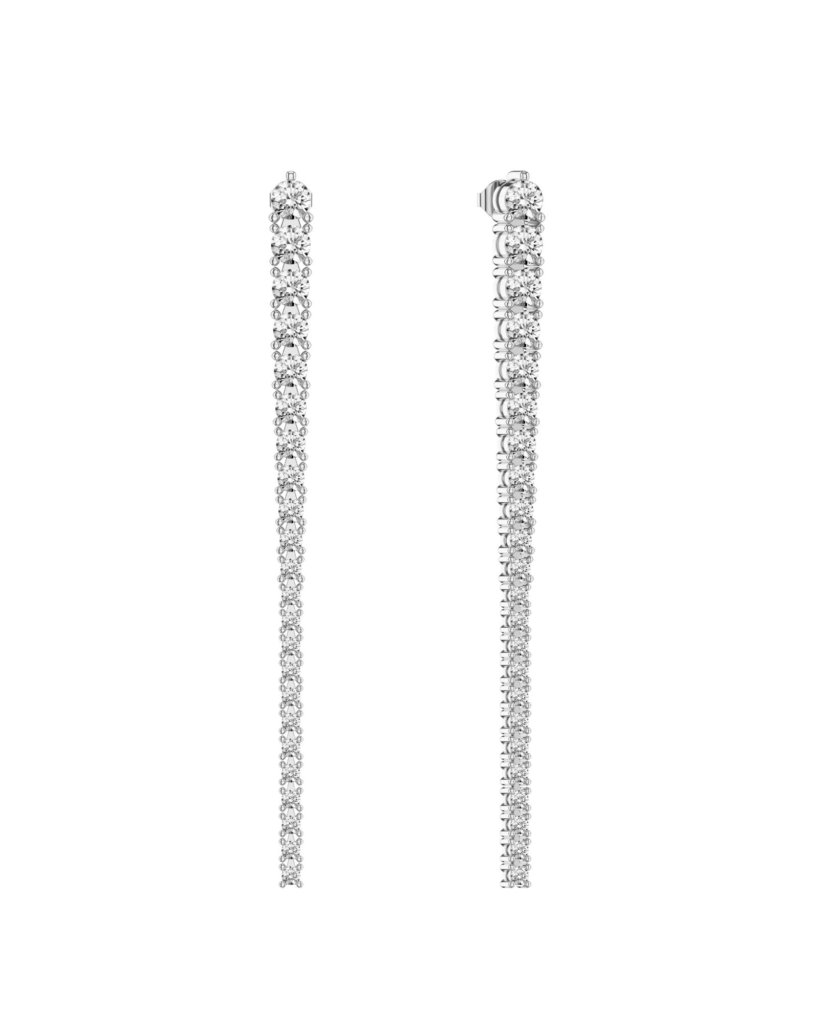 Image from ALTR Created Diamonds
4. Venue
Centering the jewelry based on the venue (or even the other way around!) is a great way to bring a well-rounded thematic focus to your wedding. If your wedding is happening in a natural environment like a garden, or forest you may want to keep jewelry to a minimum and infuse flowers in your headdress and nature-themed ornaments into your look. Colors are also a great way to integrate with your wedding surroundings. For instance, a beach wedding would call for blue created diamonds or pearls.
Ultimately, you'll want to avoid clashing your jewelry with your personal theme and style (which can happen when everyone has an opinion to share). Your wedding is an event you should cherish, and more importantly, the day that highlights your personality and love.
Shine Brighter!
ALTR Created Diamonds is also hosting a Giveaway contest now with a Diamond Pendant. Yes, a real diamond pendent for 3 lucky winners. You can check the details here if you're interested in:
https://www.instagram.com/p/B0qYKhyjBtT/
 The contest will be closed at 11:59 PM EST on 8th Aug 2019.
Author Bio:  ALTR Created Diamonds are diamond growers with multiple patents in diamond cutting and the capability to create award-winning designs. Each created diamond is Type IIA, the purest and most brilliant in the world. ALTR Created Diamonds is in over 250 leading jewelry retail stores across the world.